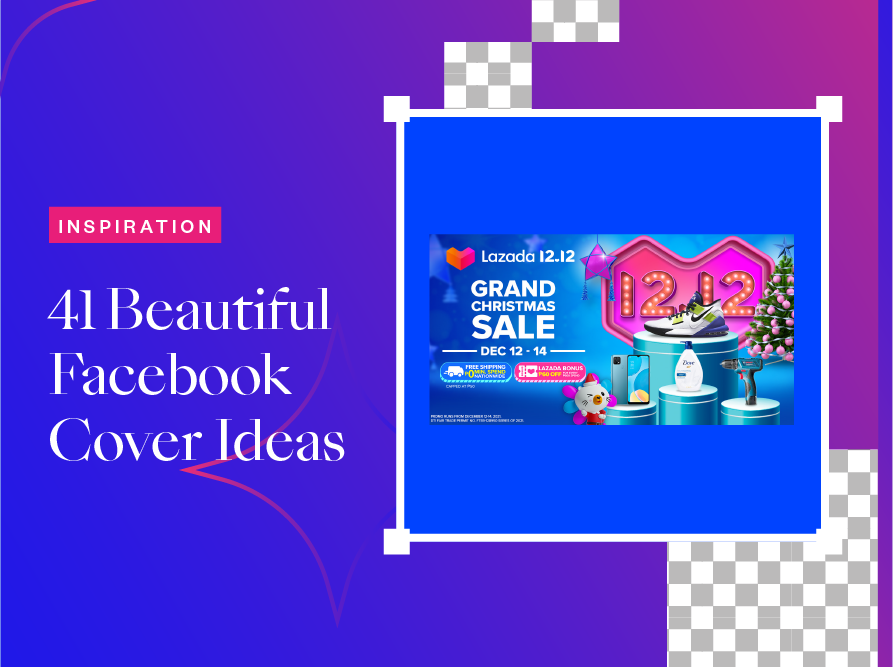 41 Beautiful Facebook Covers Ideas for Inspiration
Facebook cover trends are an important consideration when creating a Facebook cover. When you are planning to launch a Facebook page, designing your Facebook cover is crucial. The design of a web page is one of the primary elements that viewers notice when visiting a particular page. Therefore, the design must be appealing to the viewer and attract their attention. First impressions matter, so designers should devote some time and effort to their cover photos.
Your Facebook page can be utilized for the promotion and spreading of awareness regarding yourself, your products, or your services. Your marketing strategy must incorporate the correct visual elements, including fonts, images, backgrounds, and text. People usually laid eyes on an attractive page that speaks to them. Their decision on whether to check out what you have to offer is largely determined by how attractive your page is.
Get creative when developing your Facebook cover, as it can convey a great deal about you. As long as there is huge traffic and a large number of views on your page, it is more likely to get viral. That would be awesome, wouldn't it?
Here are some tips for creating a unique Facebook Cover design that will help you in the beginning.
Tips for Facebook Covers
Decide on one image or a series of images that has a distinct theme and one you like the most
You should take into account how your cover photo will appear on a mobile device.
It is of critical importance to develop a design that stands out from the crowd. A viewer is always looking for something creative, out of the ordinary, and artistic. Make it happen!
Keep your brand in mind – whatever Facebook covers you create, make sure they are in line with your brand, something that people will associate you with.
Create a positive feeling: Your cover should encourage viewers to feel good about themselves and your brand in order to follow you.
Initiate a Conversation: Your design should engage viewers, making them aware of what you are trying to say. Consider using Facebook cover trends for this purpose, look at what is popular, and use it accordingly.
Integrate the design of your cover photo into the design of your overall page: You don't want the Facebook cover photo to look isolated or irrelevant to the page.
Update your cover photo regularly. Give your viewer a refreshment once in a while.
Remember that simplicity is vital. Ideally, your web page should not be overcrowded, as this may confuse your visitors. This is where you will make use of the Facebook cover trends.
Invest some time in research: Look into some popular Facebook cover trends to find a concept you are comfortable with. Read on to see some of the best Facebook Cover inspirations that'll help you to spark the ideas in creating one of your own.
Ideas for Facebook Cover Photos
Floral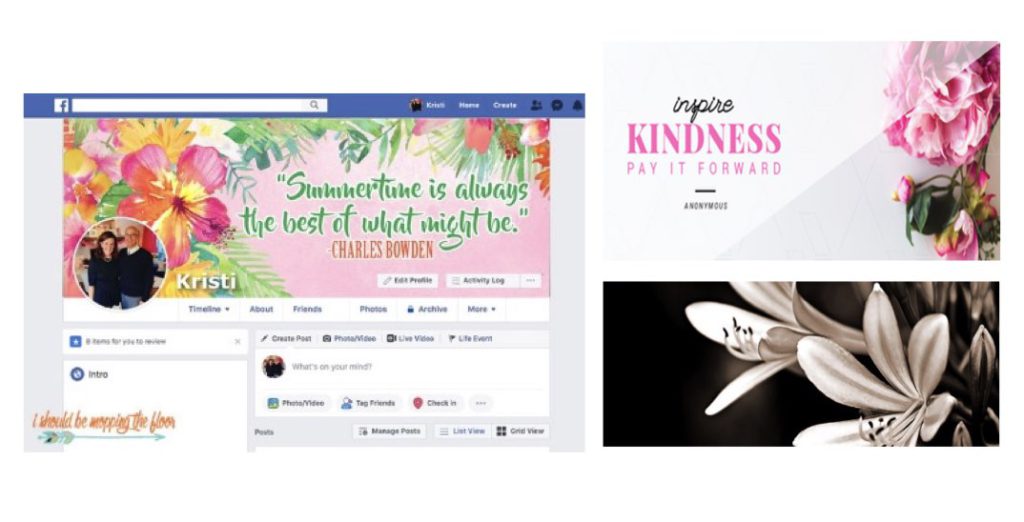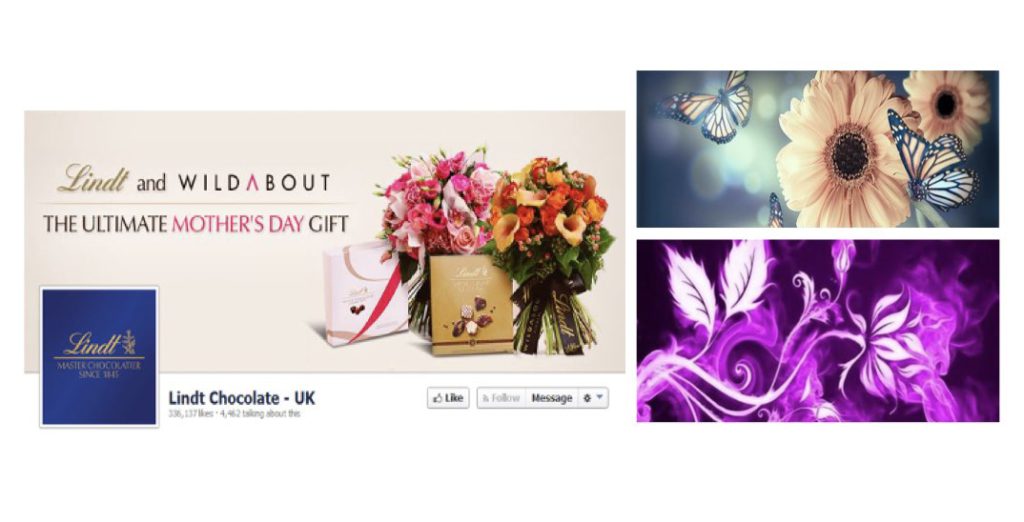 One of the popular ways to enhance your Facebook profile is by using a floral cover design. A page can be made more visually appealing by combining bright and neutral colors with stylish fonts.
Seasonal / Occasional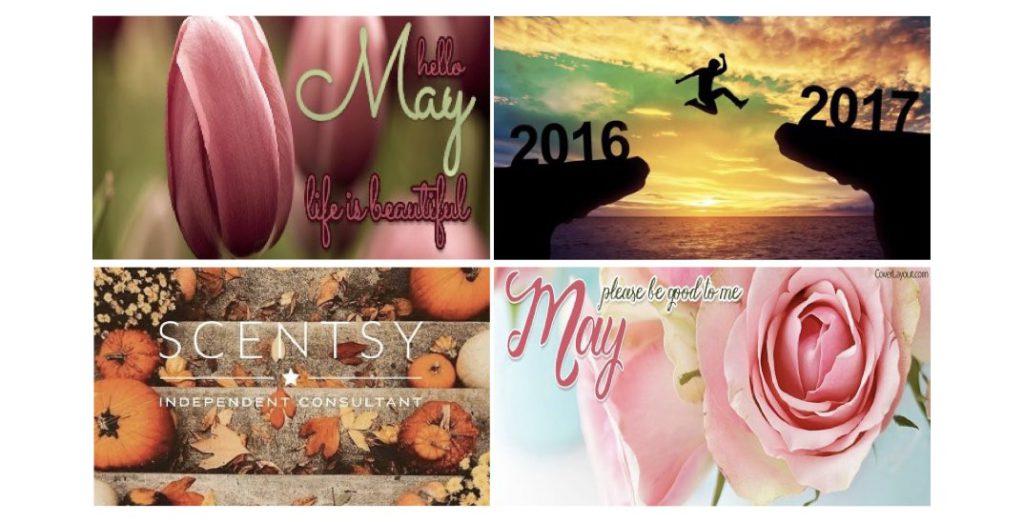 The Facebook user may also choose a theme based on the month of the year, a particular season, or a particular holiday, so these pages are constantly updated. A color or image corresponding to the month displayed on the page is also used.
There are usually vibrant colors on these pages, and you can sense the feelings the designer or page owner intends to convey. The following are some of the best Facebook covers that you can use to inspire your own page or a page for someone else.
Nature and Woods
Designers use images that have significance to them or something that they like. One such aspect of those images involves nature. These usually give a sense of peace and tranquility, and they are gorgeous to look at. People often add text to these images, whether it's a quote or what their page is about. If you're going for the more earthy type theme for your page, you can check out these Facebook cover inspirations.
Quotes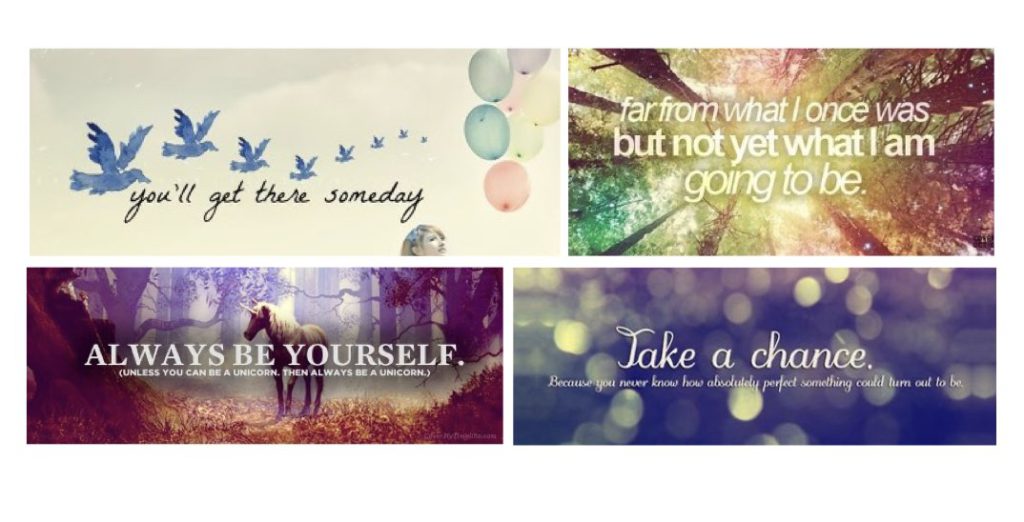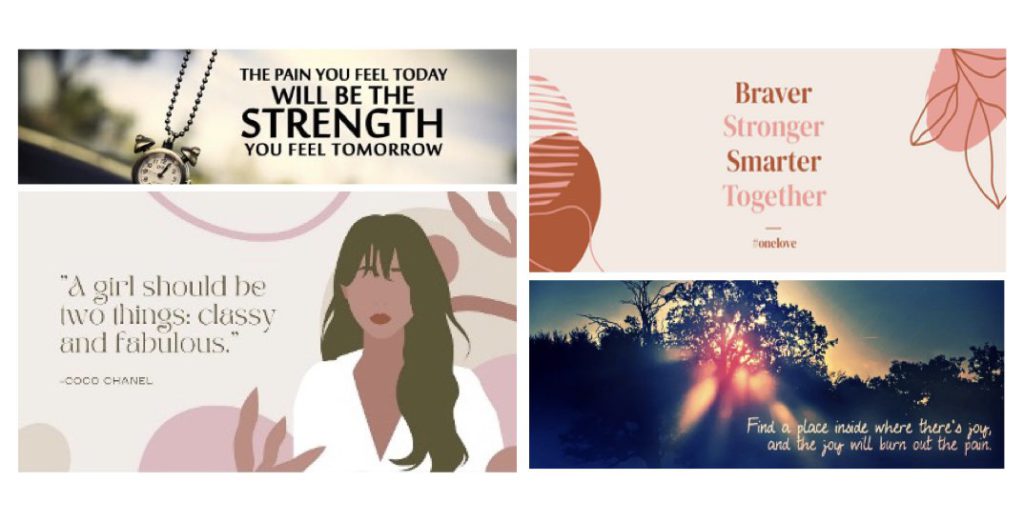 Quotes are pretty famous in this day and age, as they are used to provide inspiration and motivation to viewers. Every page with a quote is different, such as if you want to motivate people to exercise, you will use some image along with a quote. And if you're going to inspire someone, you would write a quote that makes them feel good about themselves and add an image relating to that aspect.
Company's Motto and Logo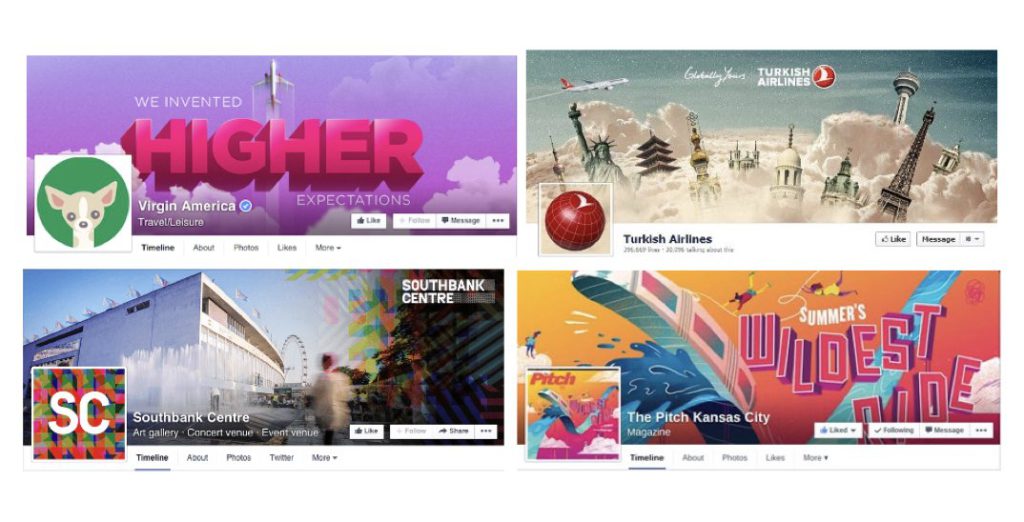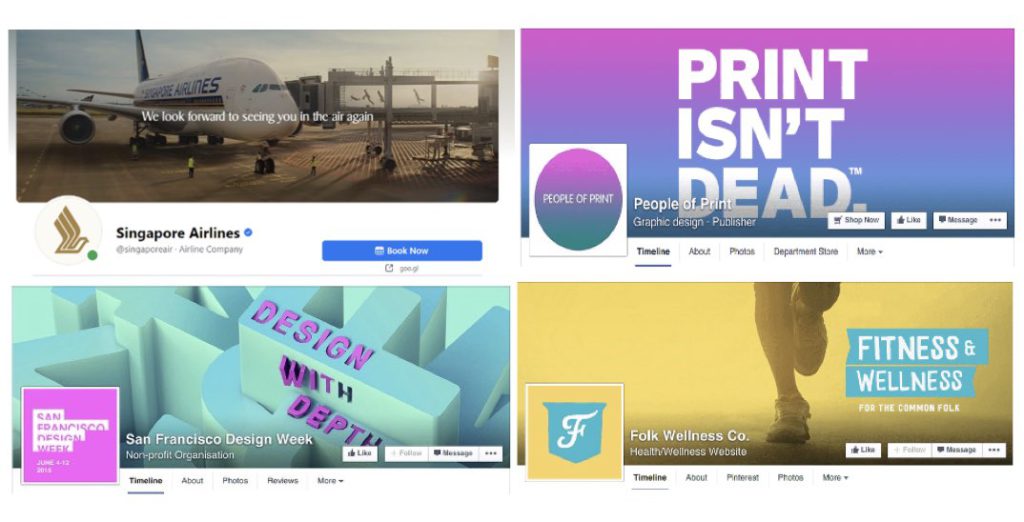 The use of the company's motto can make it easier to convey messages, ideas, and emotions at a glance. The branding's motto can be placed to allow the viewer an overall understanding of the brand. Your Facebook cover will stand out by using vibrant colors and sharp, unique images.
Products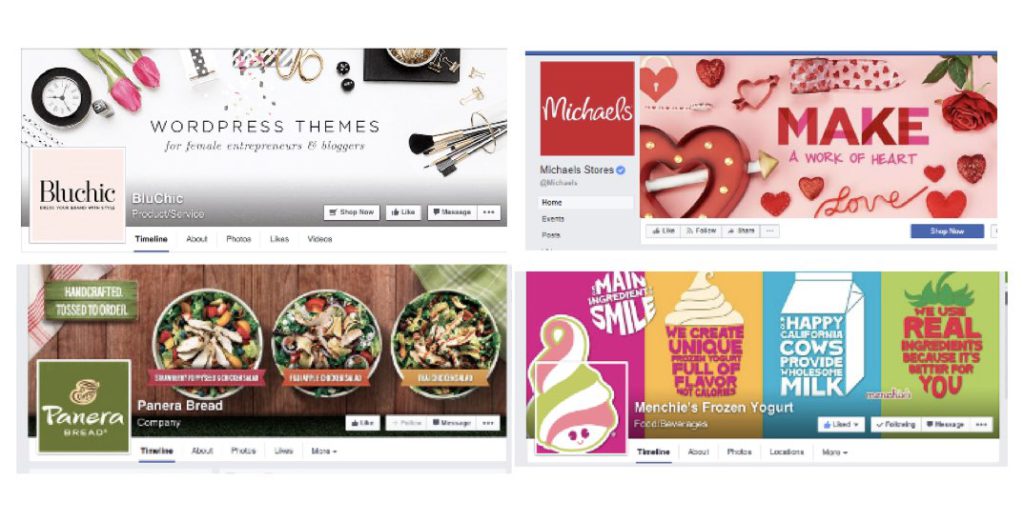 This is a bold and straightforward move. Placing your core product directly on the Facebook Cover to engage consumers directly.
Latest Promotions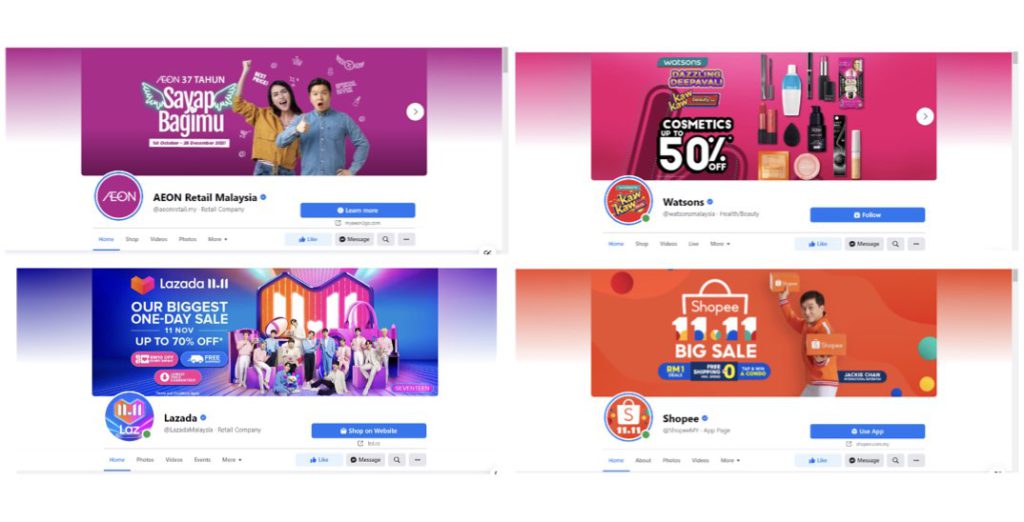 Keep your viewers updated on the latest sales and promotions that are currently available! This approach is perfect for business pages with festive discounts and promotions.
Upcoming Shows and Events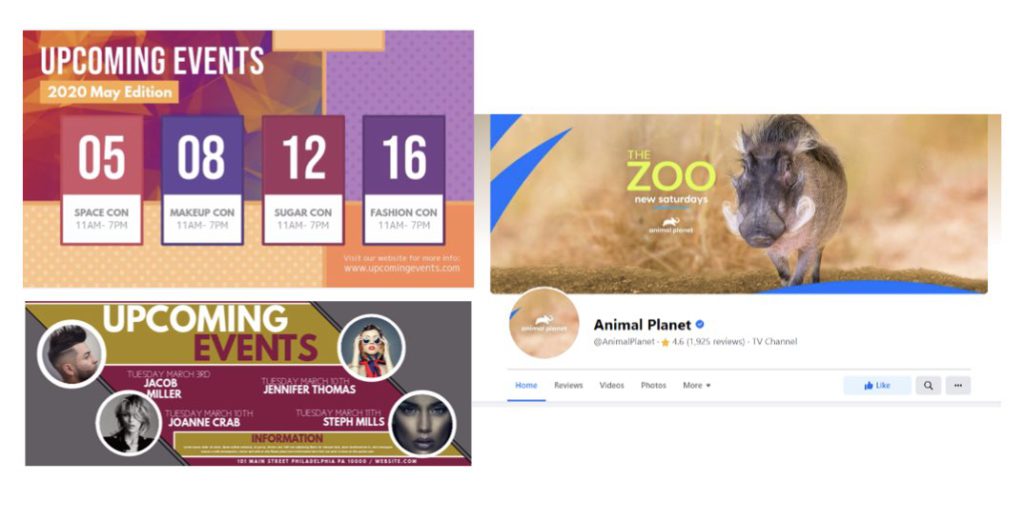 Inform your audience ahead of time. Keep them anticipating the exciting upcoming shows and events.
Download Collart to Create Beautiful Facebook Covers Now!
Download Collart on iOS today and unleash your creativity with our all-in-one photo editor, collage maker and quick graphic design app. Start creating a brand new Facebook look with your own unique Facebook cover photos using Collart today!

👉🏻 Follow Collart: Facebook | Instagram | Twitter | Pinterest | YouTube | Website | TikTok