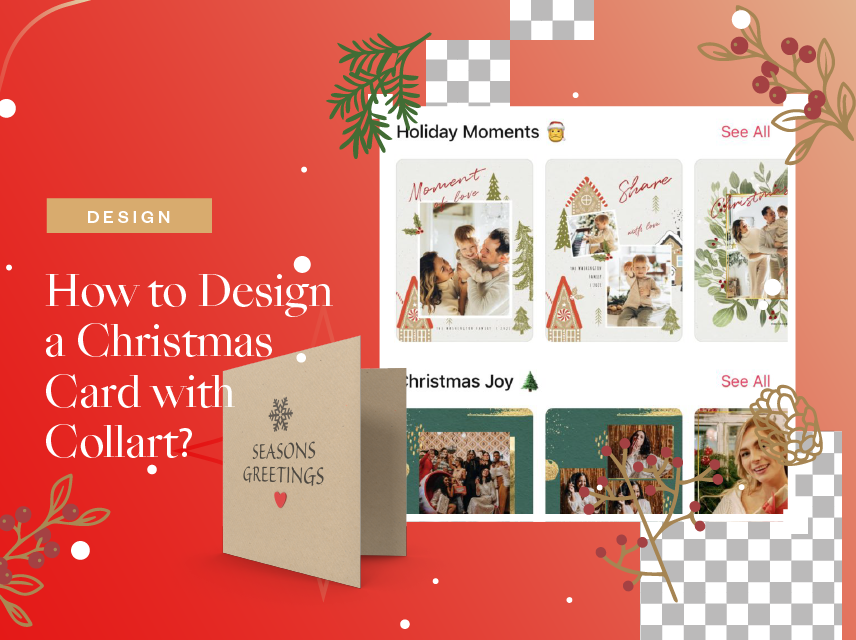 How to Design a Christmas Card With Collart?
Christmas is near. Let's send some kind wishes to your loved ones with your own unique Christmas card!
Christmas is often known as the best time of the year. It is a time of celebration all around the world! It's not just an excuse for overeating and hanging presents under the tree, but there are lights, shopping, laughter, joy, and cheer. People celebrate Christmas following their traditions, like spending time with their family or loved ones, baking, and cooking.
How can we miss out on the most significant part of Christmas – Exchanging gifts and Christmas cards? Everyone loves to exchange Christmas cards with their loved ones to reflect sentiments. Now that everything has been digitalized, many of us decided to design our own unique Christmas cards. After reading this article, you will be able to create a unique digital Christmas card of your own with your iPhone in no time.
How to design a unique Christmas card on iPhone?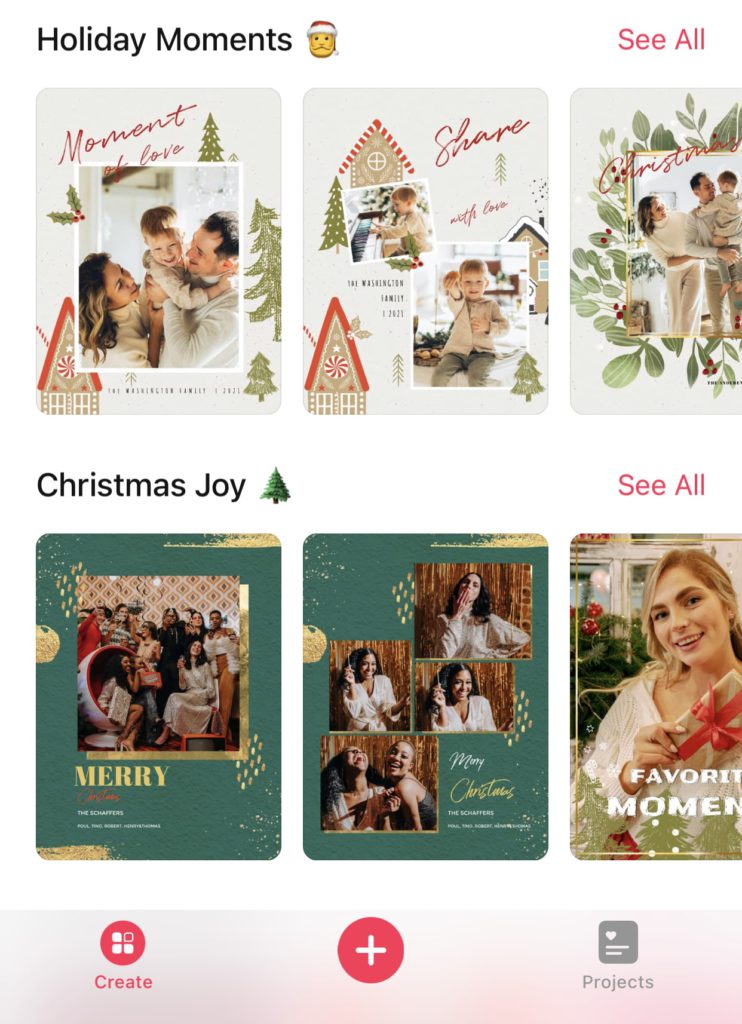 If you are thinking of designing a Christmas card, Collart free collage maker will be the best option to help you with it. Collart is a free photo editor for iOS. It contains hundreds of built-in templates, tons of stickers, auto background remover, freestyle editing tools, and different collage options. You have everything you need in Collart to design a unique Christmas Card of your own.
With Collart as your free Christmas cardmaker, you can design a Christmas card right from your iPhone. There is no need to get on professional software like Adobe Photoshop or illustrator. Collart is very easy to use, and anyone with basic knowledge can master it once or twice. Here's a step-by-step guide to making a creative Christmas card for your loved ones using Collart.
Step by step guide: Designing your Christmas card with Collart
Choose the format
The very first thing to get started is to select the design ormat for your Christmas card. Are you going to design by freestyle, or looking to use the free Christmas card templates in the app? For this, launch the Collart app, scroll down, and you will find different material resources in the app, along with suitable aspect ratios. Aspect ratio sets the size of your masterpiece. Depending on which social media you will be sharing or posting, you will choose that suits you. You need to be specific so that your content won't be trimmed when it is uploaded to the web. If you are not sure which one to pick, learn how to choose the perfect aspect ratio for your image.
Select the base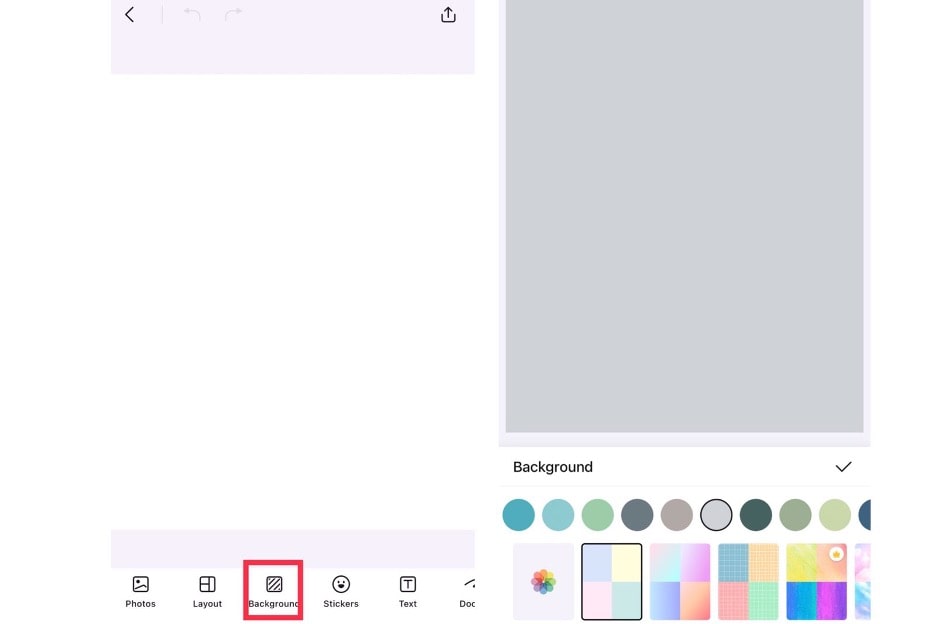 One crucial factor is the background color of your card. There are several colors available in the Collart library. You can play with these to make it more interesting for your card. However, remember to always keep your base simple, so it does not mess up with the main contents of the card.
Christmas is often associated with green (stands for Christmas tree), red (represents Santa), white (representing snow), and gold (ornaments). These are the common colors that we would suggest for the background.
Decide on a theme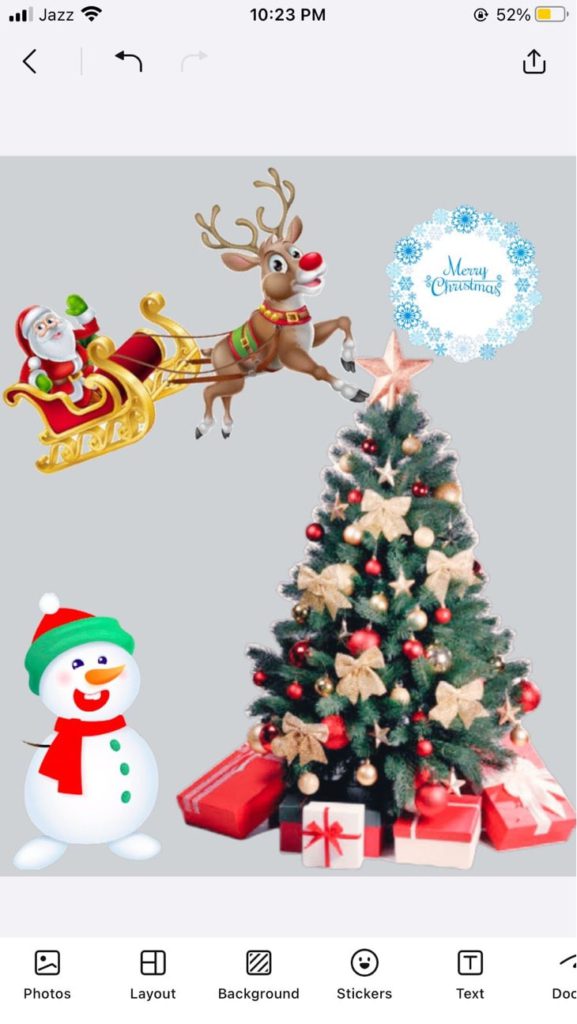 Before you start designing, it is always important to have a rough idea of the theme you are going into. There are several different Christmas themes you can design with. Here are some popular themes we would suggest:
Gingerbreadman with Gingerbread house
Santa with reindeer
Princess Elsa and Princess Anna from Frozen
Olaf the Snowman from Frozen
Christmas Tree with gifts
Deciding on a theme will help you outline the overall design and makes it easier for you to choose the characters you want to include in your card. Once you have decided on the theme, upload the images of the main characters by tapping on the lower-left corner of the screen. Adjust their size and position accordingly.
Add some decorations
Once you have placed the main character in, it's now time to give it a fancy touch. Add some stickers such as snowflakes and Christmas candy cane to spice things up a little.
Add text to your card.
Cards are always incomplete without texts as it fills them with emotions. It's time to express your own feelings through the words in these cards. Collart will elevate these emotions as it has more than a hundred options for font style and font colors.
If you are too shy to write something mushy, you can always quote some simple Christmas wishes from the internet. After all, it's the thought that counts!
Save and Share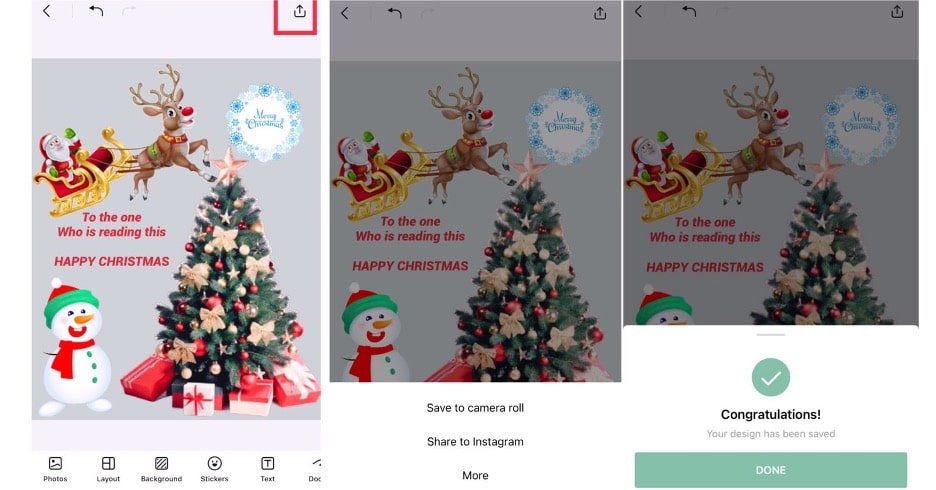 Once you have done with it, tap on the right corner of the screen to import it to social media platforms or save it to the camera roll.
Create Your Own Christmas Card Design on Collart Editor App
Collart is a FREE all-in-one Photo Editor, Collage Maker and Graphic Design app on iOS. The app comes with simple user interface and resource library of over 1000 stickers, backgrounds, templates, designs and more. It simplifies the process of graphic design, and will make Christmas card design faster and easier, on your iPhone or iPad. Download Collart now, and design stunning Christmas cards for your loved ones!

👉🏻 Follow Collart: Facebook | Instagram | Twitter | Pinterest | YouTube | Website | TikTok