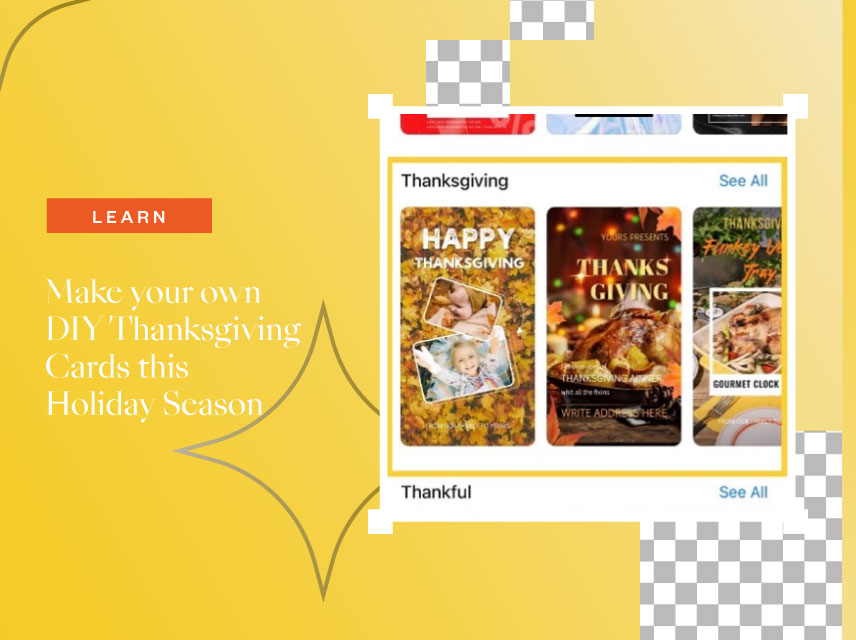 Make Your Own DIY Thanksgiving Cards This Holiday Season
Learn how to make DIY Thanksgiving cards this holiday season! Thanksgiving is a particular time when people get together and celebrate their blessings. It's a time to give thanks and spend quality time with family and friends. Many families share a meal with their loved ones, and it's a beautiful way to spend time with friends and family.
This year, you can celebrate Thanksgiving in style by making your own DIY Thanksgiving card. The thought goes into creating the card that makes it truly memorable. And what better time to craft your own Thanksgiving cards than during the holiday season?
Benefits of Customized DIY Thanksgiving cards
Thanksgiving is a beautiful time to show your appreciation to your friends and loved ones. You can make your thanksgiving card truly unique by writing a personal message.
There are many ways you can express your gratitude, and thanksgiving cards are a great way to do this. You can use them to thank your friends and family or give them a thanksgiving gift.
Thanksgiving cards are a fun and creative way to express your thanks to the people in your life, so make sure you write a message that's going to be meaningful to them.
You can use your thanksgiving card as a unique keepsake, even putting it inside a frame.
Collart is a free photo editor on iOS that enables you to add cool effects to your photos. It allows you to edit your photos. You can also create unique collages and share them on social media. You can change the background of photos, add frames, crop and resize your images. Collart has thousands of stickers that you can use to create a thanksgiving card for free.
Best of all, Collart's library of built-in templates. Collart has thousands of templates that you can use for different occasions. Either it's father's day, mother's day, marriage invites, or Thanksgiving. You can use templates to make perfect cards.
You will be surprised to know that Collart is still very easy to use despite including all these features. Why learn to use more professional editing software like Photoshop or desktop when you have the Collart App?
How to DIY Thanksgiving Cards on iPhone with Collart?
Now you can create a perfect thanksgiving card right from your phone. There are lots of free thanksgiving templates available for you to use. You need to find the one that best suits your needs. Collart offers a wide range of free templates to get you started if you need a custom design. From stylish blog themes to powerful eCommerce platforms, you're sure to find the perfect design for your business.
Making a Thanksgiving card using Collart's built-in template is very easy, and you can create one for yourself in a few steps.
Choose Your Card Template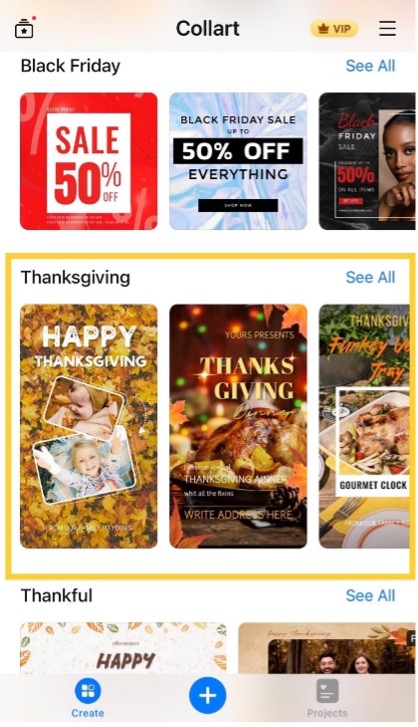 The first and foremost step is to find the most suitable thanksgiving template. There are different templates available for thanksgiving cards. You need to download the template you like and tap on it to open and edit.
Upload Images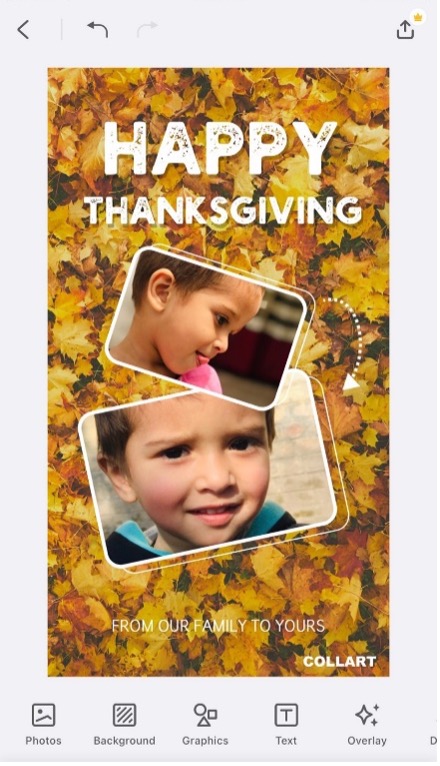 Once you open the template, now you can edit it according to your taste. Upload your photos; you can upload your parent's photo or whom you loved the most.
Add Stickers, Backgrounds and More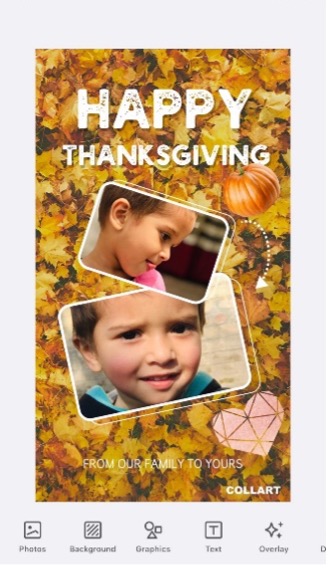 Add stickers to make it more engaging and attractive as it's Thanksgiving. You can add a heart-shaped sticker that symbolizes this occasion.
Add and Customize Texts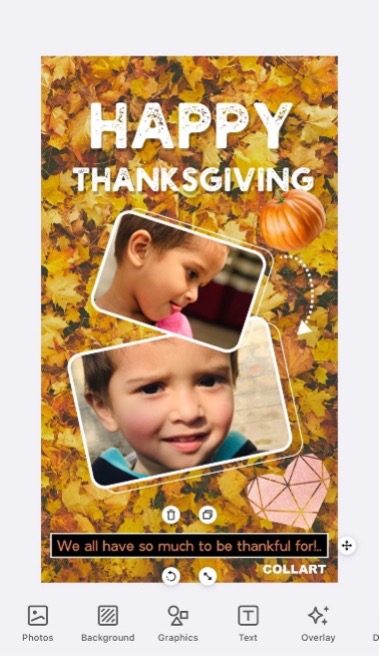 Here is the most crucial step in making a thanksgiving card. Any card is incomplete without emotional messages. They are just like putting breath in the card. You can use the following sentences on Thanksgiving.
There's always something to be thankful for.
I'm pretty appreciative.
Eat, drink, sleep and be thankful!
Please accept my heartfelt thanks.
DIY Thanksgiving Cards – Pro Editing Tips
One tip to remember about adding text is that you should try different fonts on your card. Don't limit yourself to a single font style; however, use different fonts with unique font pairing and color combinations. Font pairing is like a loving relationship, making the text smoother to read and pleasant to look at. So make a different push and pull combinations using unique color schemes.
Save and Send to Loved Ones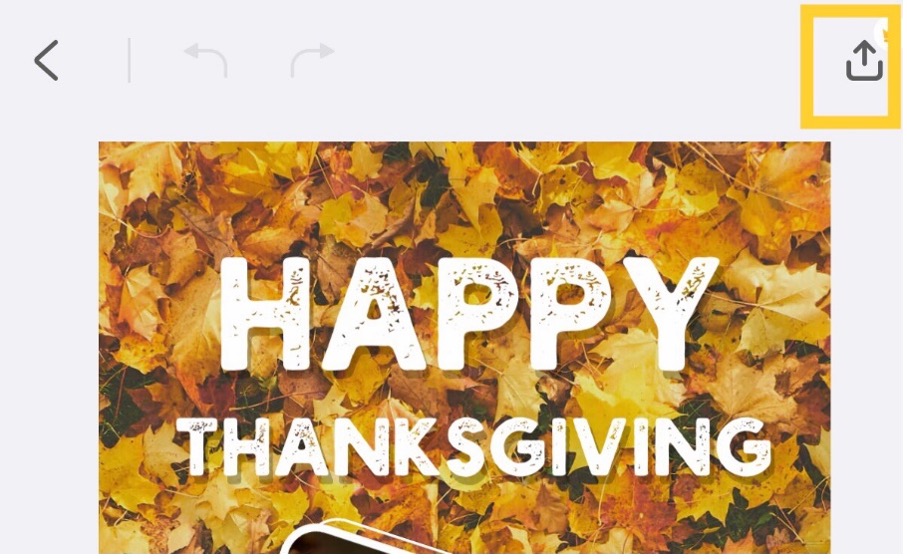 Once you are done with your Thanksgiving card, you can tap on the top right corner of the screen. You can now save this thanksgiving card to your gallery or share it on various social media platforms.
Design Your Own DIY Thanksgiving Cards With Collart!
Collart free photo editor app allows you to easily remove image background, along with many other functions and tools you need to create your own DIY Thanksgiving Cards, to impress your loved ones! From photo adjustments, removing background and creating transparent images, Collart is the best card maker app you need for your iPhone and iPad to create your own DIY Thanksgiving Cards!

👉🏻 Follow Collart: Facebook | Instagram | Twitter | Pinterest | YouTube | Website | TikTok