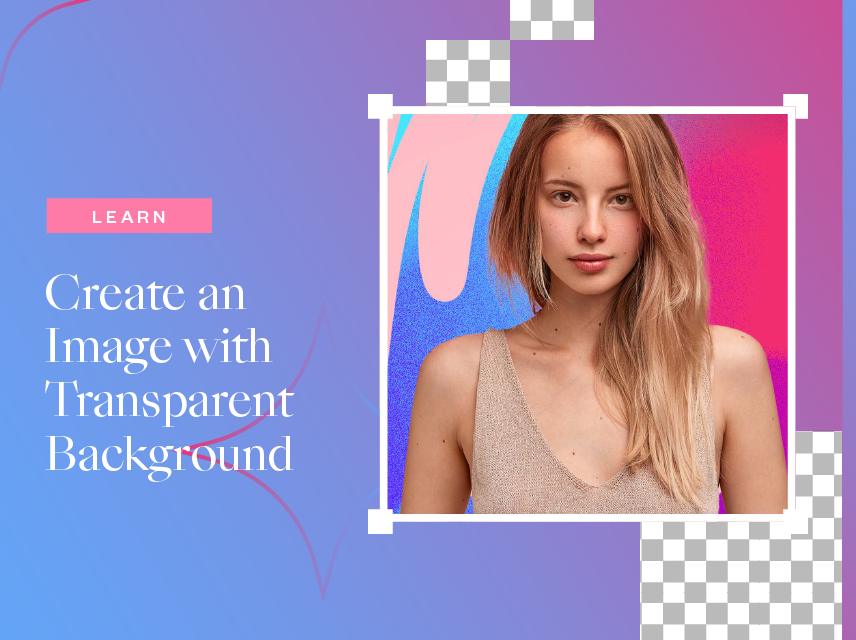 How to Create an Image with Transparent Background?
Now anyone can create a compelling image with transparent background and do professional image editing even without a lick of graphic design skills. You will see how to remove the image background perfectly for free with just clicks in a few moments.
Collart is a free photo editor and collage maker on iOS. It offers stunning image editing features and an easy user interface for navigation.
Coming with a photo editing toolkit and free filters, it exports images in high resolution. In short, consider this free app an alternative to Adobe Photoshop available on iOS for everyone.
Why Remove Image Background with Collart?
Are you looking for the perfect inspiration for your next social media image?
Image editing is challenging with complex software like Photoshop. Not only your image needs to be a stunner, but you have to edit it professionally.
With Collart free photo/collage maker, you can make image backgrounds transparent smoothly and edit them perfectly.
It saves your time and makes the image background transparent with just a few taps. A perfect image editing app for everyone. With it, you can:
Edit your dog image within seconds after your morning walk to post on your social media wall
Remove image background after night party and share it with others
Add your image after removing background in event photo you weren't able to attend
Design your next social media cover photo
Upload your next stunning profile pic with trending plain background colours and much more
Become a Cyber Star
How Can You Make an Image with Transparent Background?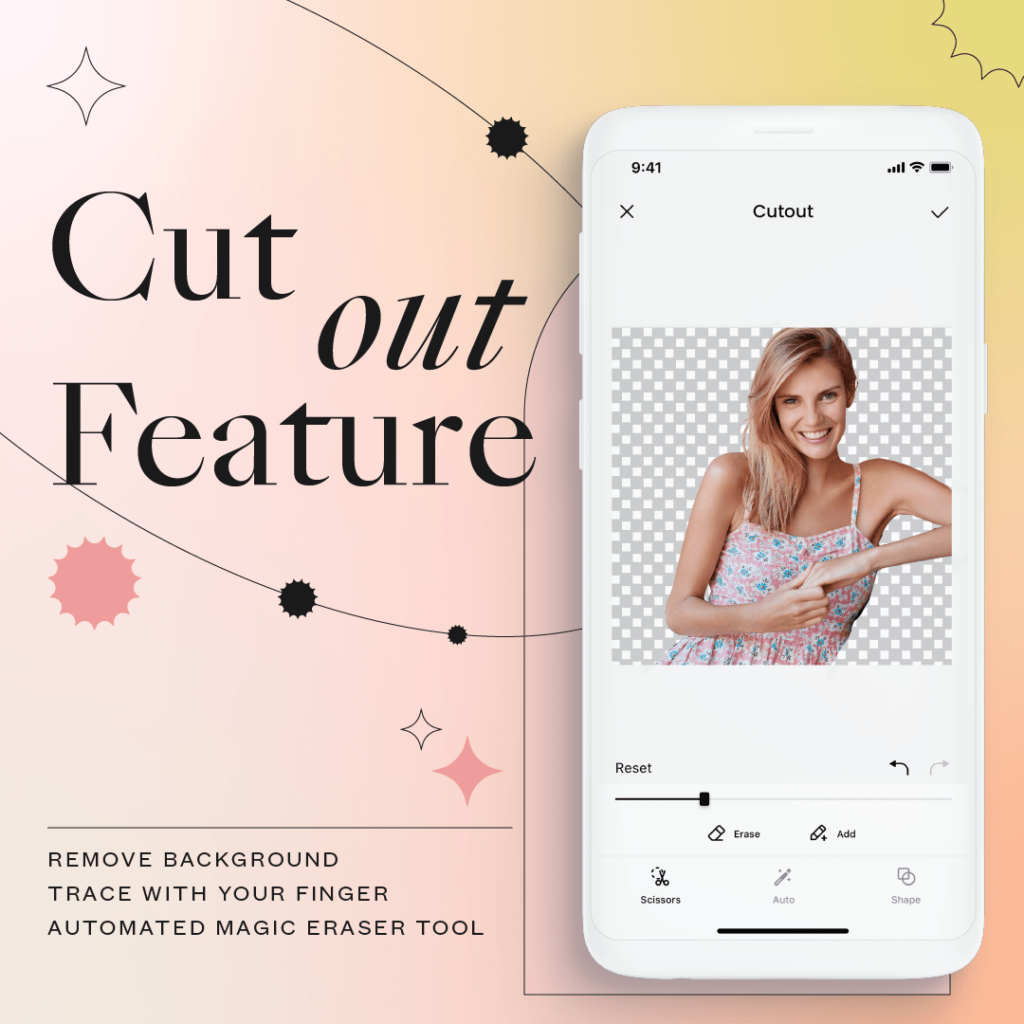 Collart free photo/collage maker takes just a few taps to make a perfect image with Transparent Background. To remove background with Collart:
Step 1) Open the image in the Collart app.
Step 2) Tap on the Cutout tool option to enter in the transparent images section. Here you have multiple options for creating an image with transparent background. You can use AI detection to remove image background automatically, shapes to transform the image into a particular shape, or scissors option for manual free hand cutting.
Step 3) Tap on the Tick option present on the upper right side to save the image with transparent background. Now you can further edit or else export the image.
How Does Collart Cutout Tool Make The Image Background Transparent?
You have learned how to make an image with transparent background for free. Now let's dive into stunning options present in the Collart Cutout tool for efficient use and incredible image outputs.
AI Detection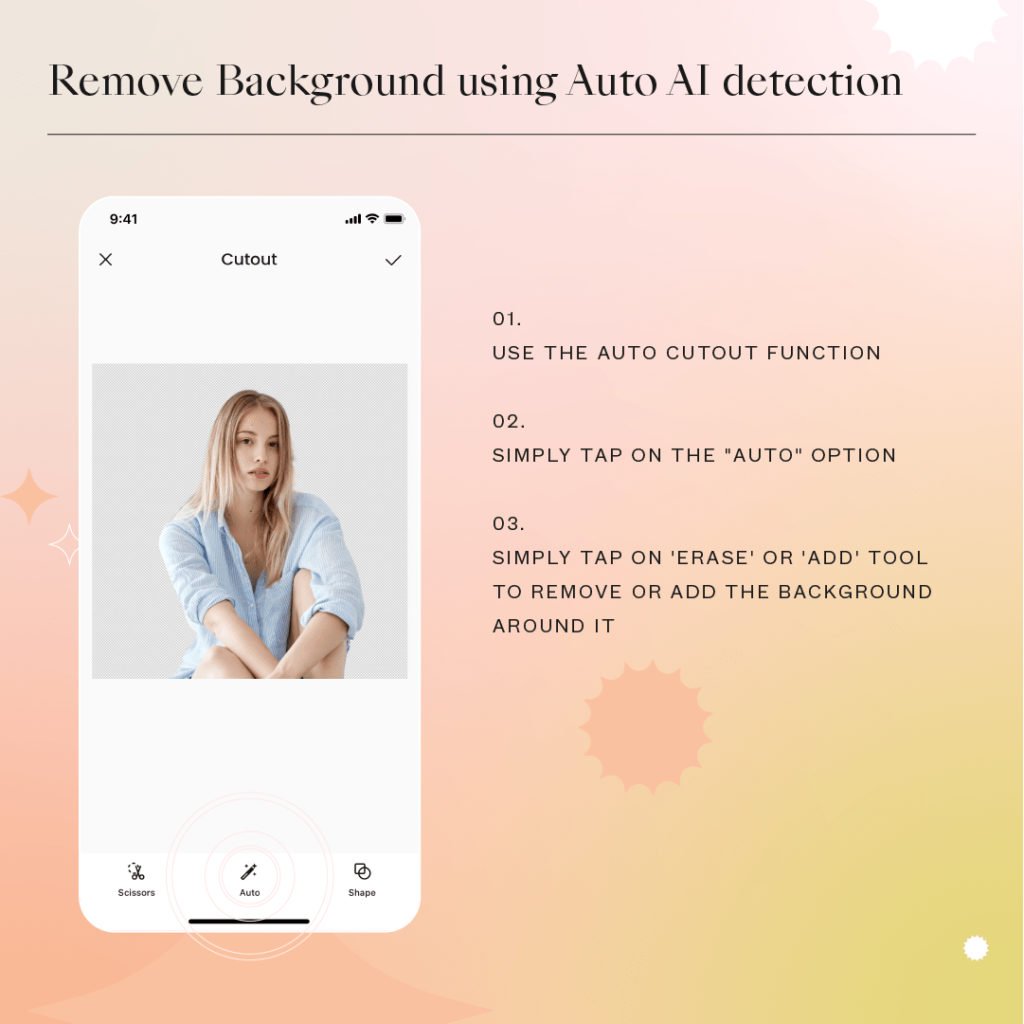 The AI detection option is perfect for auto removal of the image background. As you click on AI detection, the image is automatically analysed, and the background is removed. It saves your time and eliminate the background smoothly.
It is a perfect tool to make the image background transparent with people in it.
Manual Cutout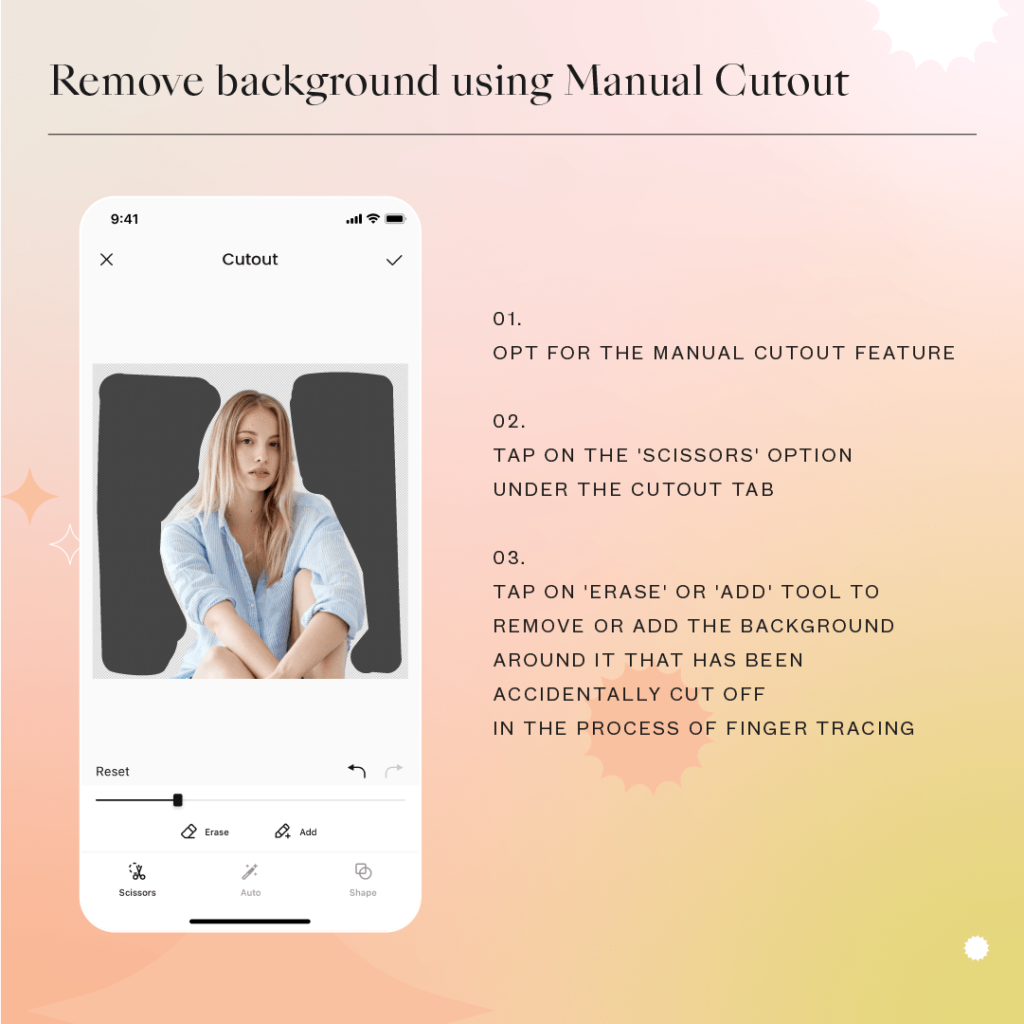 The manual cut out option is excellent if you want to use freehand for removing a piece of your image or retain a particular object of the whole image while making the image background transparent.
Shapes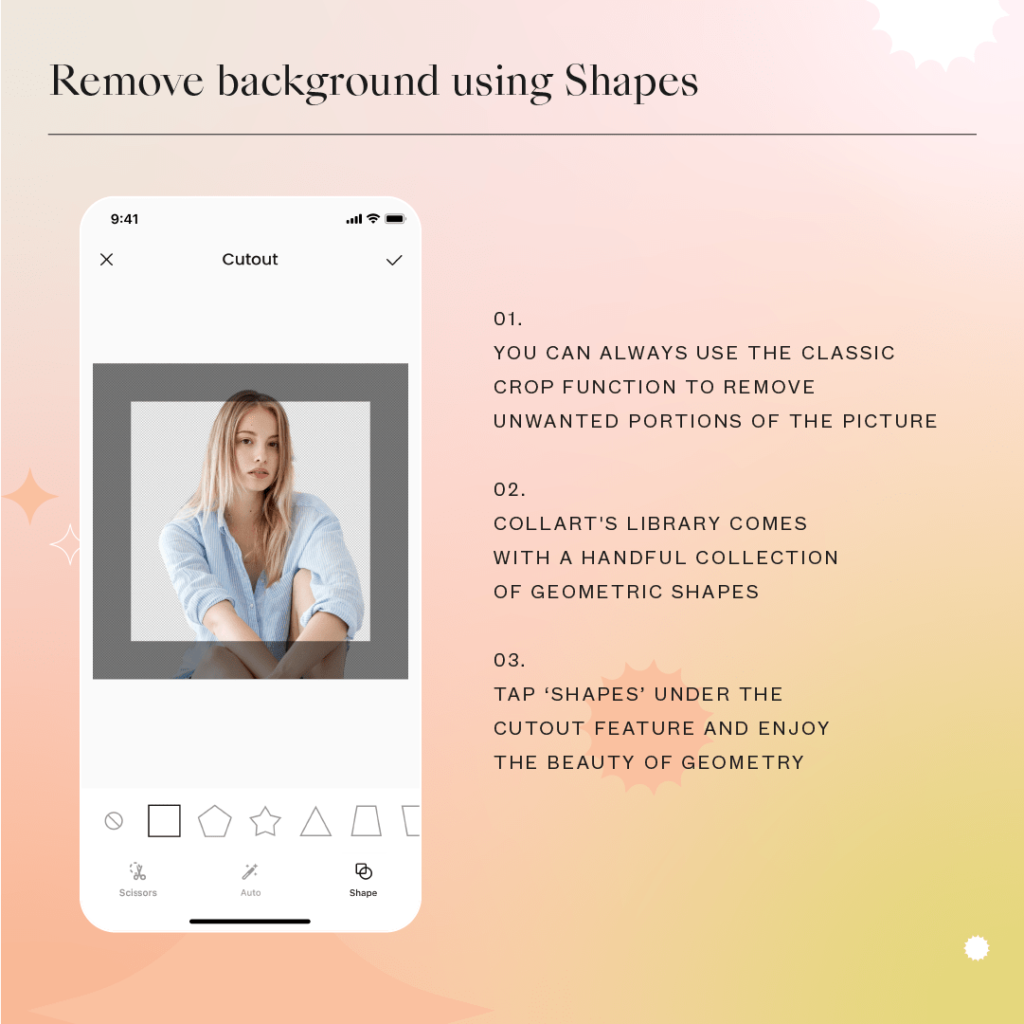 On "Cutout" tools, you probably noticed the shape option. With it, you can remove the extra background and convert the image into different shapes.
Are you planning to have a romantic heart out of your image? Select the shape option, and from a variety of shapes, you can select heart and save your image in heart shape with extra background removed.
Add Back or Erase With Precision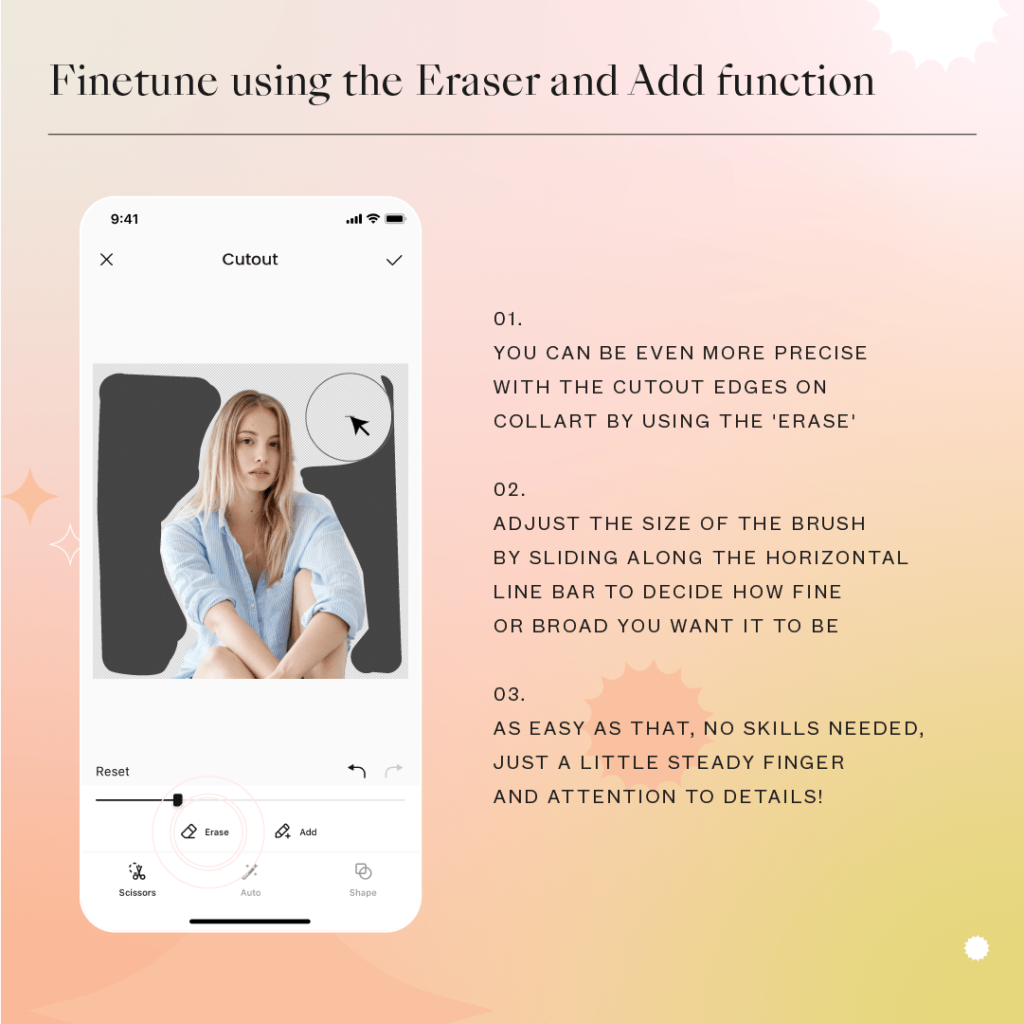 Tap on the brush tool to add back parts of the image you have accidentally erased, or erase the portion of the background not removed with precision. With Collart, you can have a beautifully edited image with transparent background with the touch of your fingers on your iPhone or iPad!
Tips to Create The Best Transparent Background Images on iPhone
Creating an image with transparent background on iPhone is simple and easy with the Collart app. With tips and tricks, you can add special sparks to your image editing game.
To ensure the image background are removed perfectly, here are best practices to follow:
Ensure you have distinct background contrast for AI detection to work seamlessly
Use high-resolution images
Be careful about colour combinations when you are adding your transparent background image in other pics.
Try different options and combinations to create perfect image blends
Add plain or blur backgrounds after removing the original background
Download Collart: Best Photo Editor App on iPhone/iPad
Explore the endless fascinating possibilities of transparent background images and pro image editing without designing skills for free with Collart iOS App. So what will you create daily with yours? Download Collart To Create Beautiful Photo Edits and Collages Today!

👉🏻 Follow Collart: Facebook | Instagram | Twitter | Pinterest | YouTube | Website | TikTok