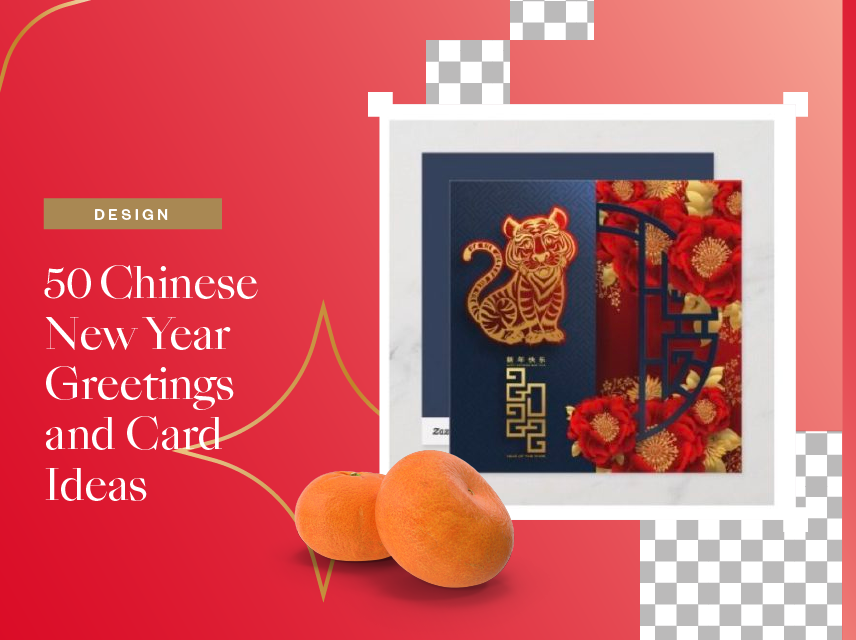 50 Chinese New Year Greetings and Card Ideas
It is a tradition to create Chinese New Year greetings and cards to remind us of the festive season. People near and far are saying goodbye to the year that is about to be gone and welcoming the new one with happiness and prosperity.
In a similar fashion to Americans, many people worldwide celebrate New Year's Day in different ways. Asia is another place worth mentioning. Chinese New Year is also known as the Spring Festival in China, Taiwan, Hong Kong, and many other Asia Regions. The Chinese New Year of 2022 starts on February 1, which also happens to be the start of the year of the Tiger. Tigers are symbols of excellence, perseverance, and honor. According to legend, leaders are expected to be born in the years of the Tiger. Adventuresome, ambitious, and mindful of justice are just a few of their characteristics, yet they can also be reckless and arrogant. With this in mind, you can create your own Chinese New Year cards.
People celebrate New Year's with their loved ones. Those who celebrate Lunar New Year's do the same. They participate in activities and exchange gifts with each other too. Chinese New Year Greetings and cards can be a meaningful gift. These cards can share wishes and contain meaningful sayings to show loved ones that they are essential to you and that you wish them much luck in the year ahead.
Tips on designing Chinese New Year Greetings and Cards
Select bright and uplifting hues
The colors red and gold, which represent fortune, happiness, and wealth, suit Chinese New Year cards. Avoid using colors like black or white as people in this culture believe these colors are associated with death and bad luck.
Incorporate cultural images or symbols
A designer may decide to incorporate images or symbols in the design. Some examples include Chinese lanterns, plum and peach blossoms, bamboo plants, red envelopes, a tiger, three lucky Chinese coins tied with a red ribbon. Symbols associated with good luck, such as the Chinese character "福" (which means auspicious) or "春" (which means spring), can be included too. It is believed that these signs such as these bring people happiness as they enter a new year, wishing that their year will be filled with good fortune and good fortune. Hence, a card adorned with these symbols would surely brighten a loved one's day.
Greeting Messages
The third element is writing/text. Most New Year's greeting cards include general words such as "Happy New Year." Instead of following standard practice, designers and organizations should write something that matches the occasion, such as mentioning the year of the Tiger or wishing a family and loved one's good fortune. If you need help with the messages on the greeting card, here's 85 Best Happy Lunar New Year Greetings, Messages, & Wishes for 2022 we have compiled for you.
50 Chinese New Year Greetings and Cards – Ideas and Inspiration
All Chinese New Year greetings and cards are unique in their own way, whether it's the color, size, or design. All the principles of design are incorporated to make them stand out. These Chinese New Year cards give off an air of celebration and lots of festivities. Persons who usually decide to design these cards normally add some positive words of encouragement, and some are humorous. It is all up to them. There's no limitation as to what you can create with Chinese New Year Cards. We have compiled 50 Chinese New Year cards for your inspiration, and you can use them as references to create the best Chinese New Year Card designs that will fly off the shelves!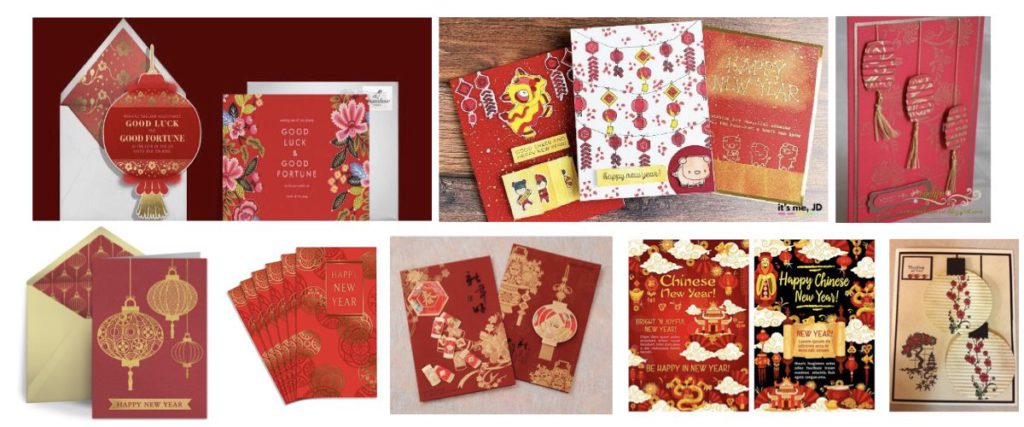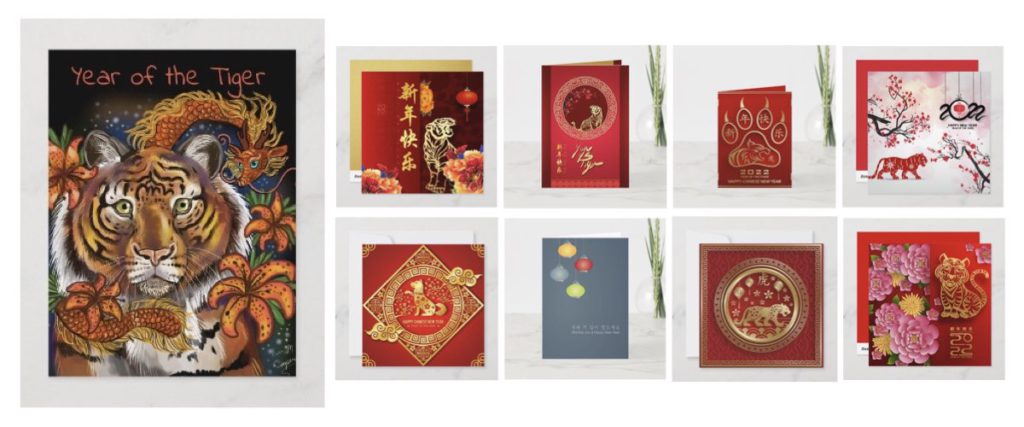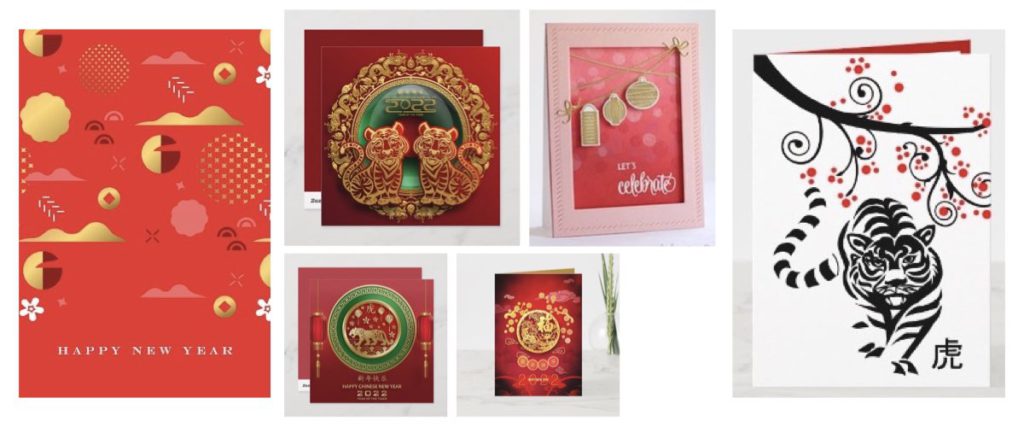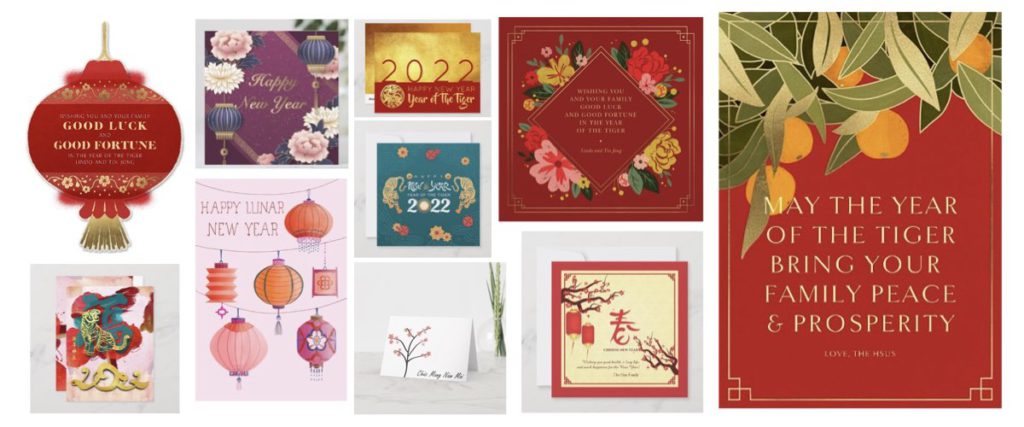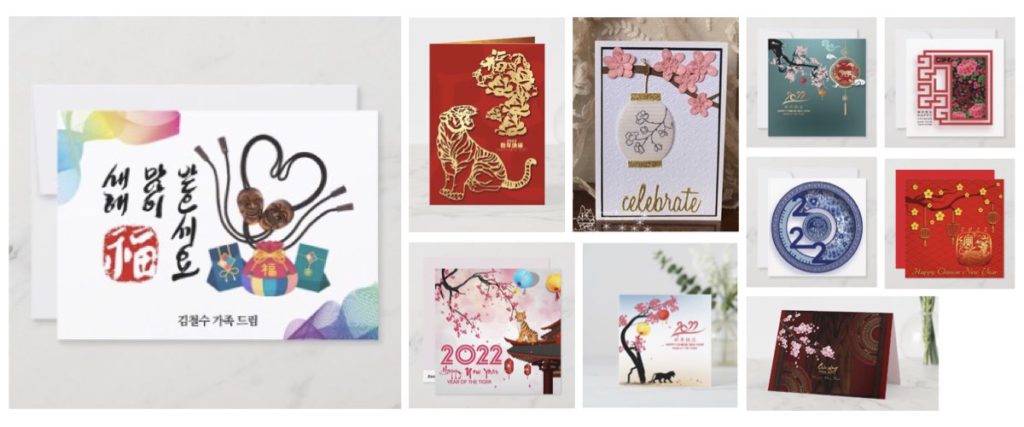 Download Collart Photo Editor to Create Chinese New Year Greetings and Cards For Free
With Collart free photo editor app, you can easily create Chinese New Year greetings and cards for the festive season, along with many other functions and tools for photo editing. From collage tools and free design material resources, to removing background of images, Collart is the one graphic design app you need on your iPhone and iPad to create stunning greetings and cards this Chinese New Year.

👉🏻 Follow Collart: Facebook | Instagram | Twitter | Pinterest | YouTube | Website | TikTok
---