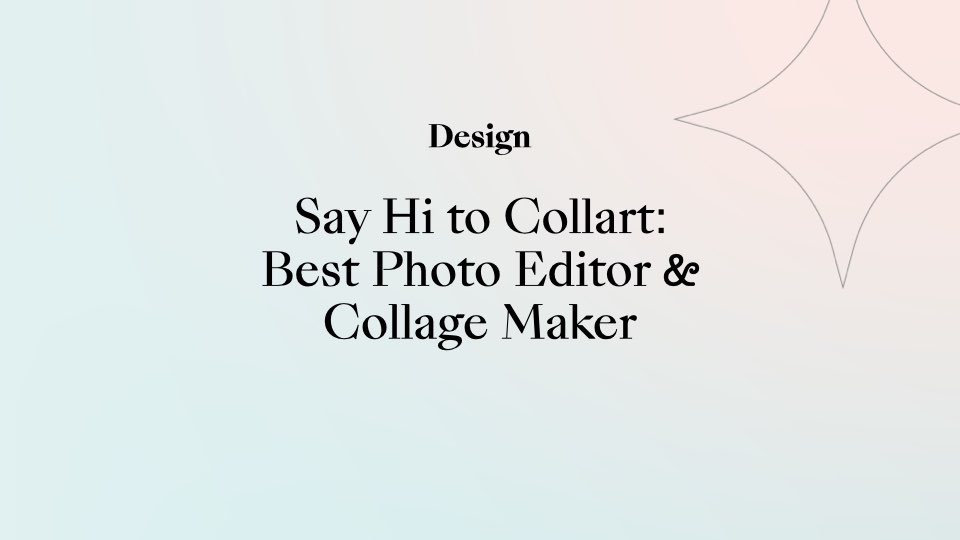 Say Hi to Collart: Best Photo Editor and Collage Maker
Are you craving turning photos sitting idly in your local gallery into some kind of visual pleasure to others? Congratulations! You have made the best choice of trying Collart – the best option for you when you want to quickly and easily create your own pieces of art.
Collart: Best Photo Editor and Collage Maker on iOS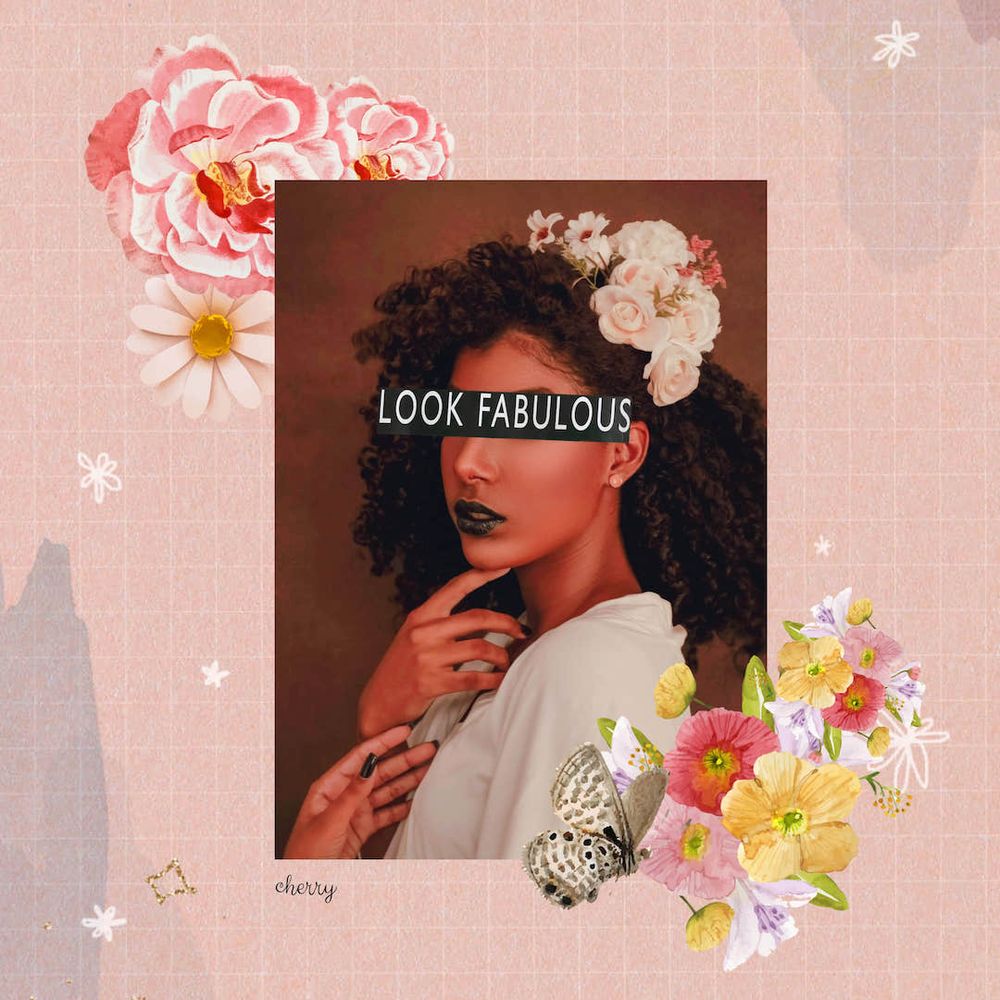 With preset collage layouts and templates, awesome backgrounds, filters, text tools, and stickers, Collart photo editor and collage maker enables you to make eye-catching photo collages in minutes and get more likes on social media! It's time for you to explore this wonderful App follow our lead and make one step closer to a true artist.
A good photo collage is not a simple combination of photos. It starts with a theme and the right amount of information that you readers could get instantly. Sounds difficult? Don't worry! Collart provides everything you need to make an eye-catching photo collage.
Steps to Create Beautiful Collages on Your iPhone
Decide on a Theme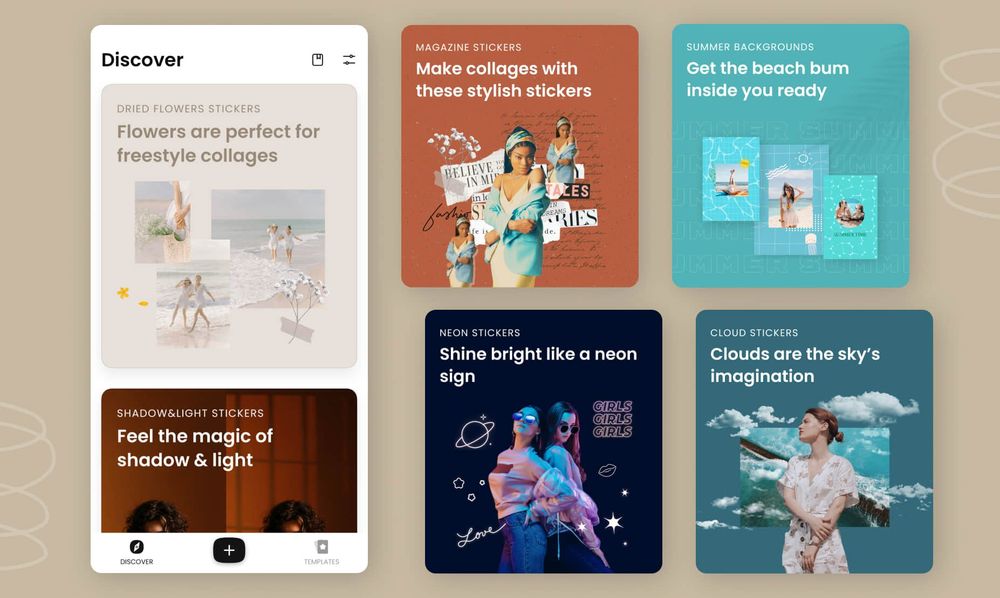 The most important step of creating a collage on Collart photo editor and collage maker is to set a theme and make all elements stick with it.
For example, if you are making a collage of SUMMER, you would include colors of beach and sky, ad elements like the sea, tropical fruits, and pool to reinforce your theme. If you have no idea how to choose an appropriate theme, check DISCOVER to explore the most trendy and popular stickers about various topics and get inspired.
🌟  Templates and Layouts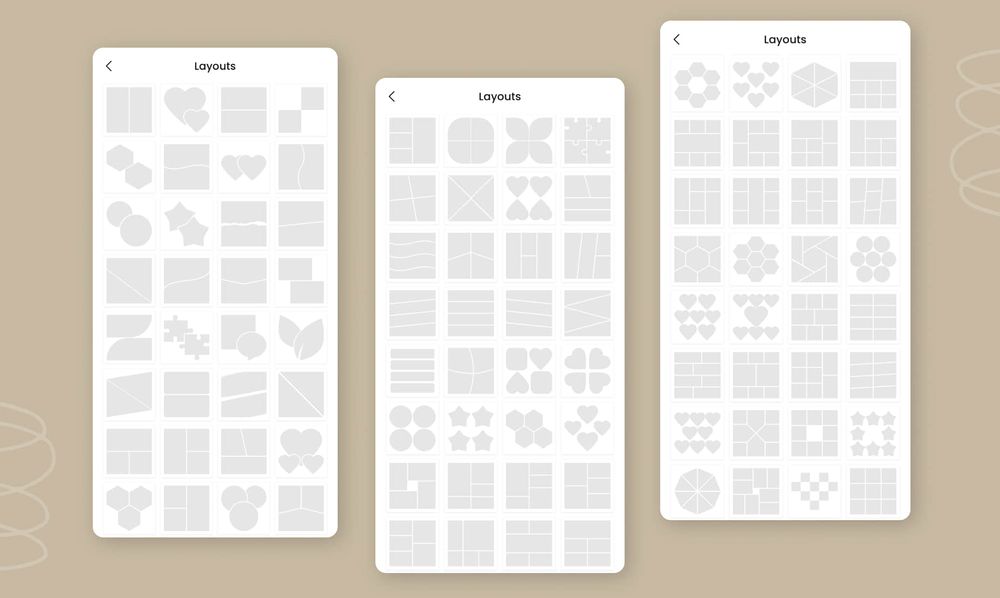 Even simpler, Collart photo editor and collage maker provides hundreds of stunning templates and layouts for you.
From a single photo to your best nine, from vintage to retro, you can find everything you want. Select your favorite template and choose photos, a piece of aesthetic collage work is only several taps away.
Edit Your Photo
When your theme is on point, perfecting your photos is a must. Collart photo collage maker comes packed with fantastic features to help you edit your photos.
🌟  Crop and Resize Your Photos
There are plenty of reasons to crop your pictures. If you want to get rid of anything unwanted in your pictures, cutting it out is a great way.
With our image cropper, you can control the composition of your image by simply dragging any corner on the crop box and remove the unsatisfied part.
Whether you are making an ins story or a Youtube cover, you can crop your pictures into any social media size in Collart with a few taps.
Just upload your images and choose a style, you can resize your pictures without worrying about any loss of image quality.
🌟  Remove and Change Backgrounds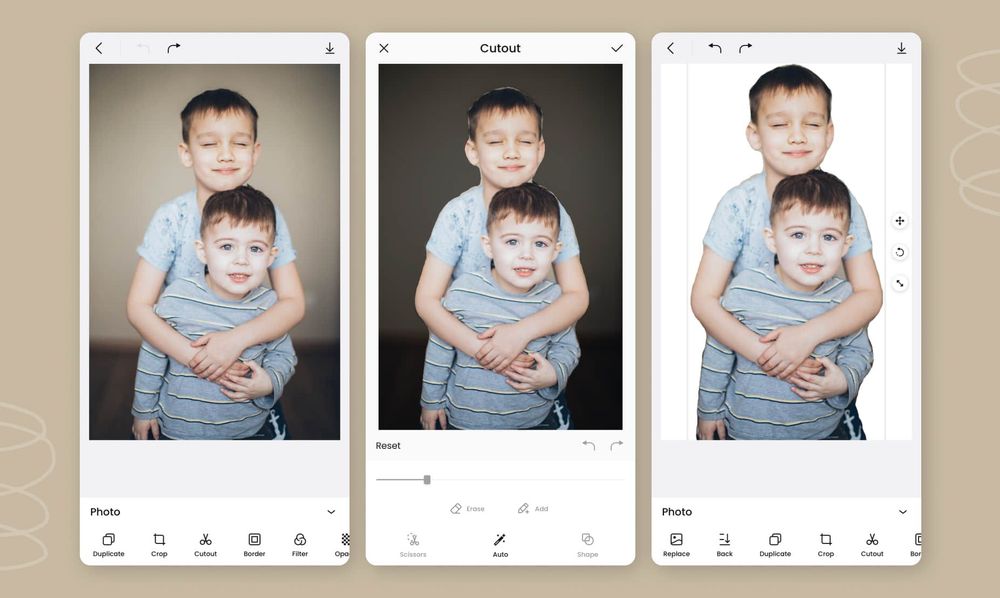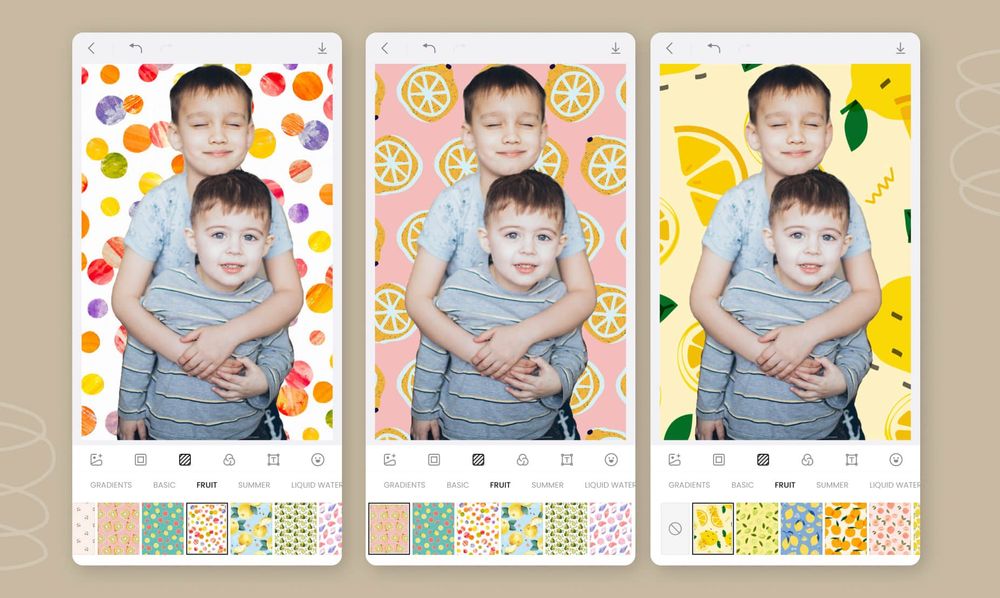 While you might be intimidated by the idea of removing the background of an image, it doesn't have to be difficult and time-consuming.
Our smart cutout tool makes background removing super easy and fast. Simply upload your image, our tool will automatically detect the areas to be kept in the image uploaded, and BOON, your image is now a sticker with transparent background. You can always refine the edges of your sticker by yourself. Normally we need to further edit our sticker by, for example, adding a new background. You can upload a photo from your phone gallery or choose a color or a pattern that's already available in Collart photo editor and collage maker.
Remember: The background does a great job in conveying the theme or mood of your design so choose it carefully!
🌟  Beautiful Preset Filters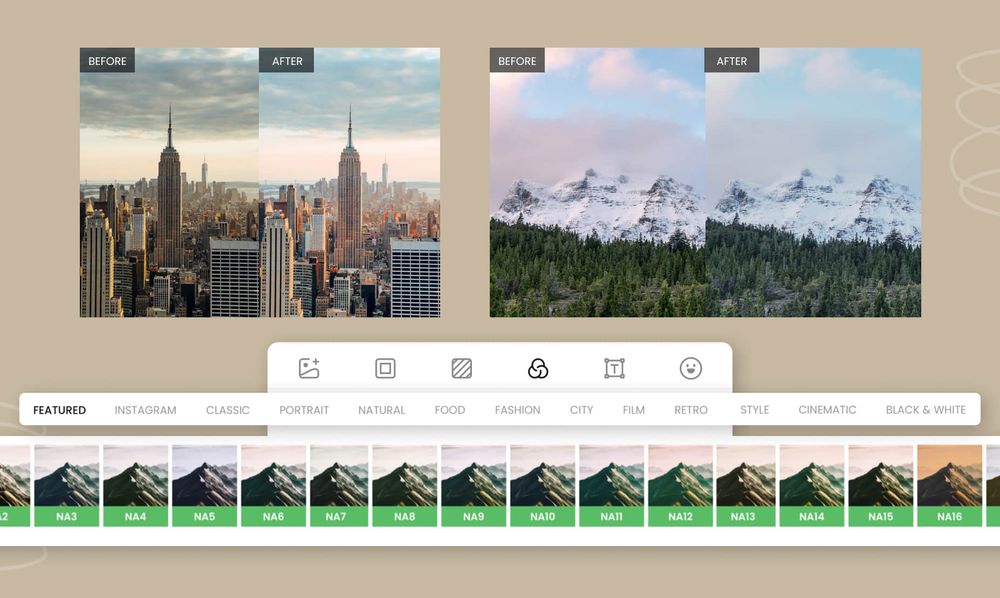 To blend your images with the theme, try play around with light and color using filters, the best and easiest way to change the visual style of your image. Believe it or not, Collart photo editor and collage maker has an incredibly diverse library of filters that satisfies all your needs.
Love vintage? Scroll through the editor panel at the bottom of the screen and find the sets of filters that bring you back to the decade you dreamed of. The warm amber filters of CLASSIC are like breeze in summer. And the iconic BLACK & WHITE styles take your modern picture to the time of Audrey Hepburn. Not a selfie person? Use NATURAL and CITY to bring out all the gorgeous beauty of nature and urban shots.
⭐️  Many Fonts and Text Settings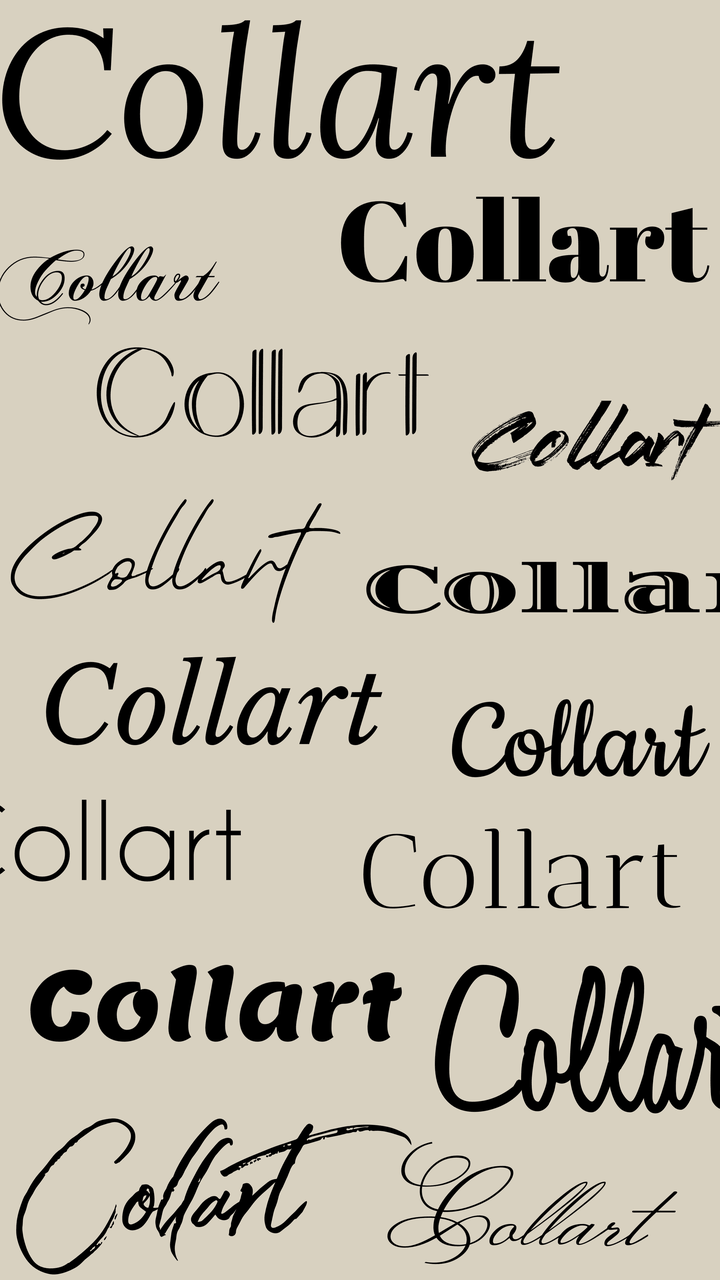 We say a picture is worth a thousand words. But adding text and stickers to your images really amplifies your collage theme and mood.
Want to get creative with text?
Collart provides a large library of popular font styles for you to choose from. You can easily find fonts that match the aesthetic and themes of your photos.
Keeping up with trends, Collart offers a plethora of possibilities to create any kind of combination of photo and text.
You can change different colors and backgrounds, manage transparency, rotate text, add shadow effects, adjust spacing and height, etc. You have complete creative control over your text.
⭐️  1000+ Trendy Stickers to Choose From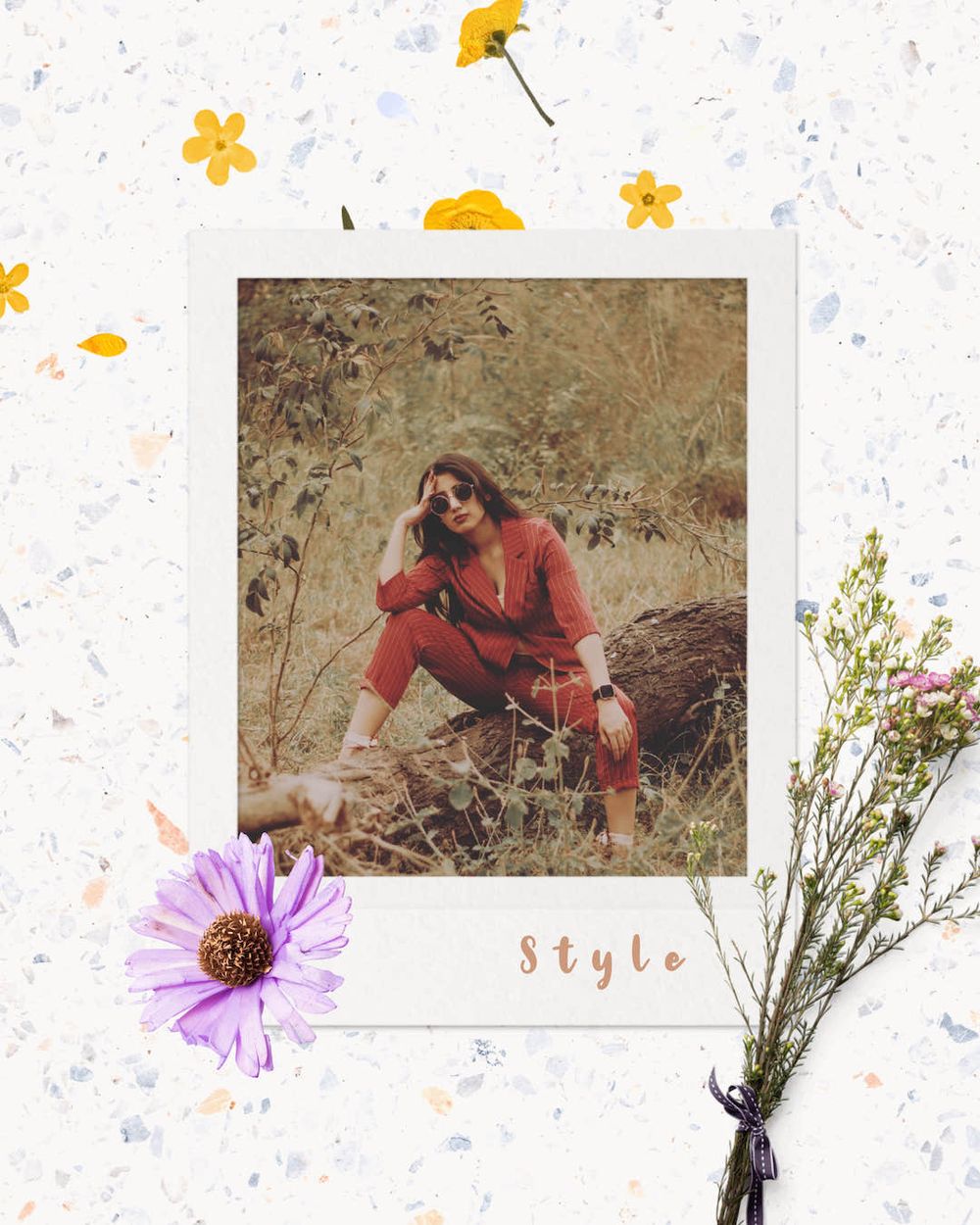 If you lack inspiration for text typing, decorating your pictures with stickers is also a good option.
Postcards, flowers, and butterflies make the best border to highlight your beauty. Chalk doodles of beach patterns with white clouds bring your holiday with friends close at hand. The retro postmark with a watercolor pattern takes you back to the streets of London in the 90s.
Didn't find your favorite sticker? Use the cutout feature introduced earlier to create your own custom stickers and make your photos stand out!
Save Your Photo
Save and share your work easily. You can easily share on Instagram and many other social media platforms through the app. If you require more edits, you can always come back to it, under 'Projects' to pick up right where you left them.
Graphic Design App With Free Icons, Stickers and More
If you're looking for the best photo collage tools, Collart photo editor and collage maker must be the choice for you. Our professional and full-featured tool offers you the best mobile editing platform to help you bring your ideas to life. Remember, practice makes perfect.
Now you've learned about Collart, go try it out to create a unique story told from your own perspective. As you continue to experiment, you'll find your own content and style. Don't limit yourself and feel the joy of creation! Collart will be by your side on the journey to an artist.

👉🏻 Follow Collart: Facebook | Instagram | Twitter | Pinterest | YouTube | Website | TikTok