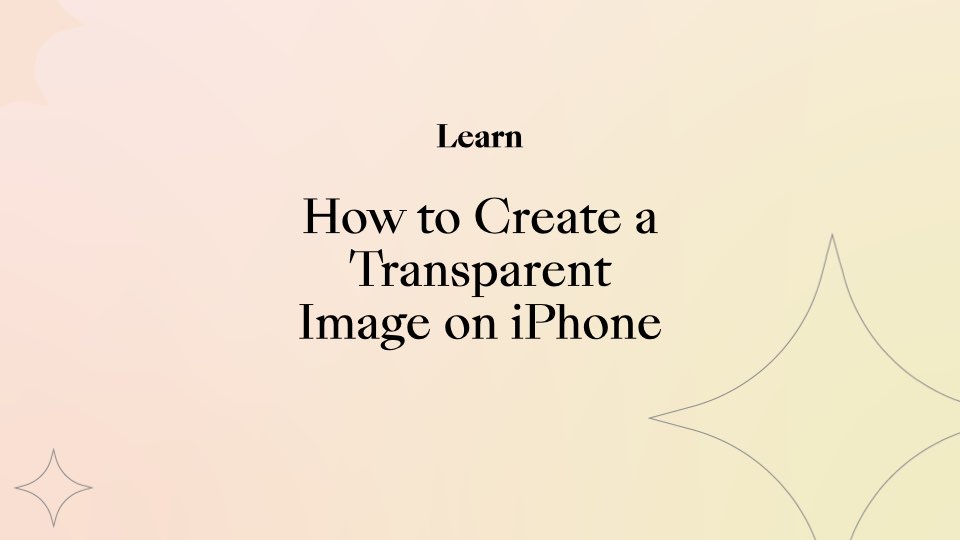 How to Create a Transparent Image on iPhone
Create transparent image on iPhone easily without complicated tools. Collart app is a free photo editing app and an easy-to-use app for iOS with tons of subscribers. Collart allows you to make a collage, including four different methods: Freestyle, Collage, Layouts, and Templates. Collart comes with tons of free stickers, backgrounds, templates, graphic design, tutorials, and filters. There are also many features that you will get in Collart to edit your photo more professionally. On the main window, you can quickly get these templates designs to start your project.
With a fantastic bunch of features, Collart also allows its users to create a professional, transparent background of an image. This awesome feature in the Collart app is straightforward to use. Hence, you can easily create a professional, transparent image on an iPhone with Collart, without having professional tools like Adobe Photoshop. You don't have to pay for an expensive tutorial course or purchase a sophisticated app. All you need to have is a Collart free photo/collage maker for the iOS app. All the editing features on Collart iOS are totally free and easily accessible.
Key Focused Feature of a Transparent Image
The important aspect of an image with a transparent background is the edges of the subject. In order for the subject to stand out, the edges of the subject have to be distinct and clear cut out from the original background. You definitely wouldn't want a subject with missing corners or rough edges. Collart's Cut Out feature will definitely come in handy when it comes to defining the edges of the subject accurately. You can remove the background with Collart, making it transparent, or replace the existing background with the other one easily. With Collart's smart AI and manual cutout feature to refine the edges, creating an image with a transparent background has never been easier.
Removing Background from Photo in Collart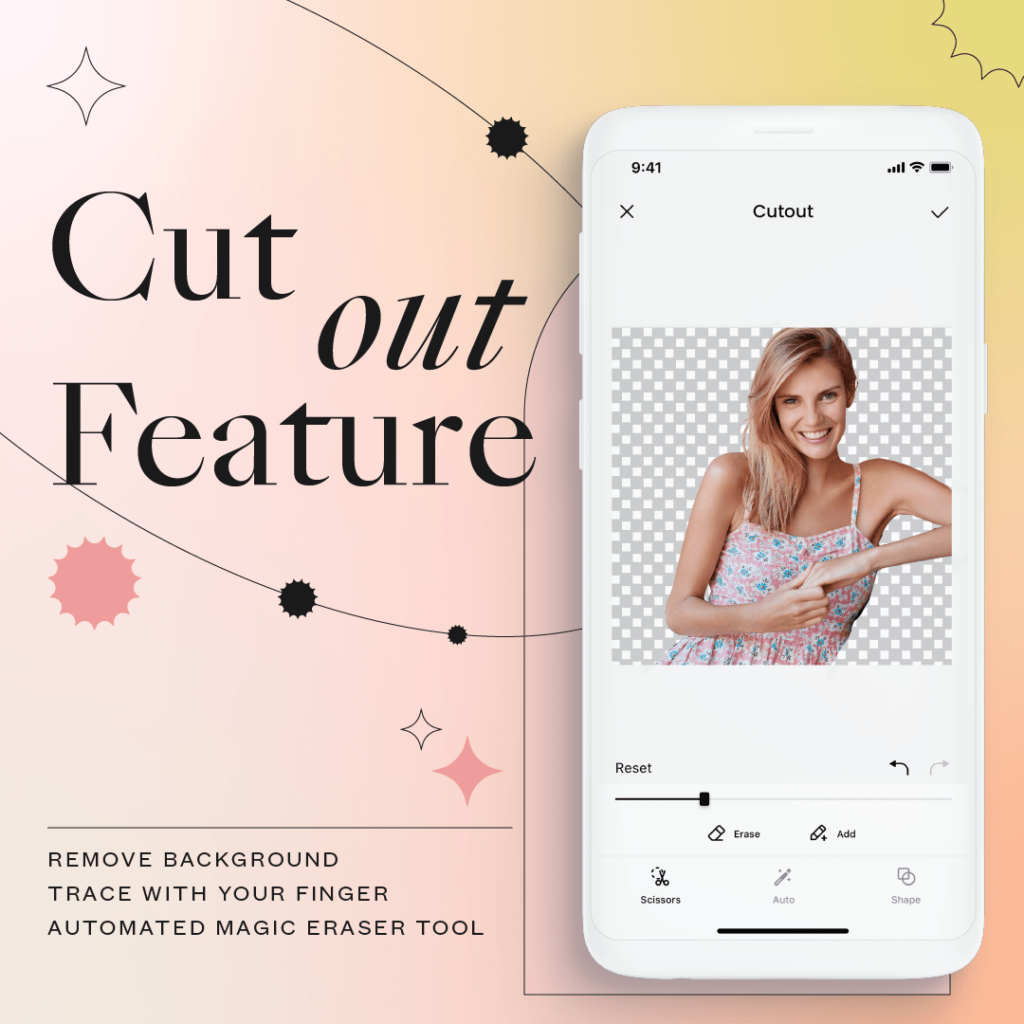 Making a transparent image on Collart works with three methods: the first is AI detection; secondly, it's Scissors, and the last one is by shapes. You can use the Auto option or manual cutout option to remove the background image with Collart.
With the Auto option, Colllart's smart AI isolates the main subject from the background automatically. You can also use the scissors option to make a transparent image manually by using your fingers.
Shape cutout images in geometrical shapes, giving the image a funkier touch. All three methods work perfectly, and you will get a clear and perfect professional, transparent image with Collart collage maker on iPhone in no time. Collart editor works well for transparent images because you will get a distinct background contrast, perfect colors, and borders.
Supposedly if you changed your mind and decided to have a colored background instead of a transparent background, you can always add a customized background to your fine image. Collart provides its users with a large variety of customized backgrounds.
You can easily select a perfect background for your vision, and you will also get numerous colors to enhance the background. These essential tools are readily available on Collart collage maker for free and are easy to use.
How to Create a Transparent Image with Free Collage Editor Collart?
Step-by-step Guide to Remove Background for Photo
Step 1: Download Collart free photo editor on iOS from the app store. Click on the Edit option on the main screen window.
Step 2: Now, your library will be opened. Choose a photo that you want to remove from its background with Collart.
Step 3: After selecting a photo, you will see a pop screen of different features at the bottom. Click on the seventh option, "Cutout."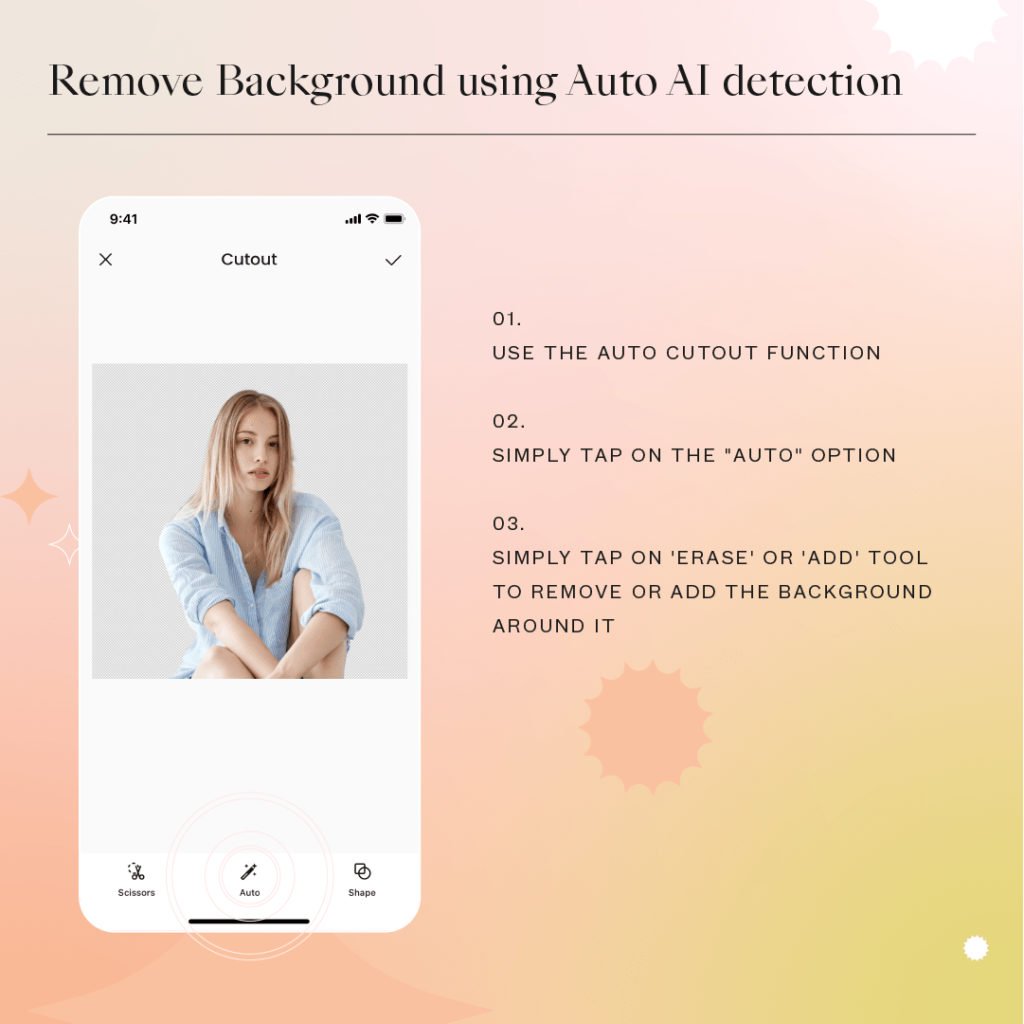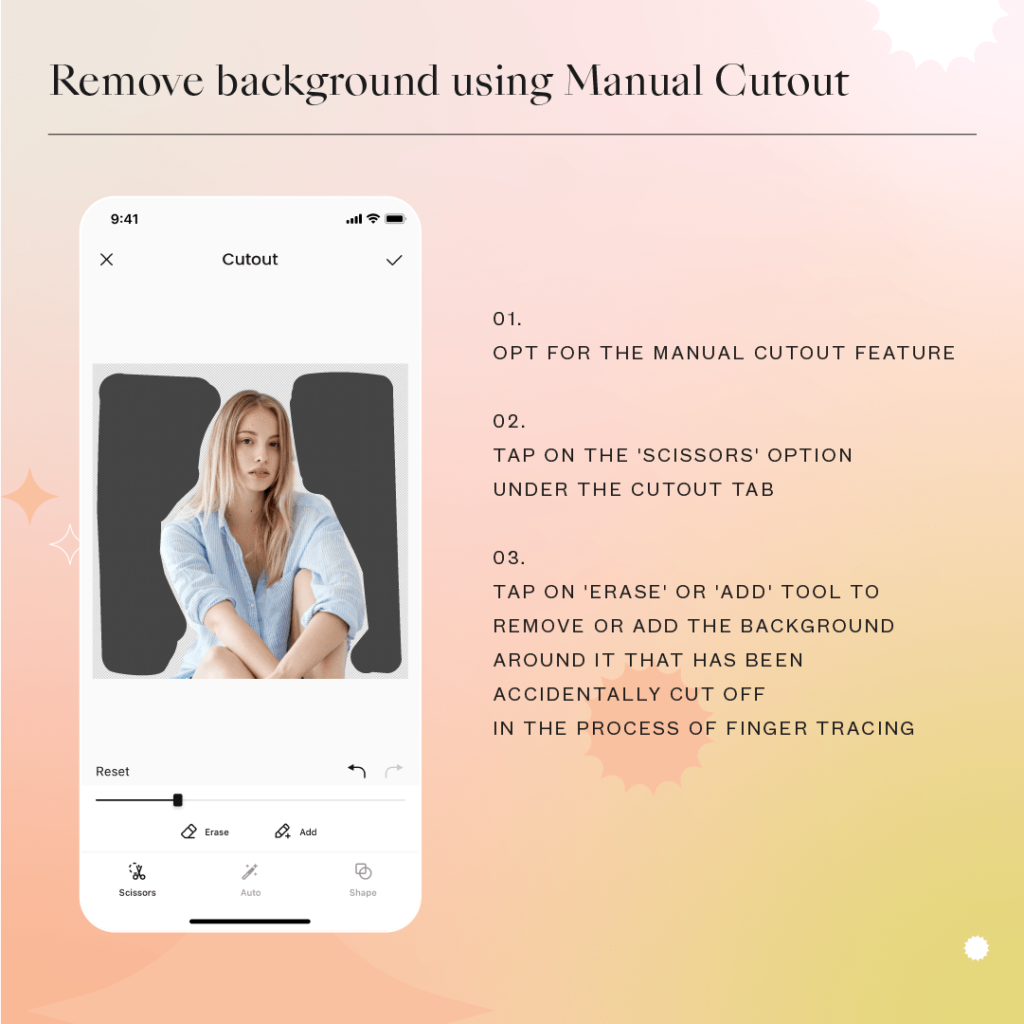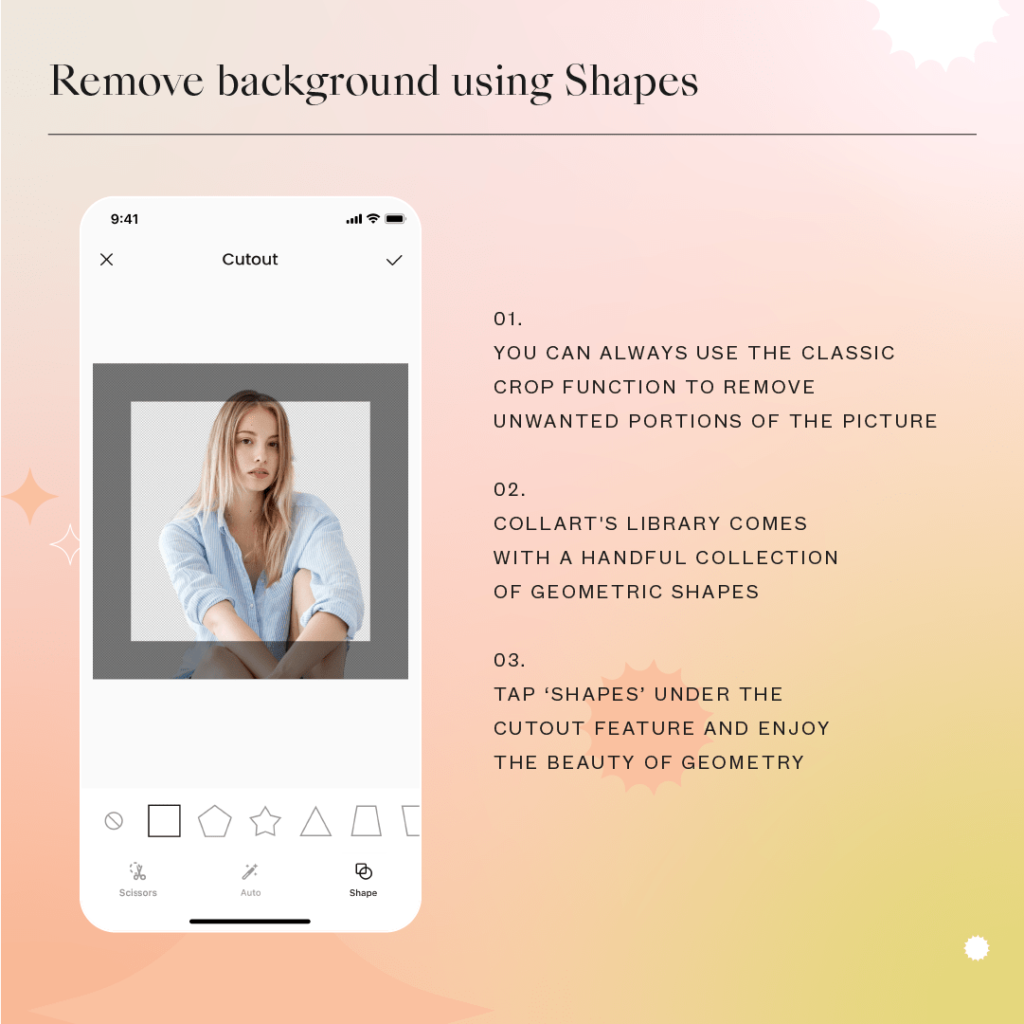 Step 4: Select any option you prefer. Auto to allow AI to do its own job, Scissors to manually cut out the irregular outline, or use Shapes to cut out with different geometrical shapes.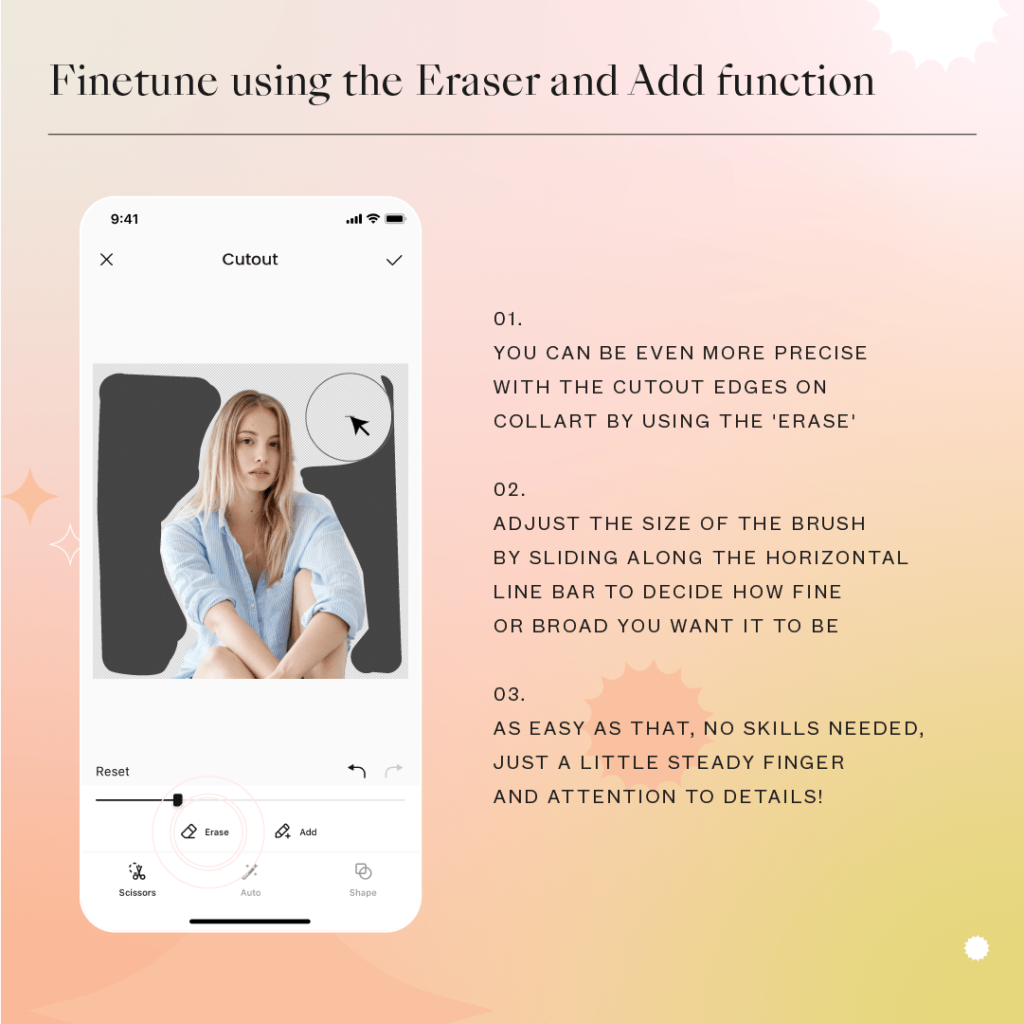 Step 5: You can use "Eraser" to fine tune the area you need to remove and use the" Add back" button to recover the parts which you have accidentally excluded.
Step 6: Here comes your transparent image! Share it on social media or use it to create a beautiful collage by combining them with other photos.
Here are some great examples of transparent images you can create with Collart, from product images, logo extraction to creating your own transparent vectors/icons for design:

Download Collart Free Photo Editor/Collage Maker App on iPhone
Love designing on your iPhone or iPad? Collart is a FREE all-in-one Photo Editor, Collage Maker and Graphic Design app, available for download on the App Store. You can choose from over 1000 free icons, stickers, backgrounds, templates, designs to create beautiful photo edits, collages and graphic designs. It makes designing on your iPhone or iPad fun and easy. Download Collart now to try it out for yourself!

⚡ Find more tips here!
👉🏻 Follow Collart: Facebook | Instagram | Twitter | Pinterest | YouTube | Website