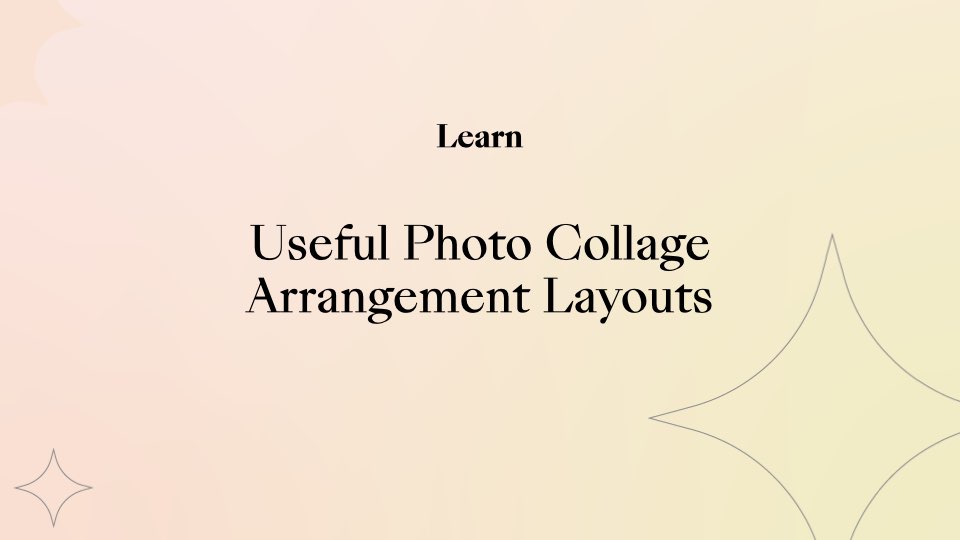 Useful Photo Collage Arrangement Layouts
A good photo collage is usually a perfect combination of photos and materials and incorporates meaningful memories. However, we are often faced with a problem: how should I make multiple photos work together in one collage?
Need inspiration? We've compiled a list of collages that make use of our layouts for you to create beautiful photo collages on Collart photo editor and collage maker app on your iPhone!
Photo Collage Arrangement Ideas
2-Photo Collages
A collage of 2 photos is one of the most popular collage designs. It's also one of the simplest designs. You only need to select 2 pictures you like best and choose a layout, in just a few clicks, the collage is ready!
2-photo collages are perfect for comparisons.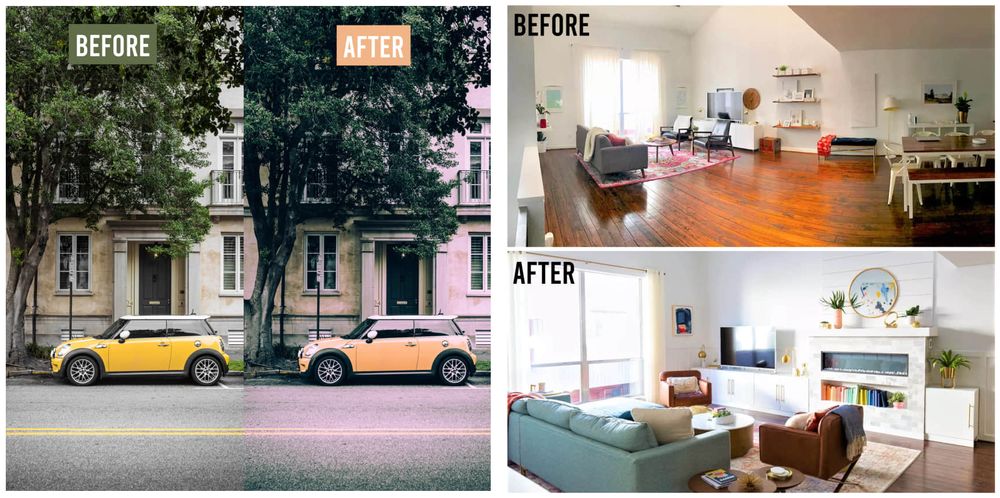 You can either demonstrate the effect of a filter and see how WOW it is. Or you can show how obvious the contrast is before and after the decoration of your room.
You can even compare the past, present, and future. The most wonderful thing is: it only needs two pictures.
Time runs so fast. Use a simple Now and Then design to catch wonderful moments!
3 to 6-Photo Collages
Don't worry about the number of images being too much to handle, you can have more fun when manipulating more pictures if you remember this GOLDEN RULE:
The ODD number of pictures is used to show the highlights, while the EVEN number of pictures is used to show the differences.
When it comes to an even number of pictures, your winning formula would be correlation + distinction. Whether they be artificial variations in light and colors or natural changes in time and seasons, carefully manipulated these subtle differences in correlated photos will make your creations stand out.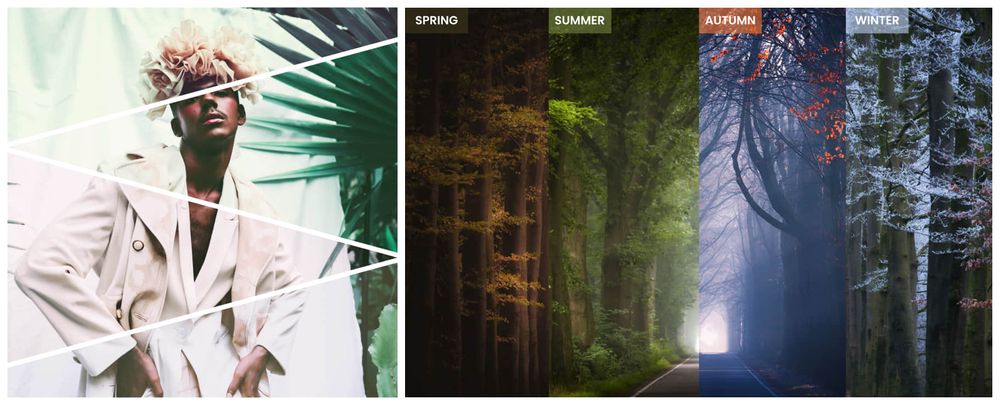 When you are trying to mix up an odd number of images, whether it's three or five, be sure to decide the one you want to highlight the most before you design. This picture will set the theme of your entire collage. It also tells the admirer where their eyes should go first: it's the sweetness of your Honeymoon at la Manche, and the finishing touch added by your vintage Birkin in your OOTD.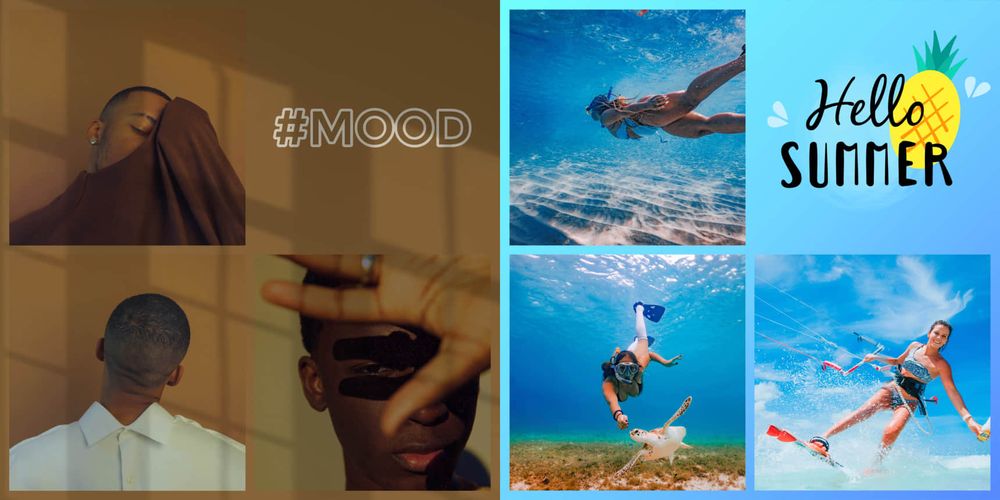 Of course, most of us would encounter a case in which we have a set of photos related to the same event and it's difficult to choose the unique one as the theme. This is the time to let TEXT and STICKERS speak loud!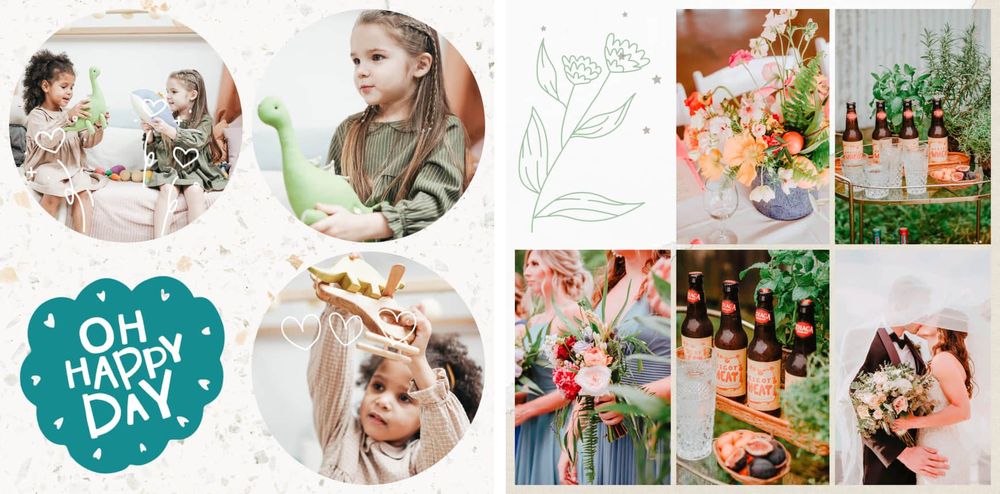 Always keep in mind that the cohesiveness of the collage can be achieved by various means. Natural lighting and neutral tones are key to making a collage feel cohesive and classic. The same color scheme can convey a similar sound or mood. And the combination of related elements can have an unexpectedly harmonious effect. The best choices for text, stickers, and colors are right in your pictures.
More than 6
When you find it really challenging to choose, out of so many fond memories, which few to include in your collage, a geometric photo grid must be your best choice. It is particularly suitable as a larger piece that shows off the finer details of each photo. To maintain the harmony of the collage, you should ensure your pictures are all around the same topic.
And to avoid chaos, you need to limit the number of other elements like stickers. The main colors of a geometric collage are usually no more than three. Sometimes the simple black & white speaks more than anything.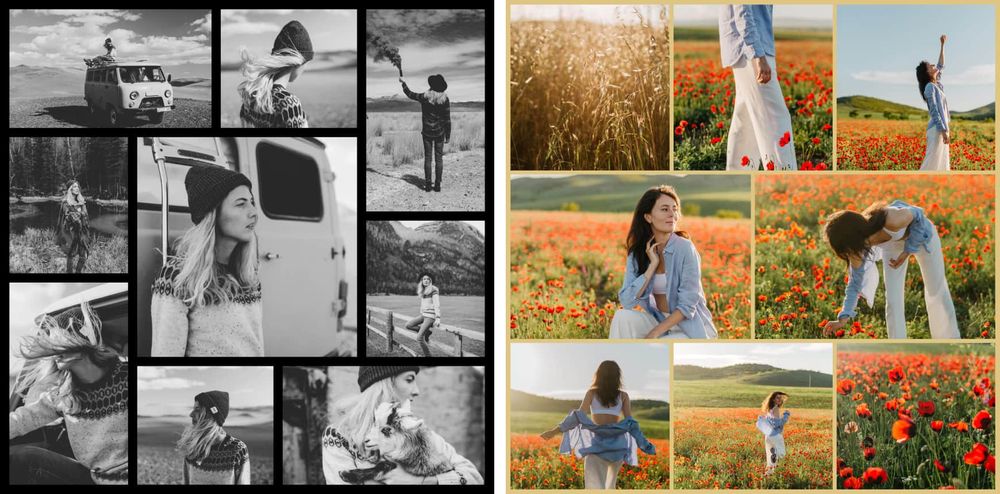 Another great idea is to create a birthday card for your beloved kid! You can customize this collage with your most favorite photos of your baby and keep track of every milestone in his/her life. Go give it a try by choosing the most memorable pictures of your little one.
Always remember to keep balance by technically arrange the placement of each photo. For example, a beautiful, artful picture needs to appear in between those joyful, happy moments.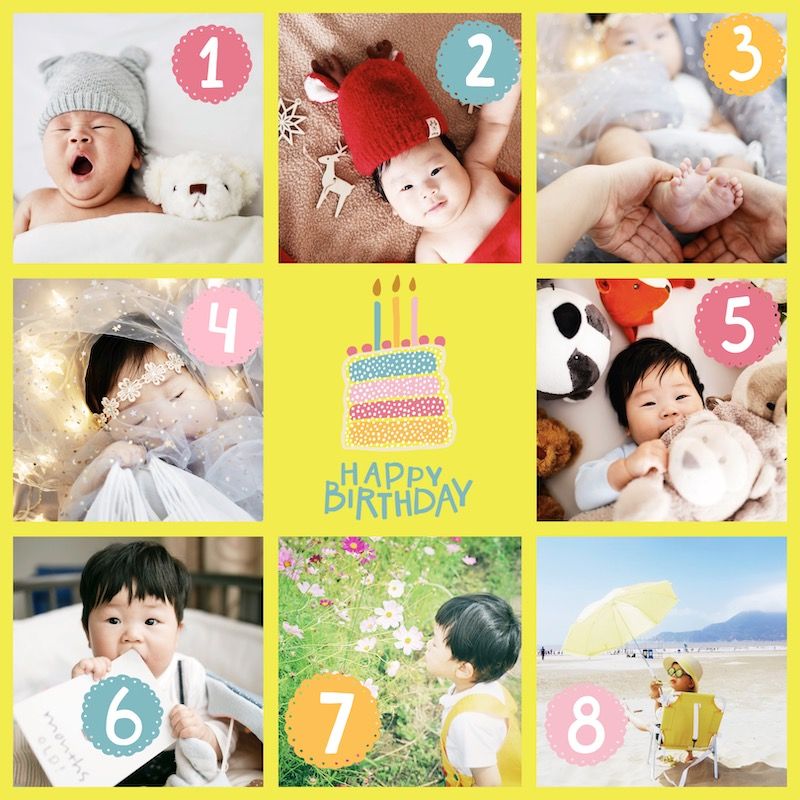 Collart: Best Photo Collage Maker Designed For iOS
Making collages doesn't have to be difficult and time-consuming. In Collart, we have 300+ templates & layouts for you to choose from. And you'll have all wonderful memories kept forever in just a few simple steps:
Choose photos
Place the photo in the template or layout
Choose other interesting elements
Complete and share
Go click ➕ to start your creation.
Now you've learned about Collart, go try it out to create a unique story told from your own perspective. As you continue to experiment, you'll find your own content and style. Don't limit yourself and feel the joy of creation! Collart will be by your side on the journey to an artist.

👉🏻 Follow Collart: Facebook | Instagram | Twitter | Pinterest | YouTube | Website | TikTok