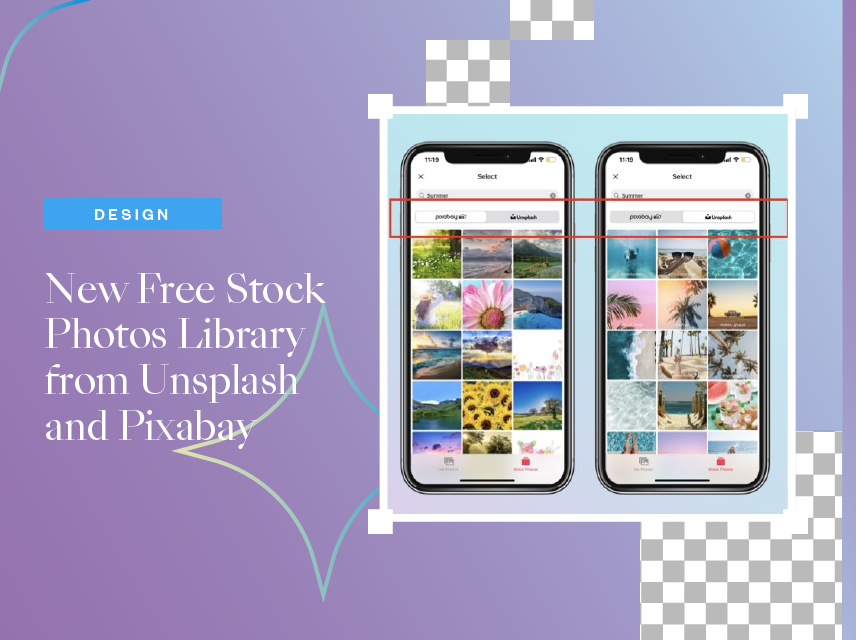 New Free Stock Photos Library From Unsplash and Pixabay
Looking for free stock photos to include in your photo edits and photo collages? Great news, Collart has partnered with Unsplash and Pixabay, two of the largest free stock photos library on the internet, to bring you the largest collections of free stock photos to Collart free photo editor and collage maker.
Stock Photos Library – Completely FREE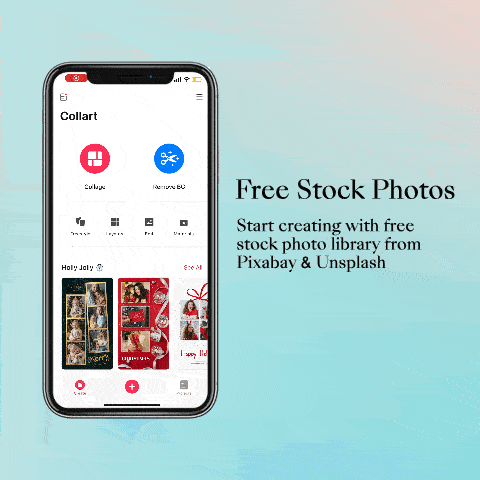 Ever had the issue of having difficulties finding the best image for your posts, be it as a social media marketer, or creating inspiring quotes for your Instagram page? Now, this is less of a worry for you as a Collart app user! Using the free stock photos from our material library for your photo collage and photo edits is a completely free service. The free stock photos are categorized based on their mood and vibe, allowing you to better find something that suits your personal style or brand guidelines. While a paid Collart user can access more premium backgrounds, photos and other design materials on the platform, the stock photos library is a completely free service available for all. This allows everyone, including someone without any design expertise, to create stunning collages, photo edits and social media posts limitlessly.
How to Access Free Stock Photos Library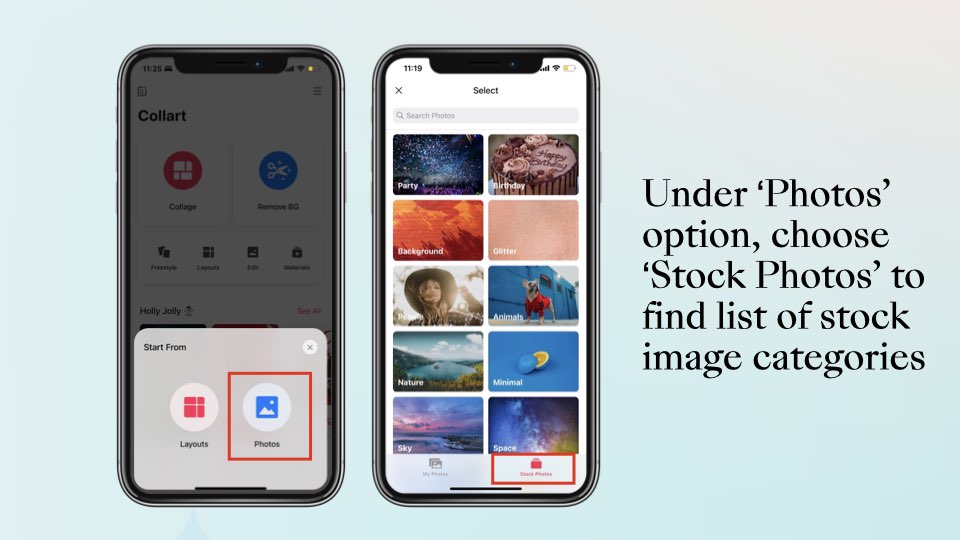 Free stock photos library from Pixabay and Unsplash is available for everyone, whether you are a paid subscriber of Collart or not. To start, tap choose how and what you want to create on Collart. When it is time to import photos, you will see the option to import your own photos from your Photo Album, or choose from 'Stock Photos'.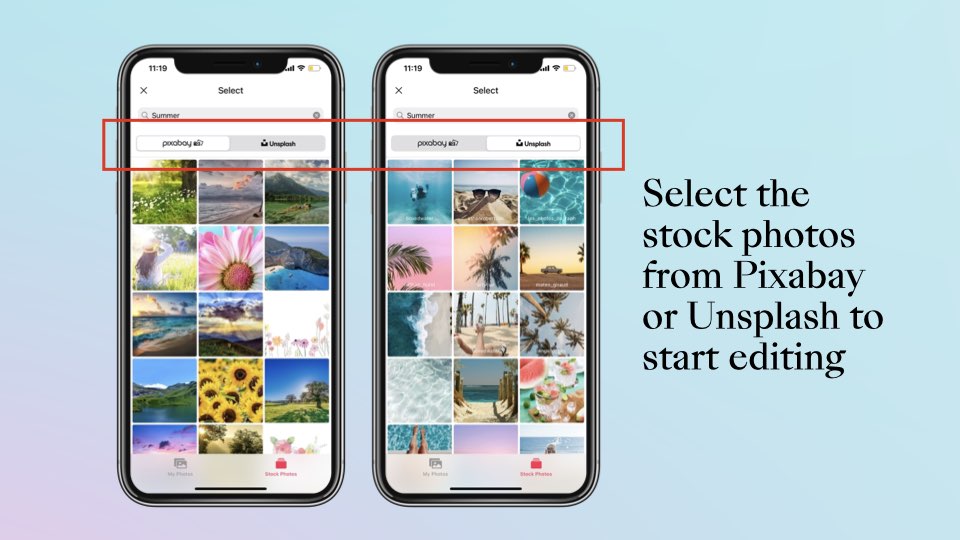 Select 'Stock Photos' on the option, and you will be directed to a list of categories, with stock photos specially curated into easily digestible visuals. Choose what suits the mood and style you're going for, and you can begin editing freely on Collart collage maker and photo editor!
The free stock photos are different from Pixabay and Unsplash, so feel free to check out and scroll through to find something that will fit perfectly to your design. From minimalist designs, to intricately shot flatlays and stylized photos, you will be spoilt for choice when looking for something for your collage or photo editing.
Free Features of Photo Editing and Collage Making
Of course, after choosing your free stock photos, feel free to explore many other functions of Collart photo editor and collage maker app. One of the most popular feature has to be the "Remove Background" function. In just one tap, you can remove bg of your photos instantly. The background removal function is driven by AI, so you can adjust the intensity of background removing process, by adjusting the harshness in removing background. For added precision, you can also add or remove your backgrounds, so that your photos will have smoother and more accurate edges, which can be removed in the process.
Another popular feature is the "Aspect Ratio", where you can choose different settings to ensure that your final export image is of the best and optimized dimension for different social media platforms that you post. From the standard Instagram square (1080 x 1080), Instagram stories, Facebook cover banners and more, you can choose the different aspect ratios to adjust, reposition and shift your images and design element so that it fits perfectly into the image.
Start Creating With Free Stock Photos on Collart Now!
Beautiful free stock photos can be yours to use with Collart free collage maker and photo editor app on your iPhone or iPad. Download now and experience the quick and easy graphic design now. We can't wait to see what you'll create with this new feature!

👉🏻 Follow Collart: Facebook | Instagram | Twitter | Pinterest | YouTube | Website | TikTok