80 Ideas and Inspiration for Wedding Invitation Designs
Need ideas for wedding invitation designs? When planning a wedding, several factors must be considered, such as the flowers, the décor, the seating chart, and most importantly, the invitations. There is an enormous choice of wedding invitation designs from which to choose. You can choose from the various themes when designing your greeting cards: romantic, humorous, inspirational, or grateful.
A wedding invitation is a crucial component of planning because it sets the tone for what your guests can expect on the wedding day and helps them prepare for it. The cards also convey and do much more, such as informing people of the main details of the wedding, demonstrating creativity depending on the design of the card, and putting a smile on someone's face if it's a humorous card.
Tips for Wedding Invitation Cards
What are the important points to note when choosing the perfect wedding invitation design? To give your wedding card the edge it needs, you should consider a few things when choosing a design.
Your designs and different areas of the invitation will look better if you use stylish fonts and colors.
Use high-quality pictures to illustrate your wedding theme.
You can create a physical card that you send out in person or go digital, depending on what you want. These are a collection of beautiful invitation templates which may be used to create the perfect invitation for your event. With the right software, digital cards can be easily customized and inexpensive.
The tone or theme you wish to convey- once you have identified this area, the process becomes quite simple. If you are planning on creating a humorous invitation, you may want to include a funny quote, message, or image. If you plan to create a romantic invitation, you may consider adding some romantic pictures or elements.
Some cards have a message inside that can be heartwarming or funny for the recipient to read. This is convenient because you can create drafts for your wedding invitation to decide which type of massage suits the card's design. Trial and error is a long process.
Decide what kind of design you are looking for before deciding which theme to use. We have listed various types of methods below that you can choose from. There is no limit to what can be accomplished with these designs, as there are so many options available to you. We've collected a few ideas for wedding invitation designs to get you started on your invitations.
Romantic Wedding Invitation Designs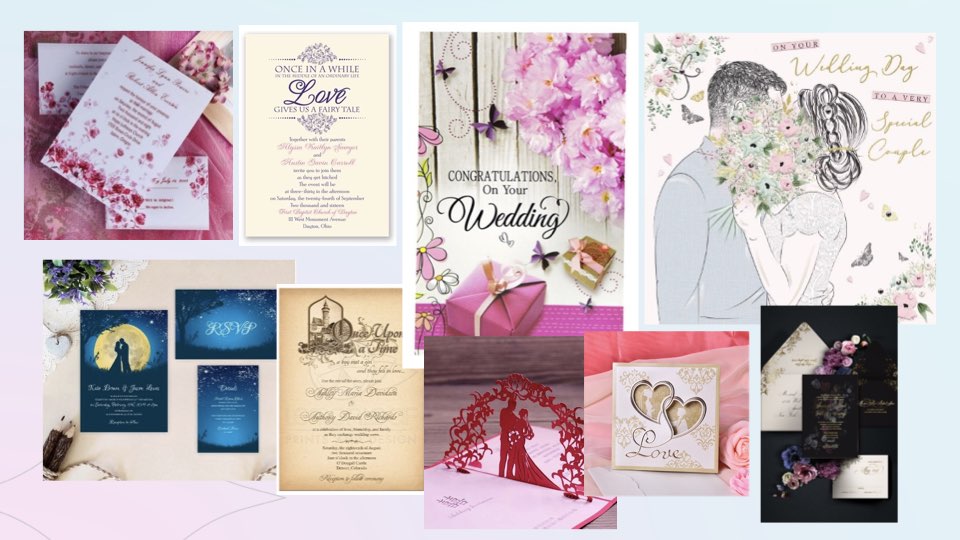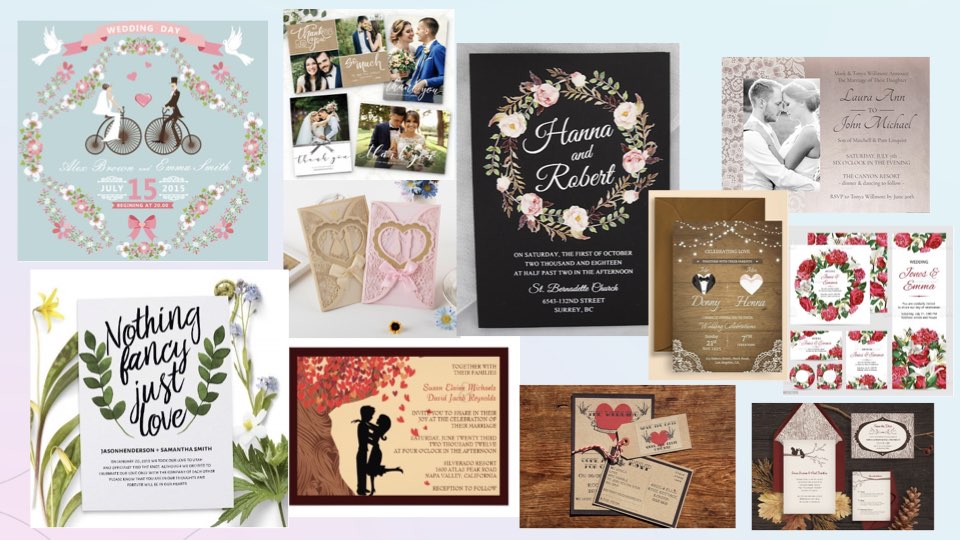 The designs are quite self-explanatory. They are all about romance and showing love to those who receive them. A wide variety of elements are incorporated into these wedding invitations design inspiration, from couples on the front page to a heart and kissing lips.
Gatefold Wrap Wedding Invitation Designs
This design is ideal for those who desire to have the most elegant wedding invitation. Due to how these cards are made, designs such as these are pretty captivating. They are essentially folded like gates, with room for you to write all your heartfelt messages inside. You can then fold it to see what is written inside. The items are then covered with various kinds of cloth, a stylish string, or you can add a seal as well. Add some style with stylish fonts and colors to make it stand out. If this is the design you are going for, you can use these ideas for wedding invitation designs.
Geometric Wedding Invitation Designs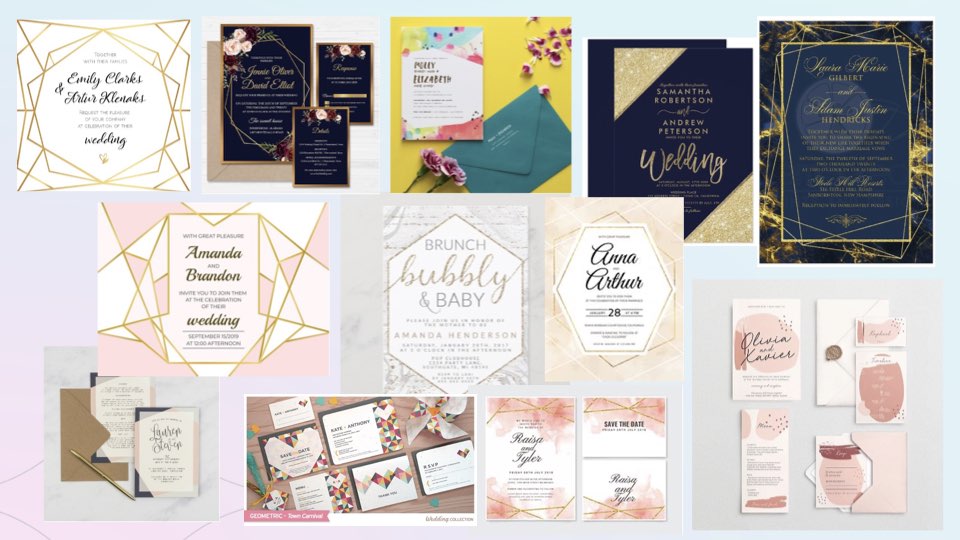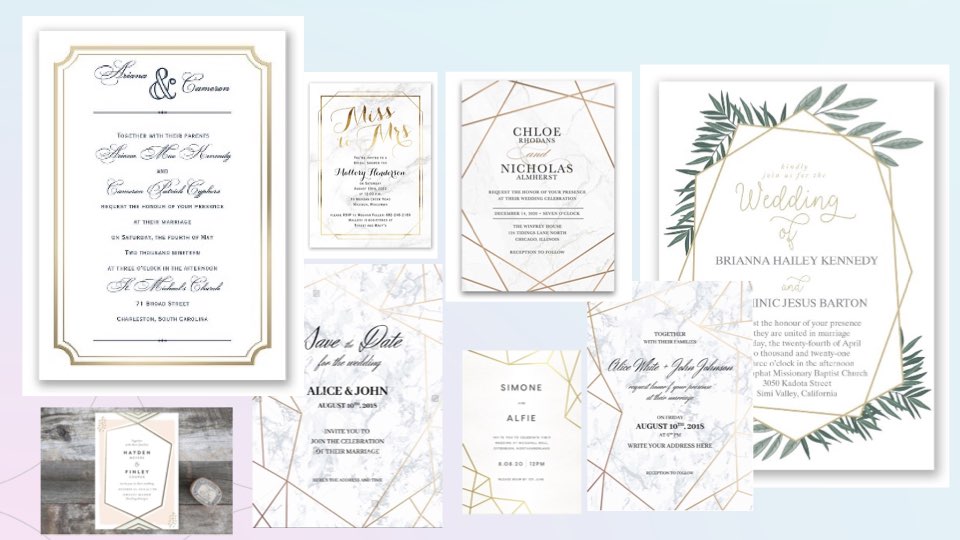 Are you a fan of using shapes in your designs to stand out from other artists? The wedding invitation designs below will make your wedding a success. The next step is to play with the different geometric shapes and fonts associated. It is entirely up to you where you place the figures on the invitation. It is pretty simple to make these designs since the card is blank, and you can add whatever you wish, such as stickers of geometric shapes. Here are some of the best wedding invitations that you can use to get started or just use them to formulate ideas and then create your own.
Gold Edged Wedding Invitation Designs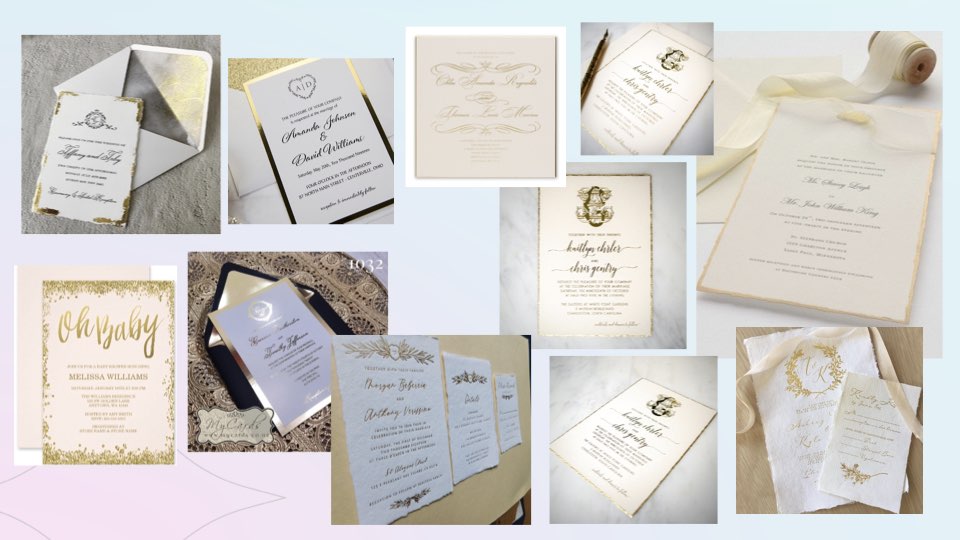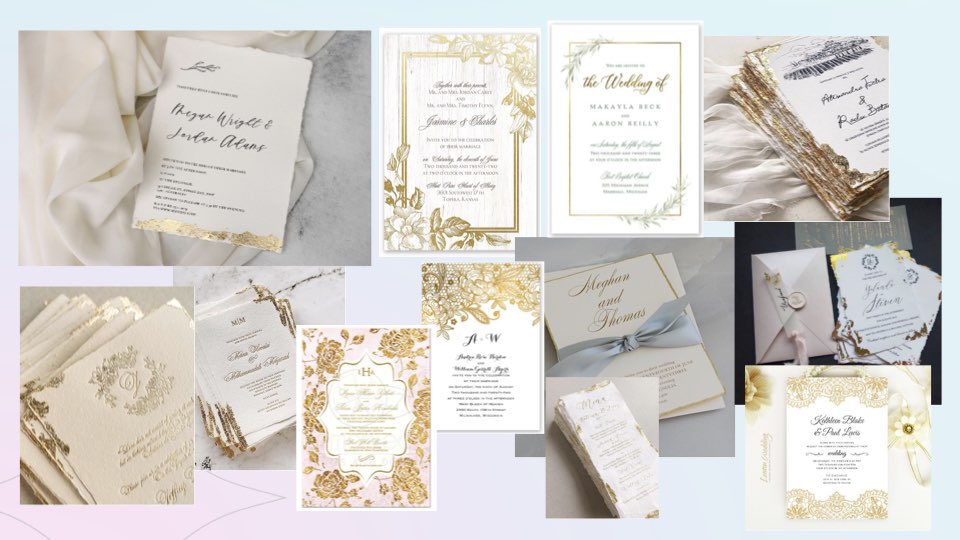 We've gathered some of the most stunning wedding invitation designs for you. Adding a touch of gold to the exclusive invitation makes it stand out and draws attention to different aspects of it. It doesn't matter whether it is the edges, the bottom, or just the words; it will be unique and make you fall in love.
Collart Design App – Free Wedding Invitation Design Templates!
Download Collart on iOS today and unleash your creativity with our all-in-one photo editor, collage maker and quick graphic design app, to create beautiful wedding invitation designs with our free wedding invitation templates. Collart comes with a huge resource library, with fonts, stickers and backgrounds for you to create stunning wedding invitations to celebrate the joyous occasion. We hope this will teach you how to create wedding invitations using our free templates!

👉🏻 Follow Collart: Facebook | Instagram | Twitter | Pinterest | YouTube | Website | TikTok