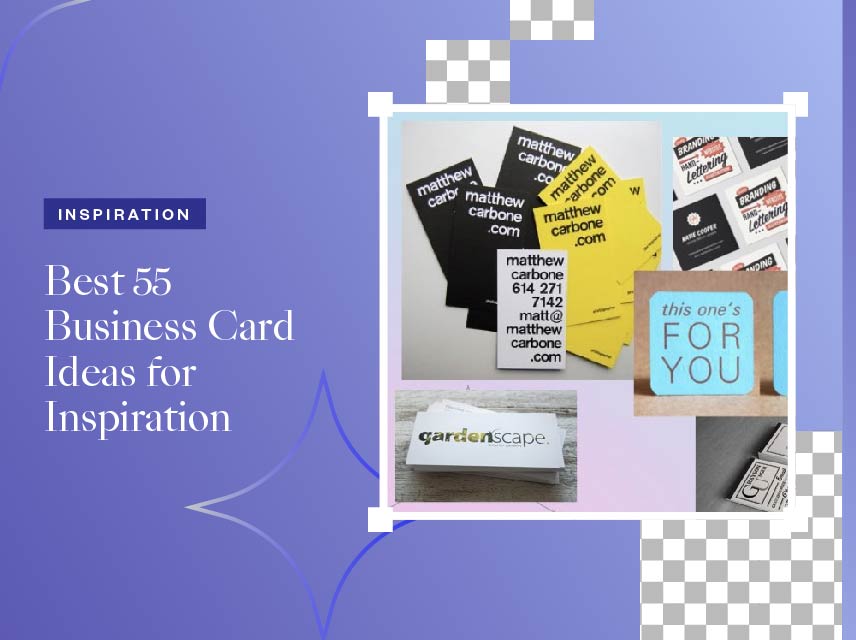 Best 55 Business Card Ideas for Inspiration
Need business card ideas? Business card designs are essential in our world today for the business personnel. Whether your business is relatively small or a huge corporation, it is important to have a well-designed business card to capture the attention of your recipient.
Your business card acts as a representation of your brand. A business card often serves as the first introduction to the overall image of the business. It acts as a medium for persons to get in touch with a person from the company. This small piece of paper includes a handful of personal contact information, such as the organization's name, the person's position, email, address, and phone number.
Holding a business card in your hand can help you convey a sense of professionalism. The brand logo, font style, background, and presentation show what the company is all about. Marketing with business cards can enhance your company's credibility, making it stand out. It communicates quickly what your company is about and sparks the interest of potential customers.
When designers are creating business card designs, they have to keep in mind to keep the content concise and let the presentation speak for itself. It all depends on what type of business card design you want to create and the audience you're trying to attract, so adequate research must be done to aid this process.
55 Business Card Design Ideas and Inspiration
Do your research: Get inspirations and ideas by looking at different business card designs to know what type of business card you want to create and the elements you want to use.
Keep it simple: while designing, it's easy to get carried away from the large amounts of ideas you may have inside your head. As a designer, you have to narrow all of those ideas into a straightforward concept. Don't overthink it!
Be unique and stand out: try to step outside the box with your design to stand out from your competitors. Designers should use stylish yet simple fonts and high-quality images to make their ideas come to life.
Create readable designs: your design and information should be clear so that anyone looking at it will read it and see what it is about.
Now that you have gained some insights on what to consider when creating your business card designs, let's take a look at some of the best business card ideas you can choose from.
Picture-Centered Business Card Ideas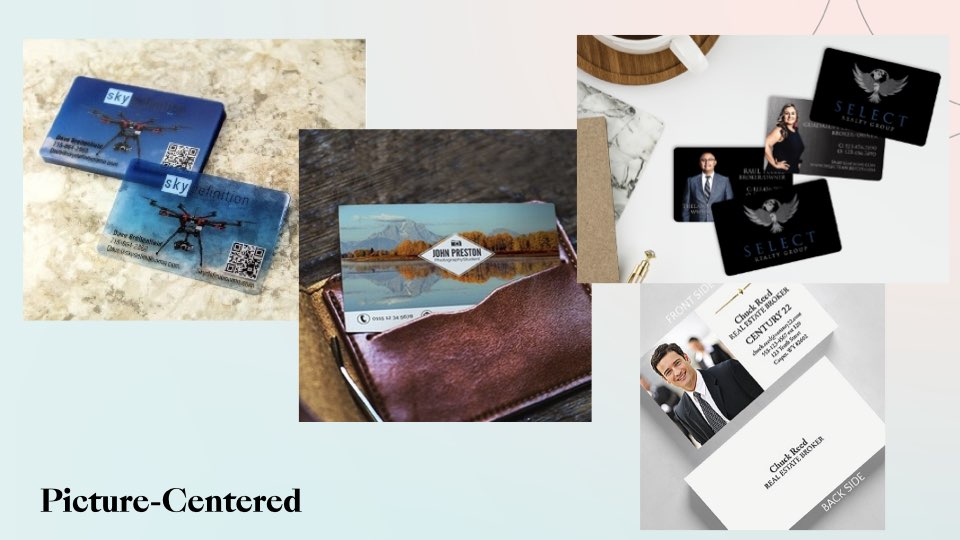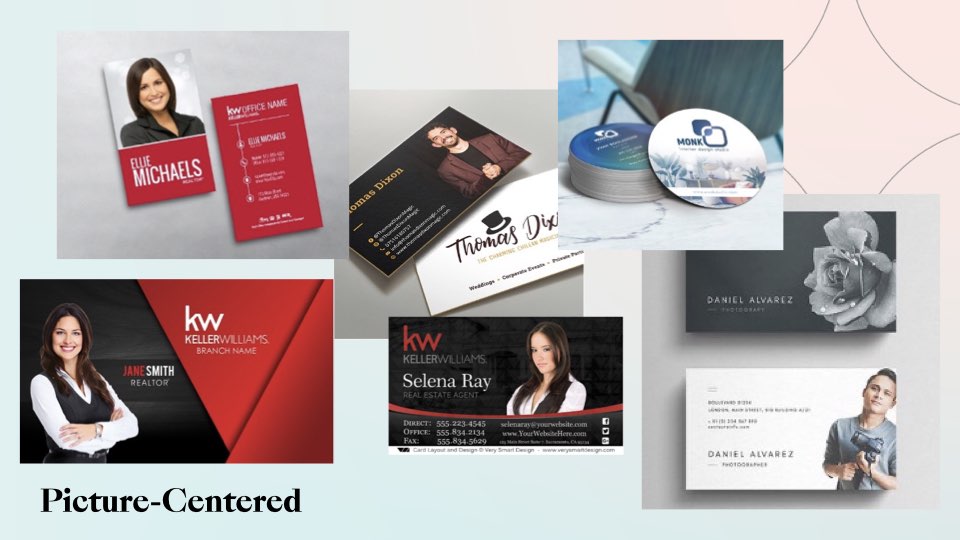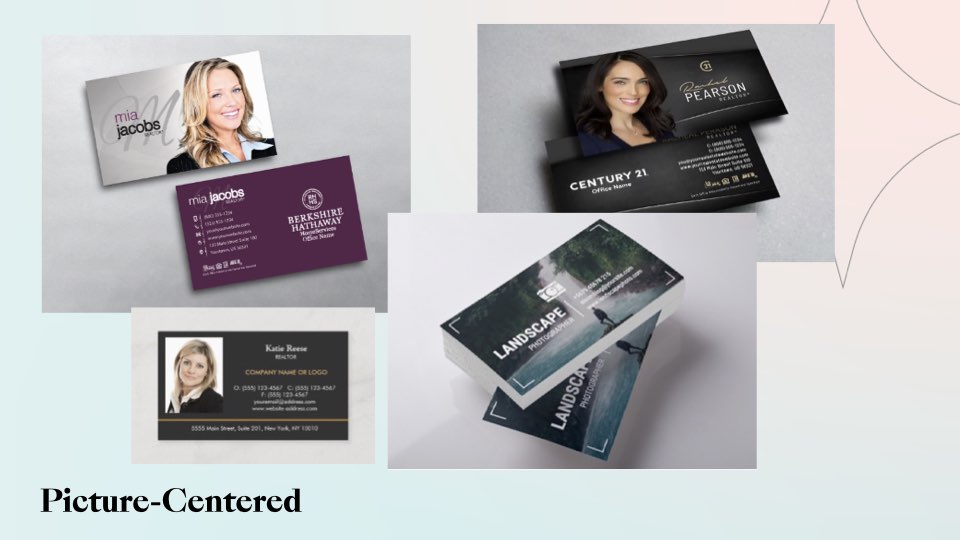 These business cards typically have images/pictures on them, whether it's of a person, a place, or an object. This creation is a great way to design your business card, as these cards will enable you to connect with persons attracted to images. If it's a picture of a person, the person will be quickly identified. These are some business card design inspirations that you can use to get started if you're thinking about creating a picture-centered business card design.
3D Business Card Ideas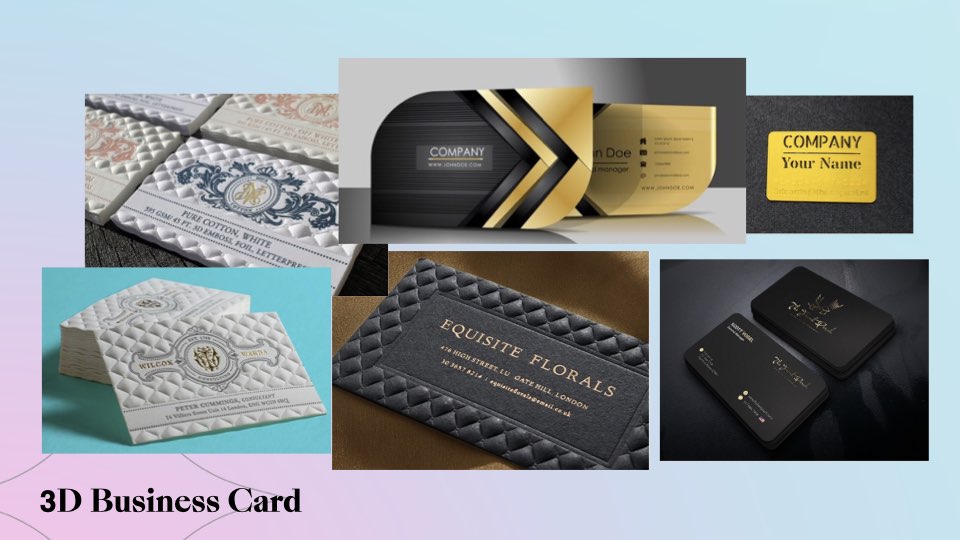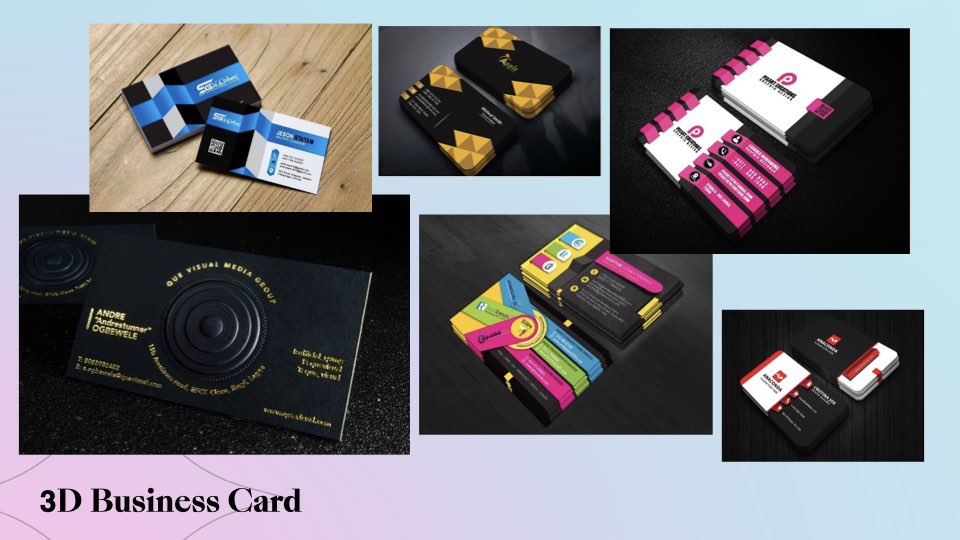 You can create unique, creative business cards by using 3D printing. You will impress your potential clients. At the same time, these cards will take a bit more time to produce, as you have to pay keen attention to detail, but it is worth it. These are a few of the best business design ideas that you can use to create your own 3D business card design.
Minimalist Business Card Ideas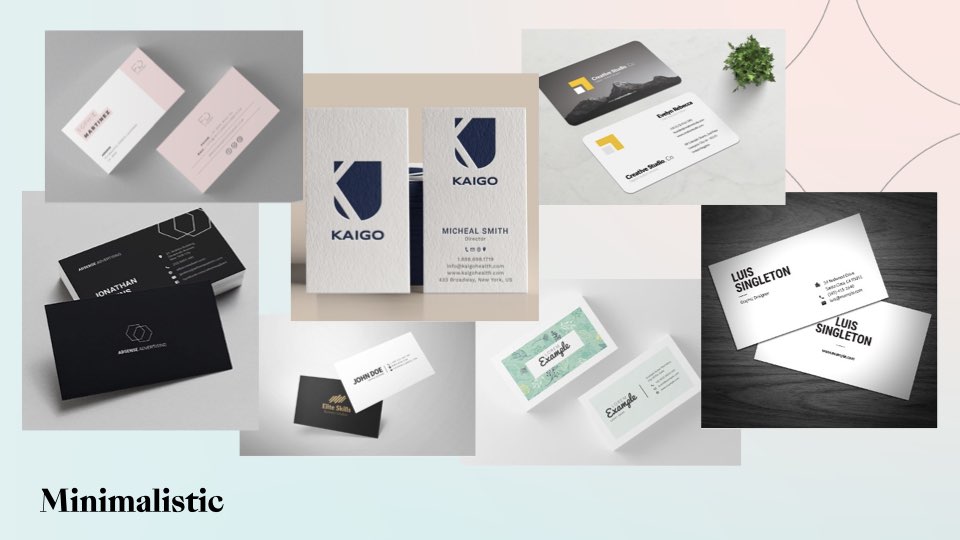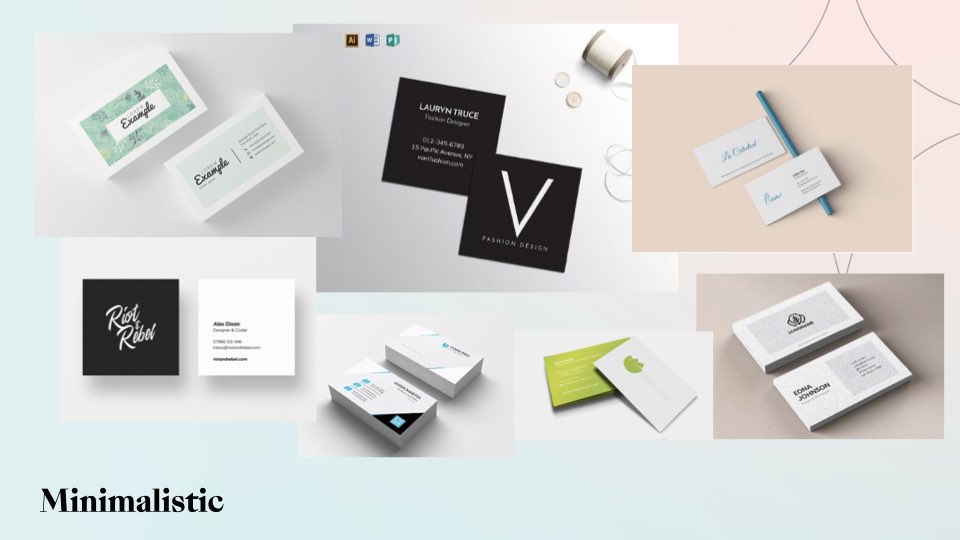 The minimalist look carries a great deal of significance – these business cards may seem boring and plain, but there is a lot you can do to spice it up. The minimalist look is characterized by an air of sophistication and a modern appearance. It would be wise to incorporate that style into the design of your business cards, as it portrays a very high level of professionalism and neatness despite its simplicity. Here are a few minimalist business card design inspirations to look at and get started.

Business Cards Ideas with Unique Font Styles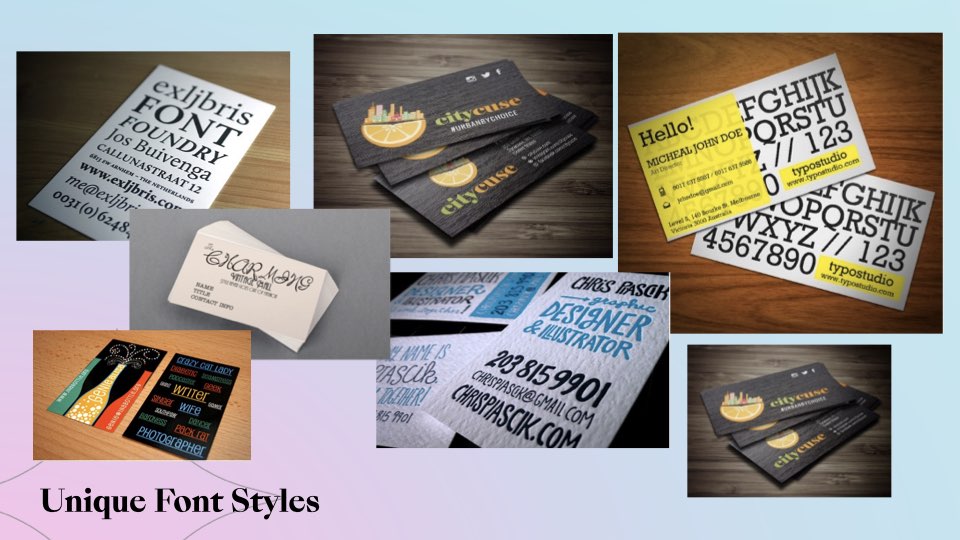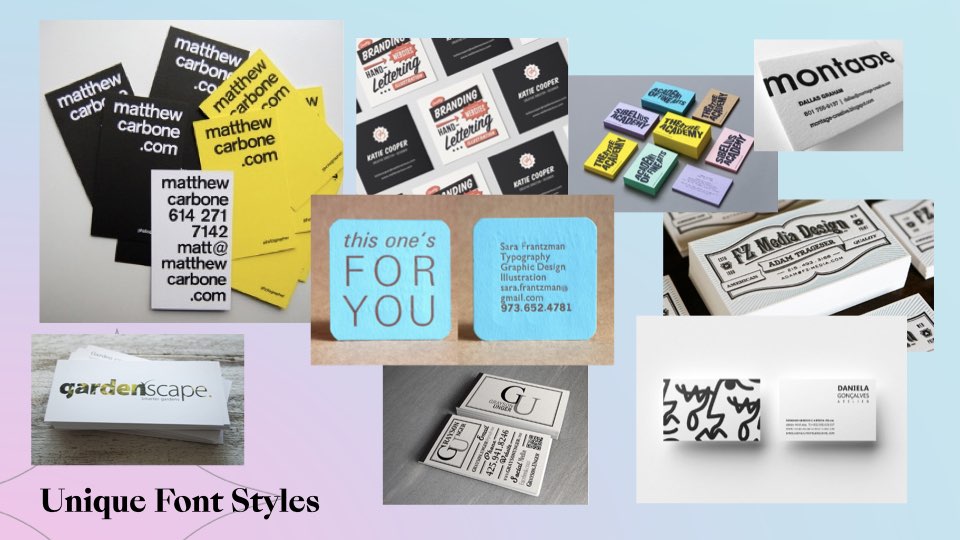 Typography is the central concept of attraction used on these business cards, and they are pretty unique. A variety of font styles, sizes, and types, along with the layout of these business cards, makes them stand out. Those who view them are more likely to contact the organization since they leave a lasting impression. Business cards like these are fun, creative, and professional. It all depends on your layout.
Download Collart Card Maker to Design Business Cards For Free
With Collart free photo editor app, you can easily remove image background, along with many other functions and tools you need to create your own business cards. From photo adjustments, removing background and creating transparent images, Collart is the one graphic design app you need for your iPhone and iPad. Get inspired by these business card ideas and start creating your own business cards for your work!

👉🏻 Follow Collart: Facebook | Instagram | Twitter | Pinterest | YouTube | Website | TikTok