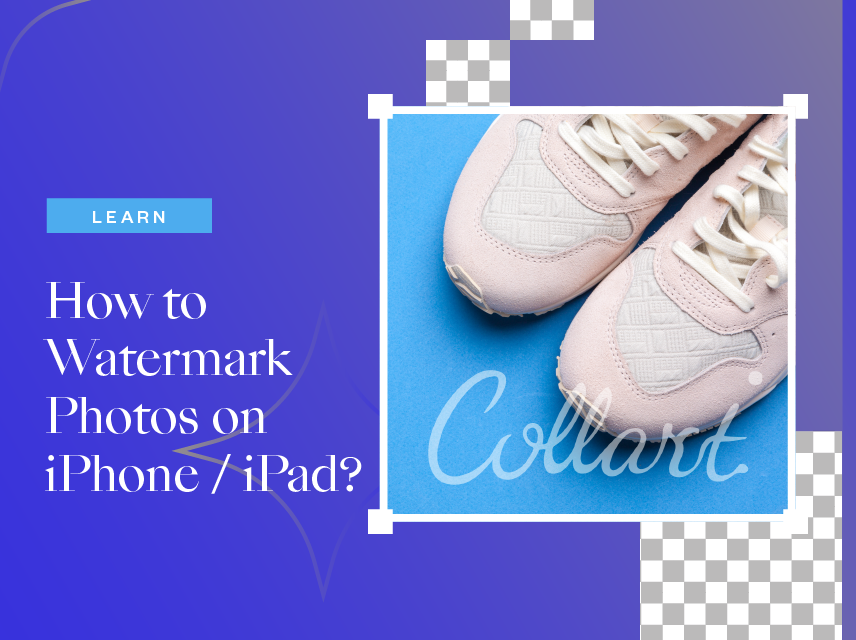 How to Watermark Photos on iPhone and iPad?
There're plenty of reasons to watermark photos. You may be a beauty influencer looking to protect your makeup shots, a blogger from posting any picture on the internet, a photographer who wants to sign their vision of their latest adventure, or someone who wants to add a watermark to their image. Most people thought of adding a watermark to their picture for protection purposes from theft. Some use watermarks to increase brand awareness by mentioning the logo or name of their company.
Adding a watermark to an image can be done by heavy editing software. How will you replace the expenses of editing software without blowing your budget? If you are looking for an easy way to add a watermark to a photo that exactly gives a professional look to your image, then you are lucky because Collart free photo collage maker got your back! You won't need professional tools like Adobe Photoshop because Collart photo collage editor can easily add watermark to photo and images for free. It also comes with a huge media library consisting of free stickers, backgrounds, filters, and many other editing features. You choose a simple text or complicated logo. Adding a watermark to a photo is easy to do with Collart.
How To Watermark Photos on iPhone in 5 Steps
Here's how you can add a watermark to a photo through Collart free photo collage maker. First of all, here's how you can create your own watermark first, before you add them to photos you want to watermark.
Step 1: Start Editing
Start to create watermarks by creating a new file. We recommend using a transparent background to start.
Step 2: Create Your Watermark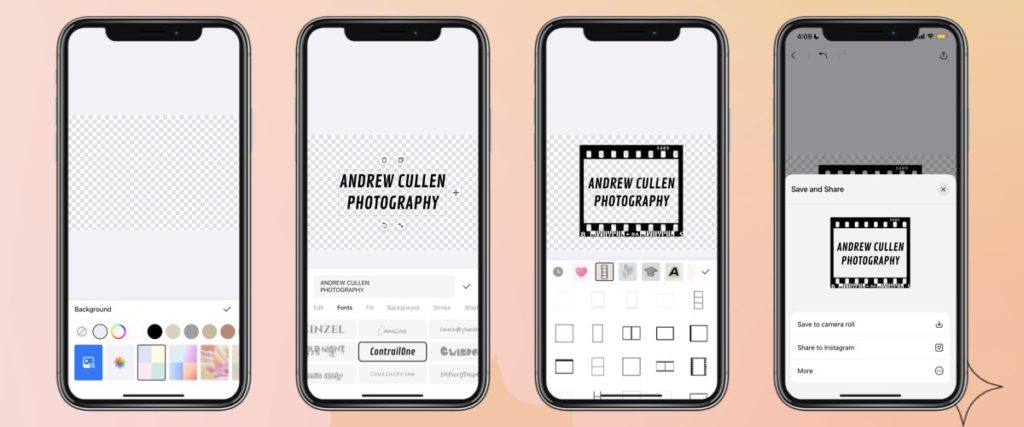 Select the graphics from the Collart media library. You can also choose images from your photo library to create your watermark. You can also use Collart designs to use it as a base, or import your own photos and create vectors out of them by using the 'Remove BG' function.
Step 3: Make Use of Collart Resources
You can add different stickers, templates, and ready-made designs to your watermark by selecting the Collart media library. Your watermark should be interesting and easily recognizable for your brand.
Step 4: Create Watermark Photos With Texts
Add text to create a simple watermark. Adjust its fonts, size, rotation, and add colors if you want to give a creative look to your watermark.
Step 5: Save Your Watermark
Save your watermark in the Collart library so you can use it on your future images. Save your watermark in.PNG format to keep the image background transparent.
Now, you can watermark any images and photos you need.
Watermarking Photos – Things to Take Note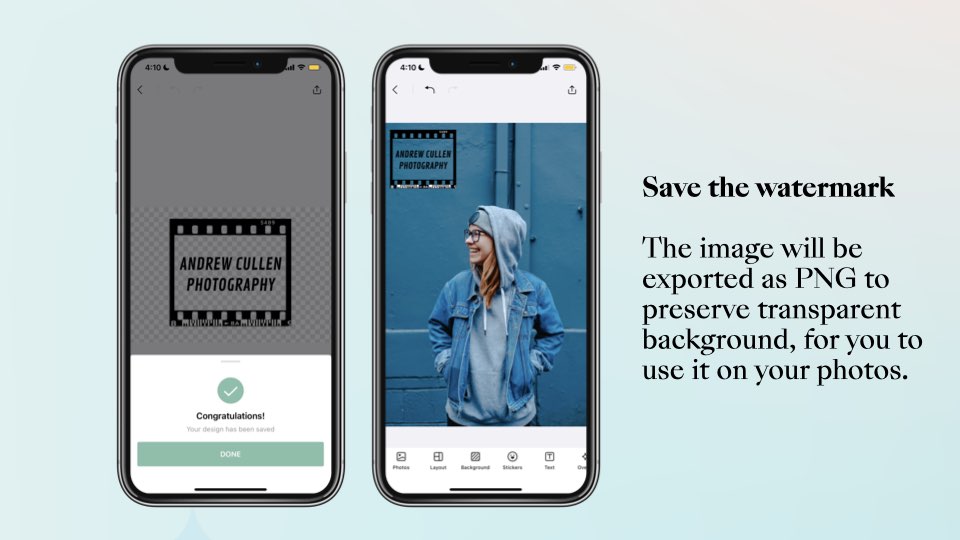 The Collart watermark effect will work best for customization because it has everything required to create a perfect watermark of your brand. But before jumping to watermark photos, you have to take care of several things. First, adjust the size of your picture, graphics, or template, then it is essential to add the product, filters, or anything you want to add in your photo to create a watermark of your image. It is necessary because once you add a watermark to your picture without maintaining the impact, you will not add filters to that picture. Do remember to take a close look at the logo's rotation, size, and adjustment before saving it as a logo.
With Collart photo collage maker and editor, you can not only watermark your image for free, but you can also make different logo designs for our business. Collart free photo collage maker allows users to create various website names, logos, watermarks, and much more to enhance your business by creating creative designs with Collart free watermark maker on iOS.

👉🏻 Follow Collart: Facebook | Instagram | Twitter | Pinterest | YouTube | Website | TikTok