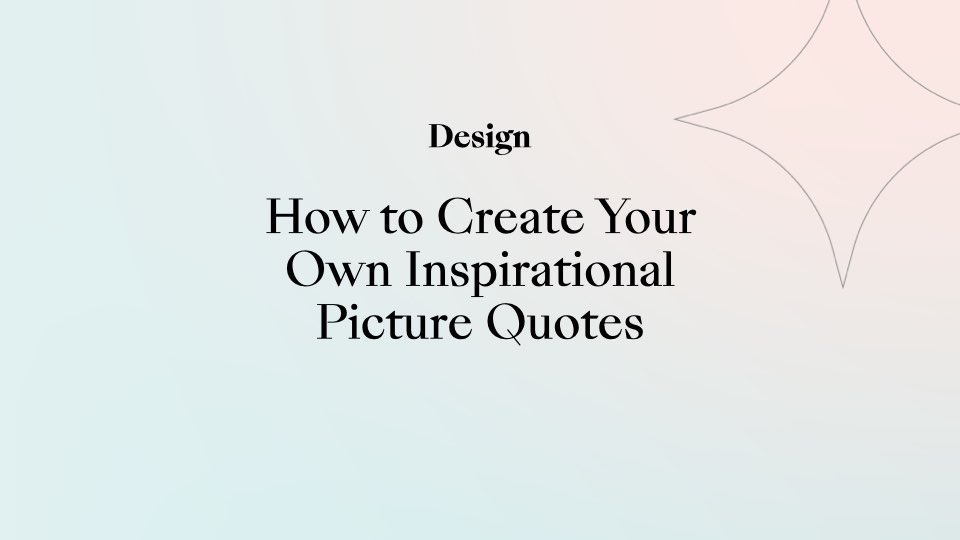 How to Create Your Own Inspirational Picture Quotes
Creating your own inspirational picture quotes is easier than you think. Planning to share some words of wisdom in fun and creative ways? Your loved one had a bad day and needed some laugh?
Sometimes life just needs some encouragement or motivation. Instead of long-winded essays that explains all the theories of life, a simple inspirational photo quote is able to bring positive effect with just a single glance, and can help get through the tough days.
Looking to create your own inspirational picture quotes? You don't have to go through a professional graphic designer course to create an eye-catching picture quote. Whether you are looking at creating business inspirational picture quotes, fitness motivational picture quotes, or funny picture quotes to brighten up someone's day, all you need is Collart free photo/collage editor. With the help of Collart design tools and templates, you can easily create inspirational picture quotes!
How to design picture quotes with Collart
Getting Started
New to Collart? Download Collart on iOS for FREE if you haven't got this amazing collage/photo editor. If you already have Collart on your device, launch the app to start your creation.
Find the Right Image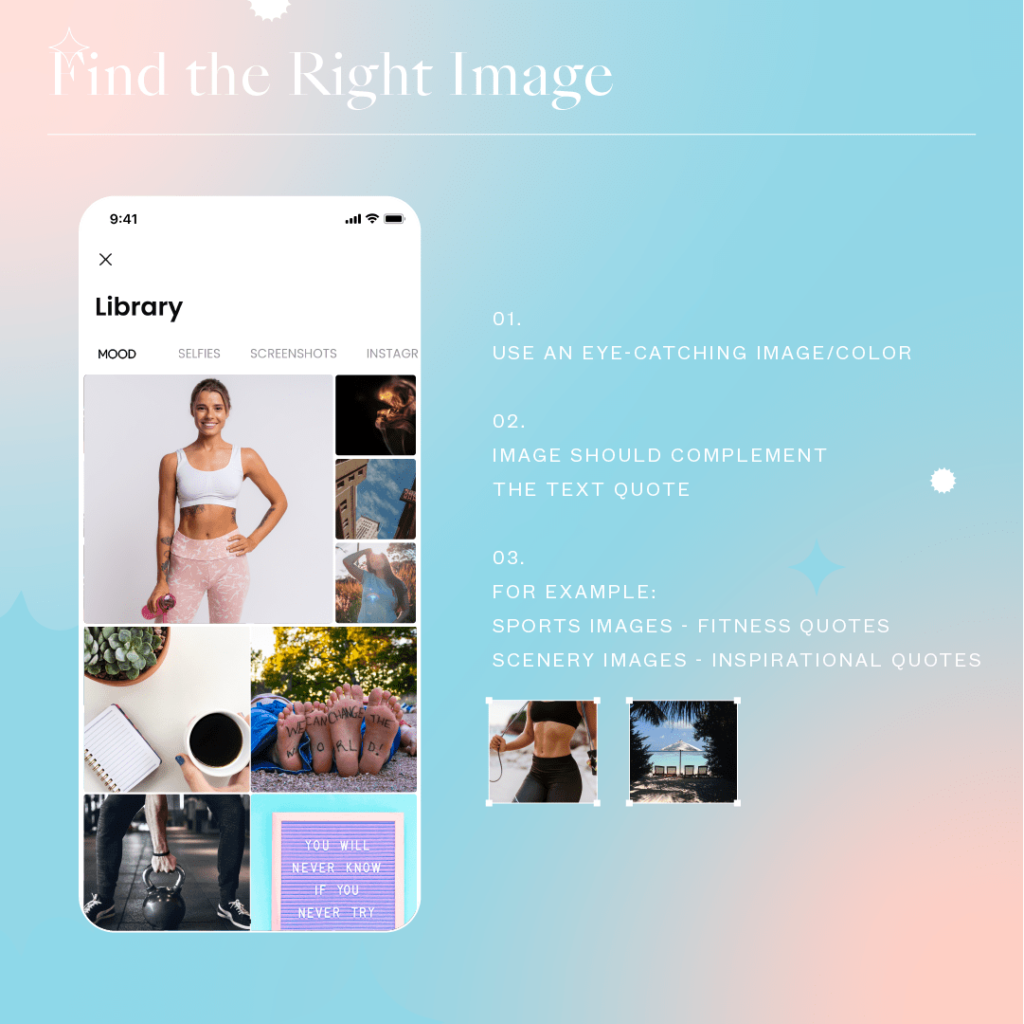 The background image sets as the foundation of picture quotes. A great quote poster has an eye-catching image and color overlay, and the image should complement the text quotes. Hence, it would be better if it is relevant to the topic of your quote. For example, go for sports and exercise-related images for fitness motivational quotes or tranquil sceneries and landscape photography for inspirational quotes.
Explore Templates
Collart has a powerful material with over 1000+ readymade templates backgrounds with different themes, such as kawaii, flower, dreamy, and many more. Select a suitable image for your picture quotes background from the templates to make it yours.
Upload Your Own Photo
If you already have the perfect image sitting on your device, simply upload it into Collart to use on your design. Tap on "Edit" with the "+" sign; select a suitable photo from your device gallery to use them as the background of your picture quote.
Customize Your Image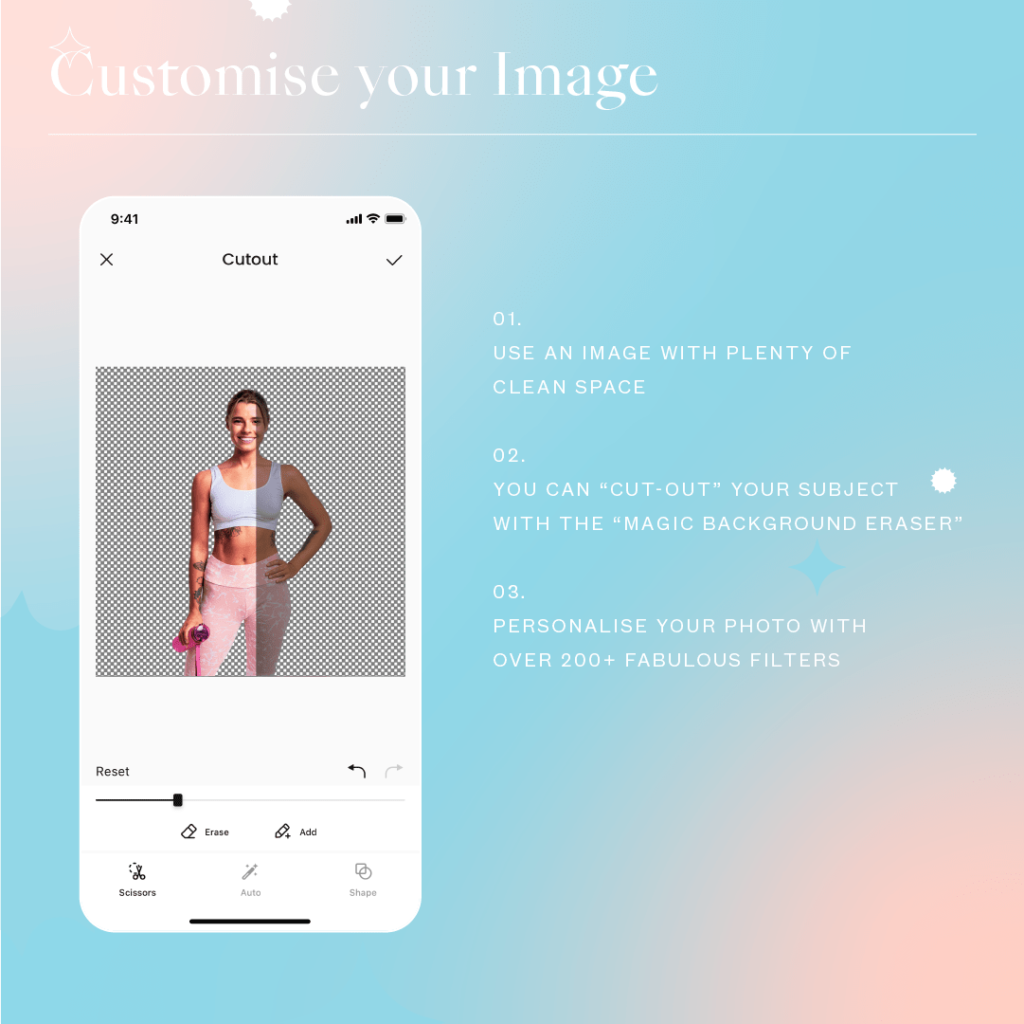 A background with lots of clean space will help make your text stand out. If you need to remove some distracting elements in your photo, use the magical cut-out feature or magic background eraser.
Capture the right tone for your picture quotes using the photo filters. Browse from our amazing media library with over 200+ fabulous photo filters to choose from. If you prefer to personalize the photo effect in your own way, you can adjust the exposure, contrast, saturation, vibrance, warmth, tint, shadows, highlights, fade, sharpness, and blur to enhance your image.
Use Beautiful Font For Your Text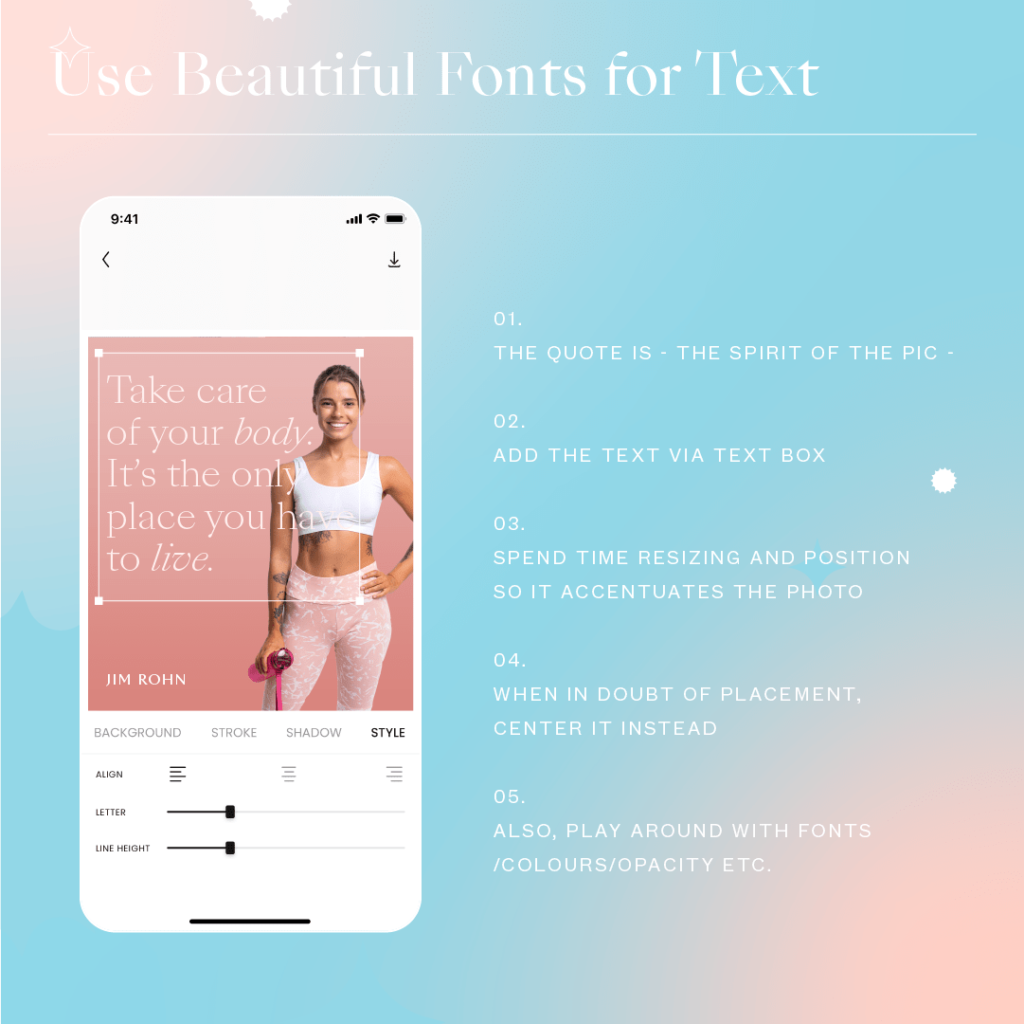 Here comes the biggest part of the project- The Quote. The quote itself is the spirit of the picture quotes; hence it should take the main stage.
Add the text by typing your quote into the text box that appears on the background image. Spend some time to resize and drag them around to position them so that the text accentuates the photo. We would suggest you add your text to the clean spaces of your photo, but if there aren't any, then the safest bet is to center them.
Think out of the (text) box and feel free to explore the features of Collart's text tool. Try playing around different font types, color and transparency settings. There are lots of fonts available in Collart. Some of the fancy fonts include Cookie, Pacifico, and Sweetie Pie. For a more toned-down and serious mood, try Roboto-Black, Montserrat, and Nunito with Collart's convenient toolkit, you can pick a new color using the color picker controller. , change the background of the texts, and format the texts in strokes, shadow and style.
Share or Print Your Picture Quotes
Once you have completed and saved your design, it's now time to share some good vibes with the world! Simply share your inspirational picture quotes on social media platforms by tapping the "Share" button. You can use it as your laptop or mobile phone's background and wallpaper, acting as daily reminders to yourself. Alternatively, you can also print them out and frame them as home décor.
Download Collart to Create Your Inspirational Picture Quotes Now!
Download Collart on iOS today and unleash your creativity. Start inspiring others by making your own picture quotes of uplifting reminders and messages using Collart today!

👉🏻 Follow Collart: Facebook | Instagram | Twitter | Pinterest | YouTube | Website | TikTok