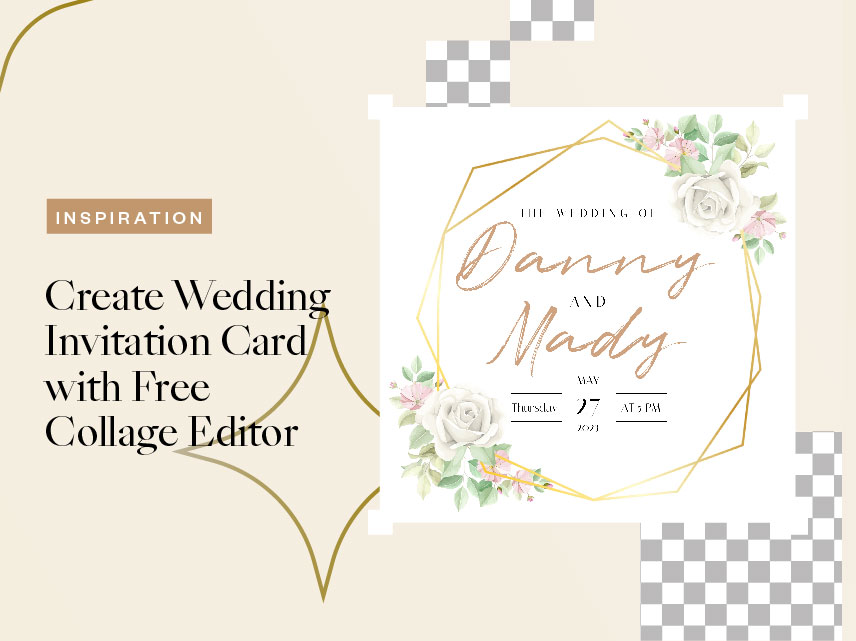 Create Wedding Invitation Card With Free Collage Editor
Inviting someone to your wedding? Create a special wedding invitation card to impress your guests! Invitation cards are used in any event. These days, sending an invitation card, whether physically or electronically, can be very special to the recipient.
A wedding is one of these special occasions that require an invitation. It is good to personalize wedding invitation card because this will show the personality of the couple. Each invitation that you will create will be unique and tailored to your personality. Personalized wedding invitation cards will make it more special.
Personalized wedding invitation cards will unleash your creativity. People at your wedding will know that you have a creative side and will feel special if they know that the invitation is made by you. The design of your invitation will only be based on you and nobody else, which will make it extra special. The best part is, the cost will be reduced if you make your invitation.
Now, you can easily create a wedding invitation using a free invitation maker. Collart is a free photo editor/ collage maker that can help you create a customized wedding invitation, birthday invitation, party invitation, and many more. Create any other event invitation by Collart.
Collart is a free photo editing app that you can download on your iOS mobile devices. There is NO REGISTRATION NEEDED to use the app. You don't have to have sophisticated software to be able to edit photos. Make your invitation look like it was designed professionally just by using a free app on your phone. You don't need a laptop to create a special wedding invitation.
Comprehensive Editing Tools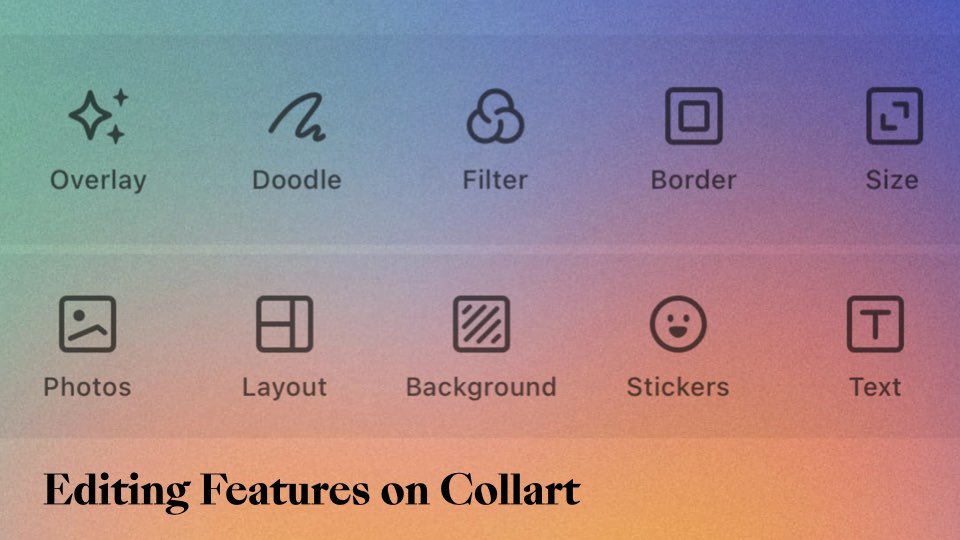 Collart has multiple superb editing tools.
Basic Editing: Free photo editor to scale your photo, rotate them, and move them around freely.
Background Remover: Remove background or change the background of your photo before adding them to your wedding invitation
Crop: Resize your wedding invitation according to different platforms with aspect ratio
Cut Out Tool: Use Manual or A.I. cut out to isolate the special item (wedding ring, wedding gown, etc.)
Color Picker Controller: Pull color from any layer of your design using our convenient color picker tool kit.
Blending Tool: Create overlaying effects on your wedding invitation by blending two photos on top of each other
Huge Media Library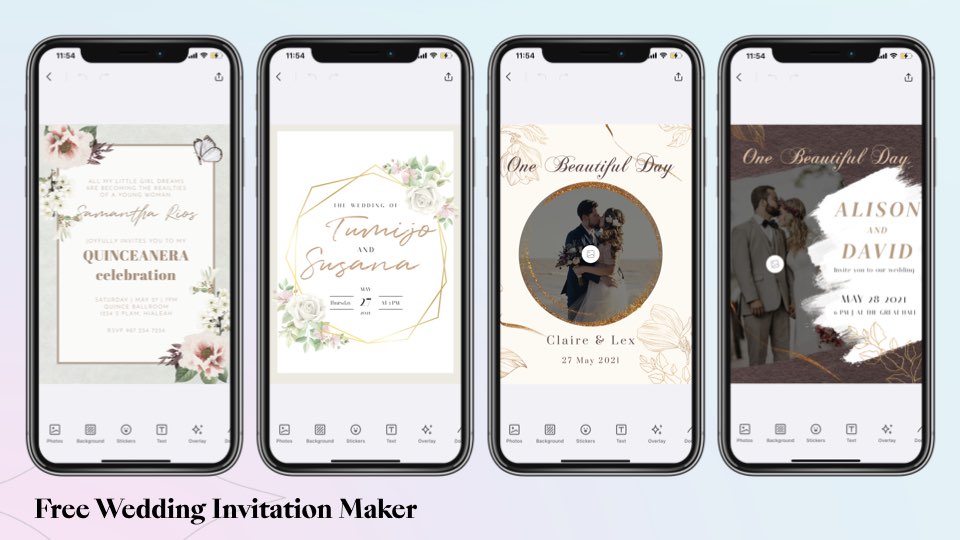 It also has over a thousand design materials for your use!
Wedding related stickers: Wedding ring, roses,
Free Invitation templates: Different themes to choose from. It can be romantic, fun, classy, formal, and many more.
Filters: Turn the vibe with different filter effects.
Text and wordings: Different fonts, colors, borders, and shadows to customize with the text on your wedding invitation.
Beginner-Friendly
If you are a beginner in editing software, there's nothing to worry about. Collart has got your back. Collart's user interface is very beginner-friendly, which is why it is good for those novice users that still need to find their way in navigating through the system.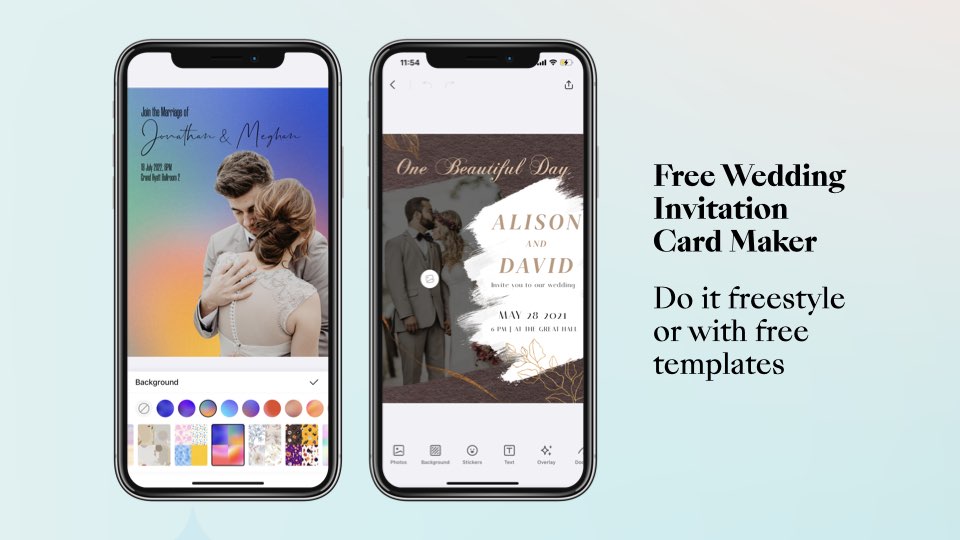 Using Templates
Open your Collart app and decide on which wedding invitation templates to use by browsing its huge template library.
Choose the template and start editing. Import photos from your library or use free stock images, change the text to your details and add stickers to make it your own.
Freestyle Designing
Open your Collart app and choose the "Freestyle" option. A variety of canvases with different colors and textures will show once you choose this option.
Start creating your wedding invitation by exploring more options at the bottom of the app. Add photos, stickers, and texts. It's now time to unleash your creativity.

Create Wedding Invitation Cards With Collart Free Collage Editor
There are many other invitations you can create with Collart free collage editing app. Think of Collart as your free invitation maker. Design your birthday invitation and party invitation with Collart too!
Download Collart on iOS and unleash your creativity with our all-in-one photo editor, collage maker and quick graphic design app today! We hope this will inspire you to create wedding invitation cards with Collart free photo editor and collage maker app!

👉🏻 Follow Collart: Facebook | Instagram | Twitter | Pinterest | YouTube | Website | TikTok