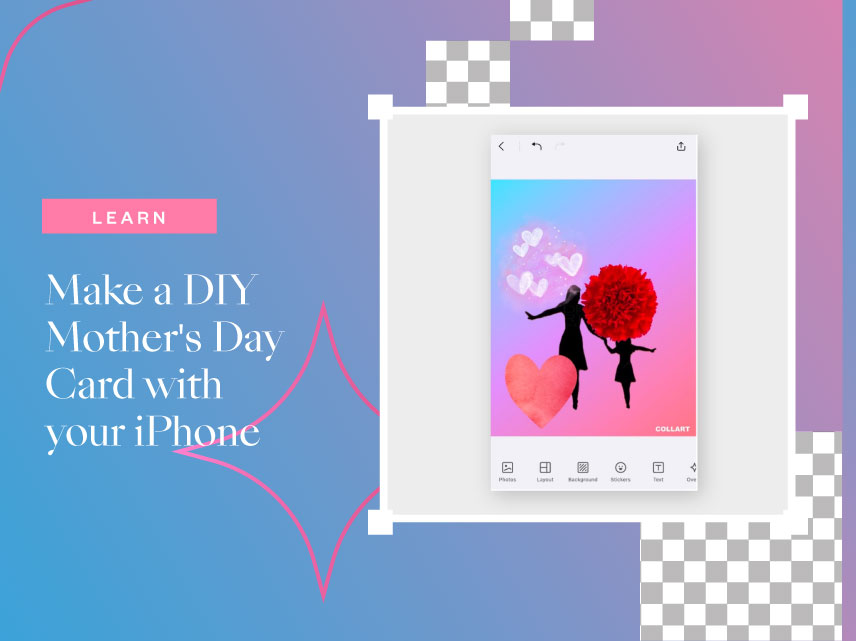 Make a DIY Mother's Day Card With Your iPhone
Mother's Day is just around the corner. Of course, one of the most important days of the year for every mom. It commemorates the mothers in our lives who have shown us unconditional love and care, who have been there to support us through all our battles, happy family memories, and tears. Let's make a creative DIY mother's day card to show your appreciation for your motherly figure this year!
How Unique and Meaningful a DIY Mother's Day Card Is?
Are you scrambling to get a gift for Mother's day? We've got an idea. A customized DIY mother's day card! What could be more perfect or thoughtful than a letter that has been written just for her? You can create your personalized mom card with unique messages and design options.
One of the best ways to show your mom that you love her is by making and sending her a special DIY mother's day card. It is usually an excellent way to go as the card shows that you put some thought into it.
Benefits of a Customized DIY Mother's Day Card
No matter the occasion, a personalized card is always a pleasant surprise and this Mother's Day is no exception. Sometimes it's not easy to find that perfect card for mom, and many of the cards out there look generic and expected. So making a custom card for your mother is something more than perfect.
Unleash Your Creativity
By taking a little time to craft a card that reflects your mom's personality, you make it more special to present it to the one and only mom.
Save Money
No one wants to pay for an expensive card when they can make something of their own. You can save money on Mother's Day cards by taking a little time to make them yourself.
Good for Gifts
Cards are sentimental, but they also show how much time and effort you put into making something special for your mom.
A Personalized Message is Always a Pleasant Surprise.
Every card is different, and you can make yours even more special by adding something unique to it.
Collart free collage editor is the perfect app for a Mother's day card. With just a few simple steps, you can design and send out cards that will make their recipients tear up with joy! No need for a specific skill set and need no special software like Adobe Photoshop. All you need is a good and free collage and photo editor like Collart.
How to Create DIY Mother's Day Card on Your iPhone With Collart?
Choose the Format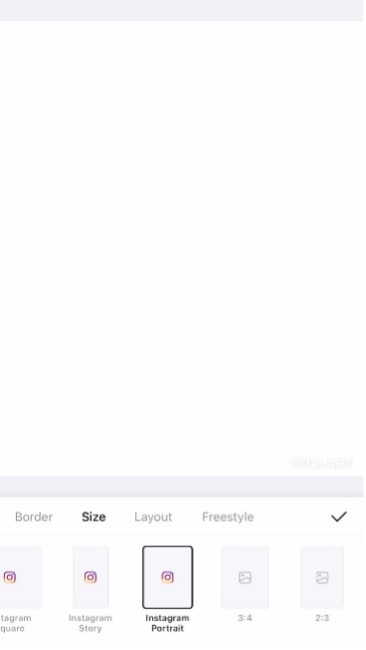 First, decide what format you want your card to take. You can choose one out of different aspect ratios. The perfect portion size is one sheet of paper.
Choose Your Base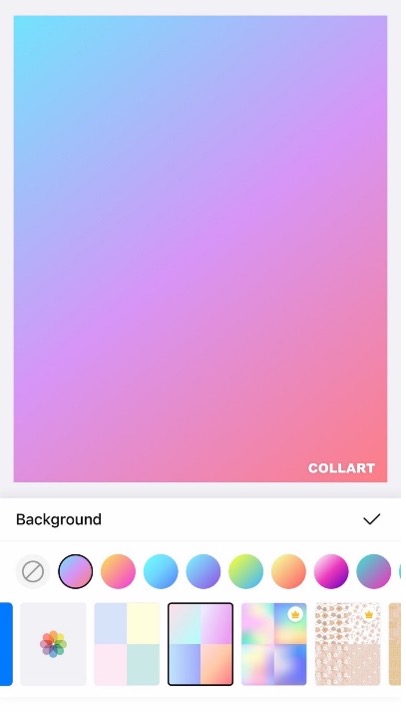 Choose your base color palette, background, and canvases. You can try mixing and matching various colors to create your personalized look.
Collart is all about putting your artistic skills to work, so we want to help you get started. With the help of our platform, you can easily select one of these ready-to-handpicked canvases and reach for your iPhone to start designing.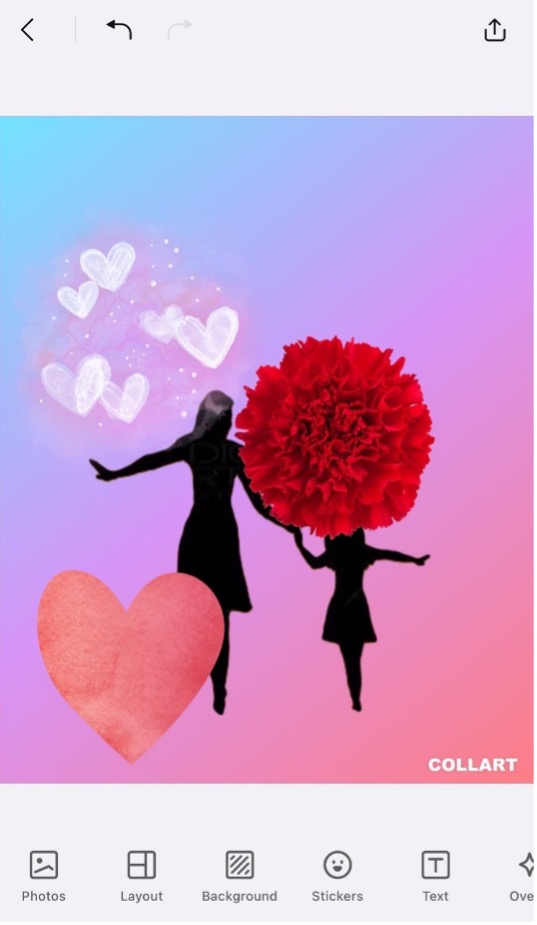 Upload family portraits to the album and title it "Our Story." Write a bit about each person in the photo and what they mean to you in the description.
To add depth to the album, including photos of your mother throughout her life. Scroll through old pictures of your mother and smile to yourself. Label each photo with a caption that tells a story and brings the image to life.
Many different types of stickers symbolize Mother's Day, including a carnation flower and a heart shape. The carnation flower represents the Mother's Day carnation, which is a flower that is often given to mothers for Mother's Day. In addition, the heart shape represents love. Love symbolizes family, making it a perfect attribute to put on a card for Mother's Day.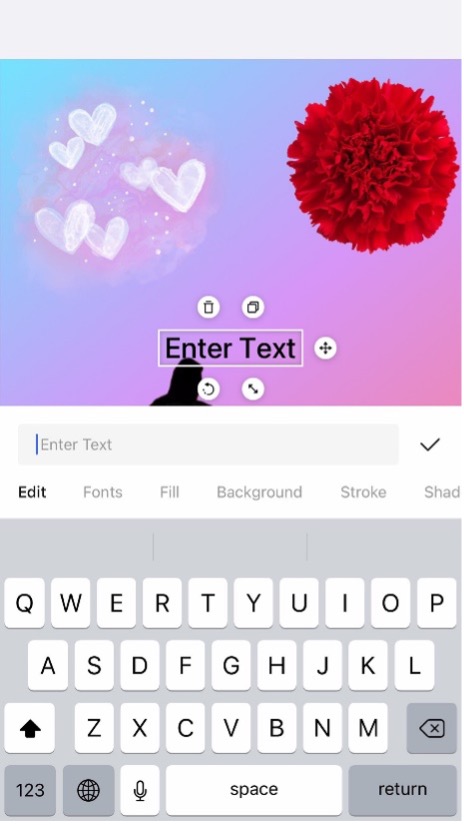 Write a brief message to express your gratitude for the mother who has loved you unconditionally. Tell your mom how much you enjoy spending time with her, find out what she is like, and how much she means to you.
Send to Your Loved Ones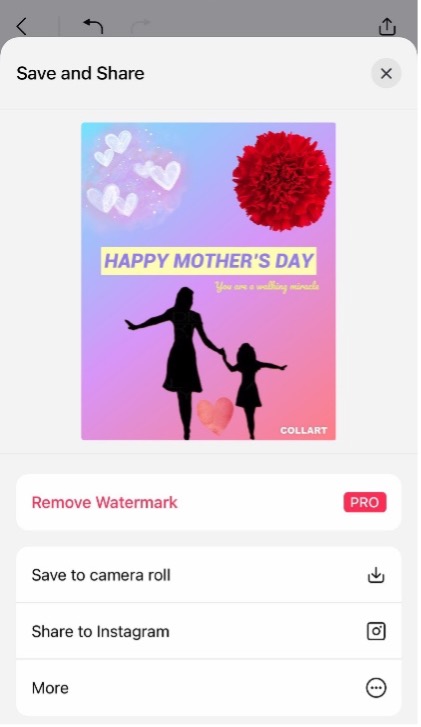 After your DIY mother's day card is ready, save it to the camera roll or send it to the special one!
Create DIY Mother's Day Card With Collart Card Maker
Collart provides you with a space to enable your creative and artistic skills. Decorate your life with unique wallpapers, make your own cards, or decorate the gift box to make a surprise for someone special. Most of all, make this mother's day special with laughter and your DIY mother's day card.
With Collart free photo editor app, you can easily remove image background, along with many other functions and tools you need to create your own invitation cards, to impress others! From photo adjustments, removing background and creating transparent images, Collart is the best card maker app you need for your iPhone and iPad to create your own DIY Mother's Day Card!

👉🏻 Follow Collart: Facebook | Instagram | Twitter | Pinterest | YouTube | Website | TikTok