Design Wedding Invitation Card With Free Wedding Invitation Templates
Looking to design your Wedding Invitation Cards with free wedding invitation templates? Wedding a such a major event in one's life. It's something that brings two people together and unites them forever as one, giving them a chance to make their dreams come true. Hence, designing a special invitation for the wedding is so important, making this wonderful day memorable.
Today we are here to share about designing your own wedding invitation card using free wedding invitation templates. A wedding invitation is more than a piece of a short note to invite people to attend the event at weddings. It is a witness of two-person taking a step forward together into their future together.
Design Your Card With Collart Free Wedding Invitation Templates!
Collart is a free photo editing app for iOS. It is simple to use and has all the features you need to create your own wedding invitation. Making your personalized wedding invitation designs is easy. You don't need much skill to create an excellent wedding invitation card with Collart's wedding invitation templates.
The fatest way to create a wedding invitation is by choosing a template first then changing it according to your tastes. Whether you are looking for a modern, stylish, or traditional design for your wedding invitation, Collart a free iOS photo editor has a vast library of built-in wedding invitation template that best suits your requirements.
Using a wedding invitation template to create customized wedding invitation cards help you save lots of time. Especially you have so many things to prepare for a wedding.
Personalized wedding invitations offer an exciting way to share your big special day with your friends and family with personalised wedding wishes and messages.
Customized wedding invitations are unique, creative & personalized to suit your style and personality
Custom wedding invitations are not only a great way to save money but put forth the effort of designing something special for your guests.
You will undoubtedly get the attention of your guests when they open your customized wedding invitations.
Choose Your Format
The very first thing to do is to choose the aspect ratio. This will determine the format of the card and what resolution it needs to be fitted in. if you need a 5×7 card, then choose the aspect ratio of 5:7.
Choose Your Templates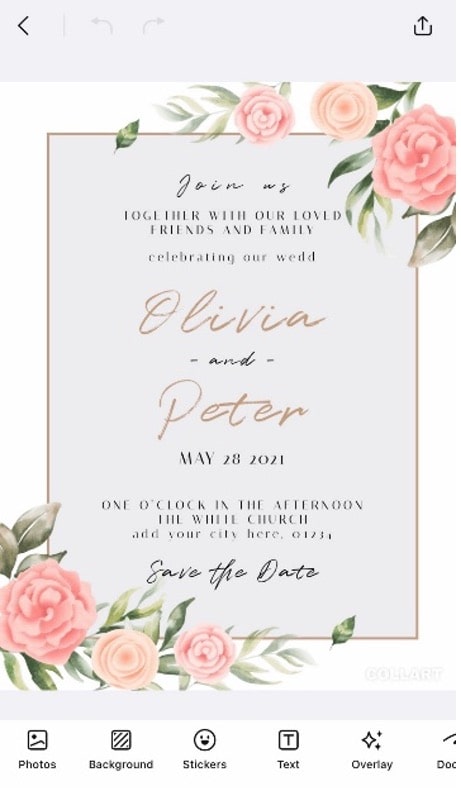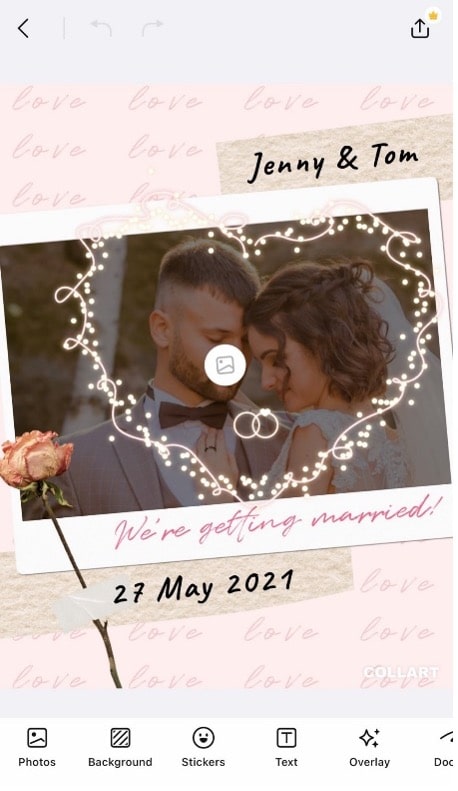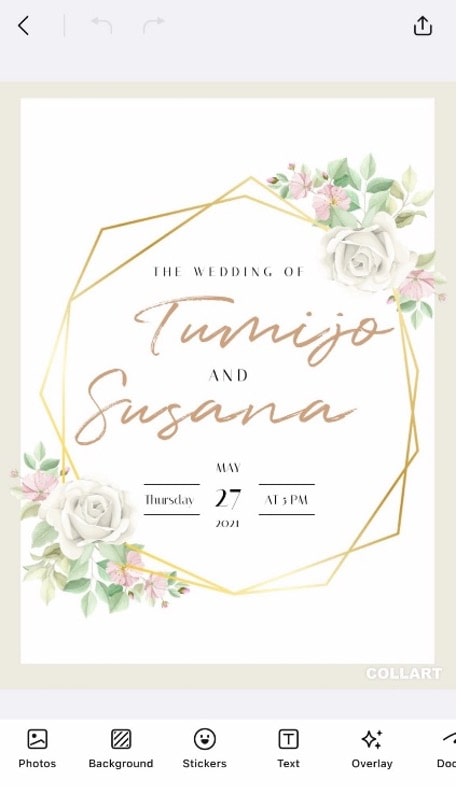 The next step is to choose the template for your card. There are many wedding invitation templates to choose from Collart's library, and you need to decide which one suits your needs best. You need to decide on the theme for your wedding (Floral, minimalism, formal, etc.) and see if any available design templates match your desired theme.
Upload Your Photos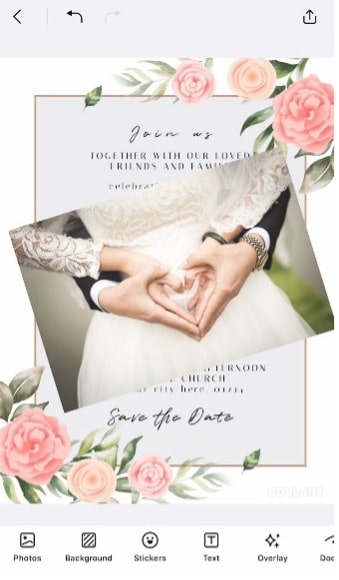 It's time to add your pre-wedding or engagement photos. Since it's your wedding, this is an extraordinary event, and the invitation cards should reflect this. Upload pictures of you and your fiancé in the photo box.
Change Text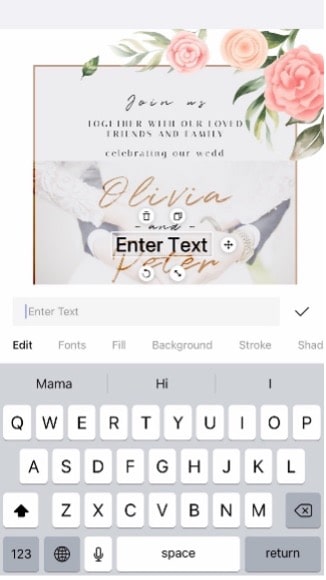 Do not forget to write down the details of the event. You can use different fonts style, sizes and colors to outline each detail. You might want to considering including the following details:
The groom's name
The bride's name
Wedding date
Wedding address
Wedding location map
Wedding event timeline
RSVP contact
RSVP Date
You can also write down a handwritten message on your invitation cards. Express your gratitude towards family and friends who make time to join you at this special moment in life.
Add decoration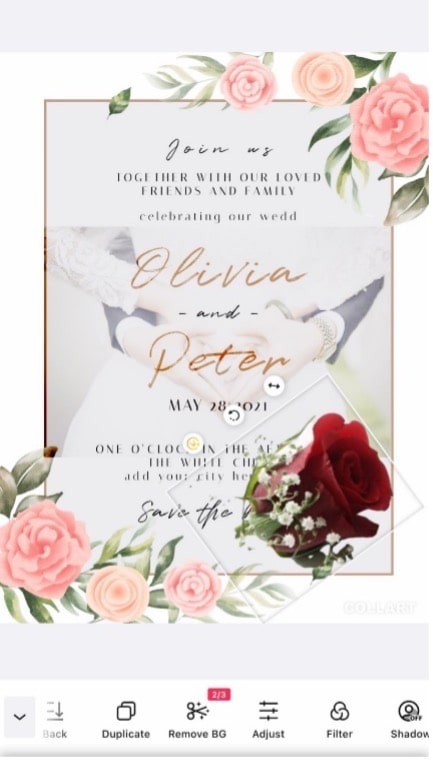 Now, you can add stickers to decorate your wedding invitation card. Pick stickers that symbolize the wedding — for example, a sticker of a rose or a sticker of a wedding ring.
Collart Design App – Free Wedding Invitation Templates!
Download Collart on iOS today and unleash your creativity with our all-in-one photo editor, collage maker and quick graphic design app, to create beautiful wedding invitation cards with our free wedding invitation templates. Collart comes with a huge resource library, with fonts, stickers and backgrounds for you to create stunning wedding invitations to celebrate the joyous occasion. We hope this will teach you how to create wedding invitations using our free templates!

👉🏻 Follow Collart: Facebook | Instagram | Twitter | Pinterest | YouTube | Website | TikTok