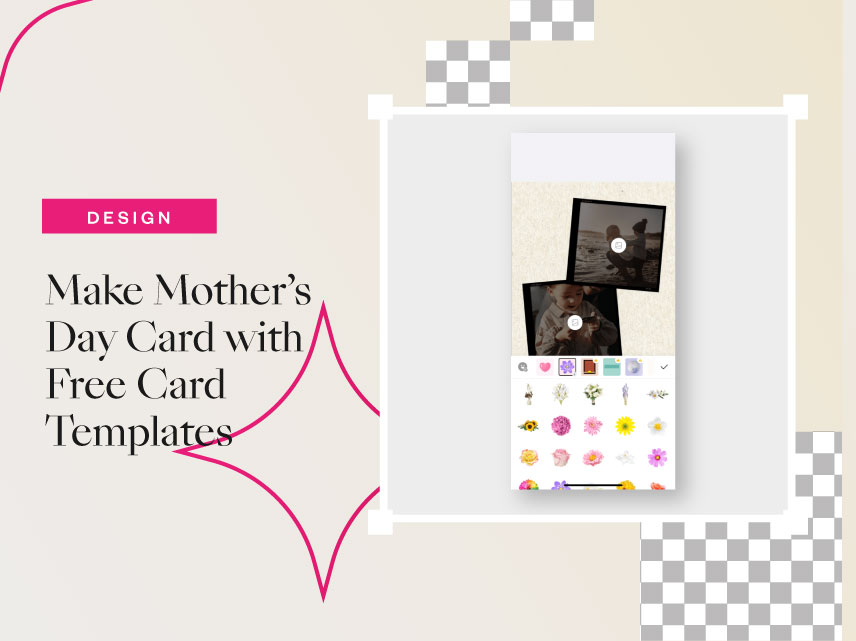 Make Mother's Day Card with Free Card Templates
Mother's day is nearing, and has you thinking of giving your mother a mother's day card? Make your mother happy on her day by giving her a personalized mother's day card.
Mother's day is a day when we honour the family's mother or an individual who takes on the responsibility f a mother. It is celebrated across the world on different days, but usually, it comes during March or May. Many are celebrating this special day as we want to give thanks and honour the sacrifices made by our mothers.
Give Your Mother A Personalized Mother's Day Card
Mother's usually don't ask for anything as gifts. But it is good if you can give them a mother's day card. It would be more special if it was a personalized mother's day card. Nothing can make your mother feel special than a personalized card created with love and effort.
There are many benefits to creating your own personalized mother's day card. This can be an opportunity for you to unleash your hidden creativity. Each mother's day card that you will make will be unique. And the best part of this is that you can create this for free, saving you tons of money.
Design Your Mother's Day Card with Free Card Template
Collart is a free photo/collage editor on iOS. Collart has a lot of editing tools that can help you design your Mother's day card. With more than 1000+ design materials, unique and fun stickers, colourful backgrounds, and aesthetic filters, you can create a one-of-a-kind mother's day card for your mother.
With Collart's easy to navigate interface, you won't need professional photo editing software such as Adobe Photoshop to create this mother's day card. And you don't need a laptop or personal computer to do all your editing. All you need is your mobile phone with Collart photo editor, and you are good to go.
Design your card in the Collart photo collage editing app by following these simple steps.
Choose your template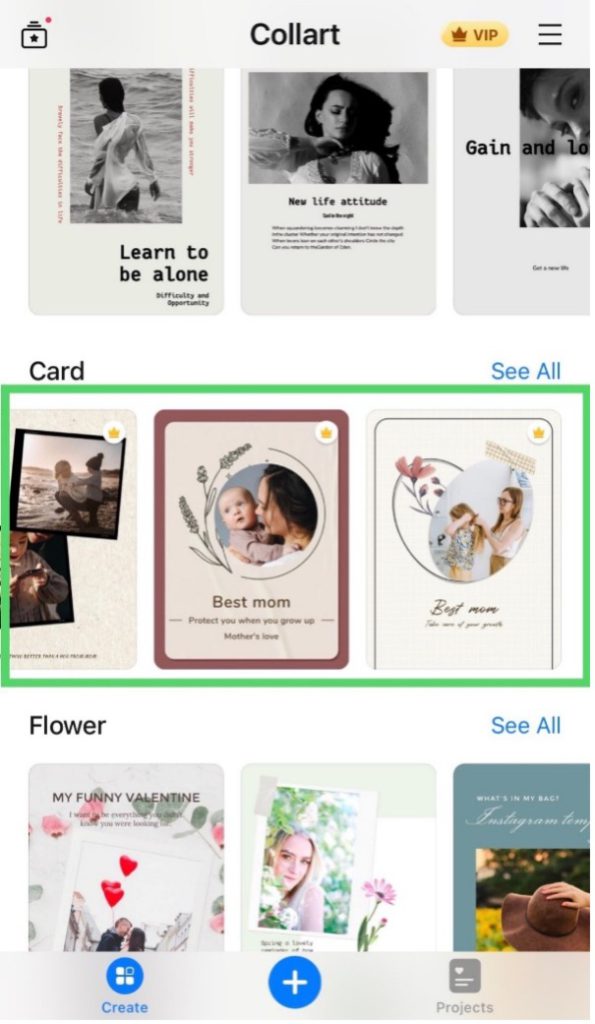 Collart has many templates for Mother's day cards and other celebrations. Choose a template that suits the celebration that you are creating. Collart has a huge library of templates, and it is all for free.
Upload your image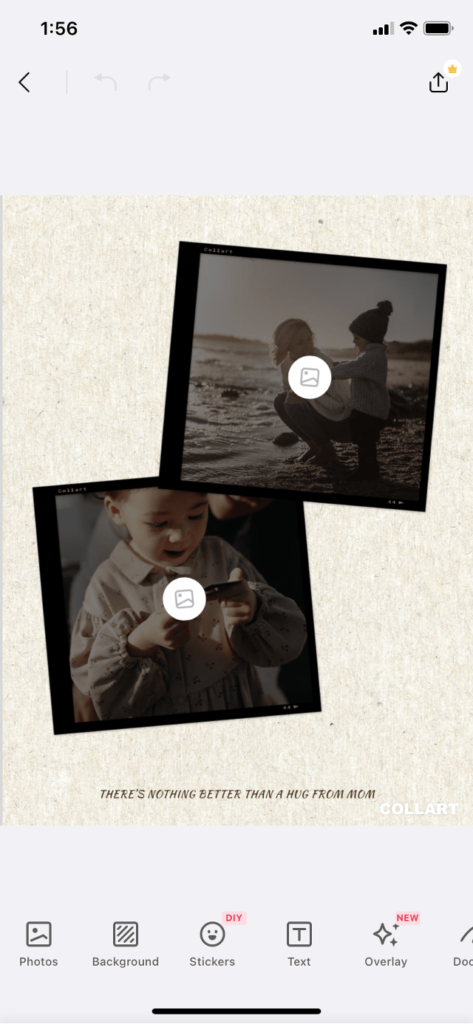 When you have a chosen template, you can now upload any photo of your choice. Choose the most beautiful photo of your mother, your family portrait, or you can put them both, depending on the space available on the chosen template.
Add stickers and vectors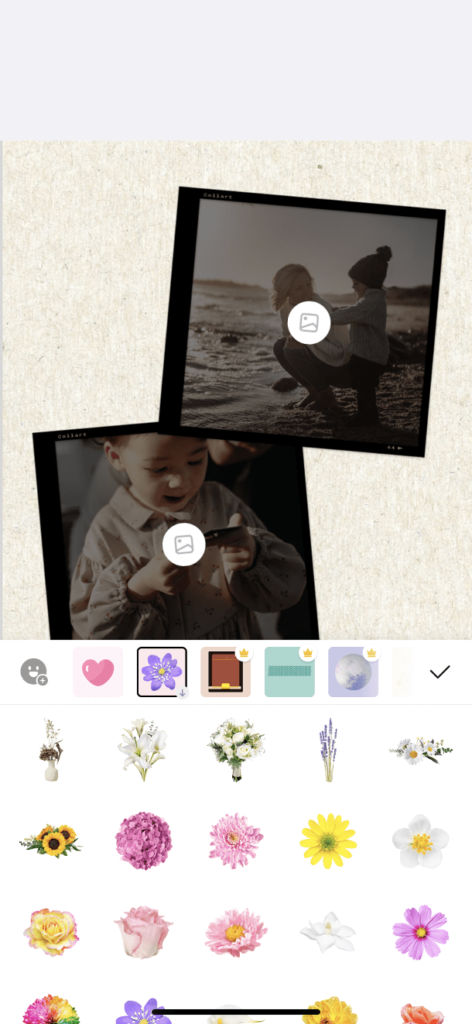 Usually, you don't have to put much decoration and stickers for a templated card because the design is already there. But if you still want to add, there are so many stickers that you can choose from. Collart has a large library of stickers as well. Choose which stickers are best for your Mother's day theme. You can choose carnation flowers or hearts on your card to signify Mother's day and love.
Add your message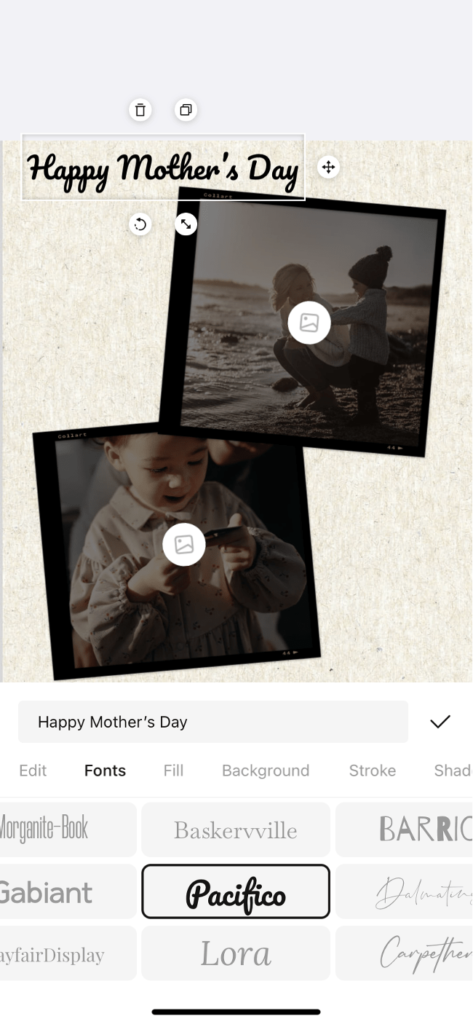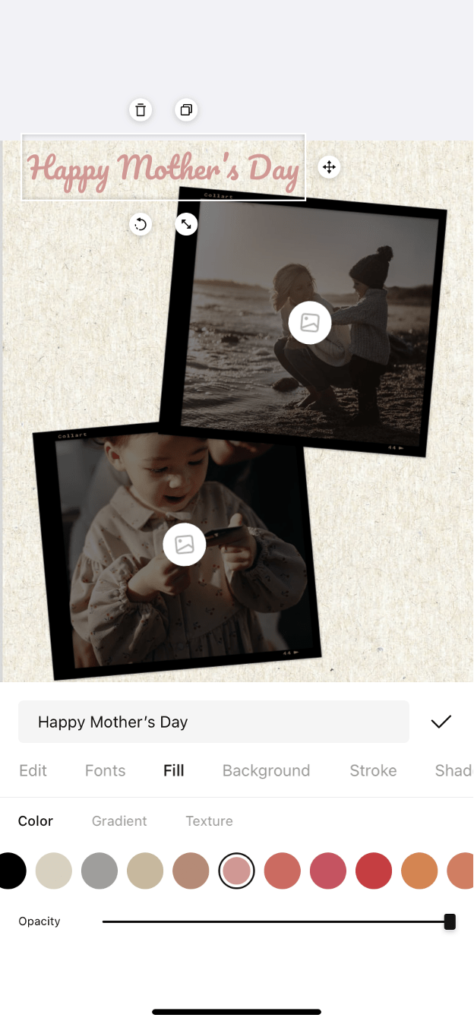 The best message is the message that comes from your heart. Remember that this is for your mother and that she would want to read your message, no matter how nonsensical that is. Collart has a lot of font choices that you can use depending on your message. You can also choose a text effect and font size, and colour. You may also want to research font pairings so you can mix and match fonts from Collart.
Once you're done with your Mother's Day Card design, simply save and export it to your device. Your digital Mother's Day Card has just been created1
With Collart free card templates for Mother's Day, you can enable your creative and artistic skills easily, with stunning artwork as surprise for someone special. Most of all, make this mother's day special with laughter and your DIY mother's day card.
With Collart free photo editor app, you can easily remove image background, along with many other functions and tools you need to create your own invitation cards, to impress others! From photo adjustments, removing background and creating transparent images, Collart is the best card maker app you need for your iPhone and iPad to create your own DIY Mother's Day Card!

👉🏻 Follow Collart: Facebook | Instagram | Twitter | Pinterest | YouTube | Website | TikTok